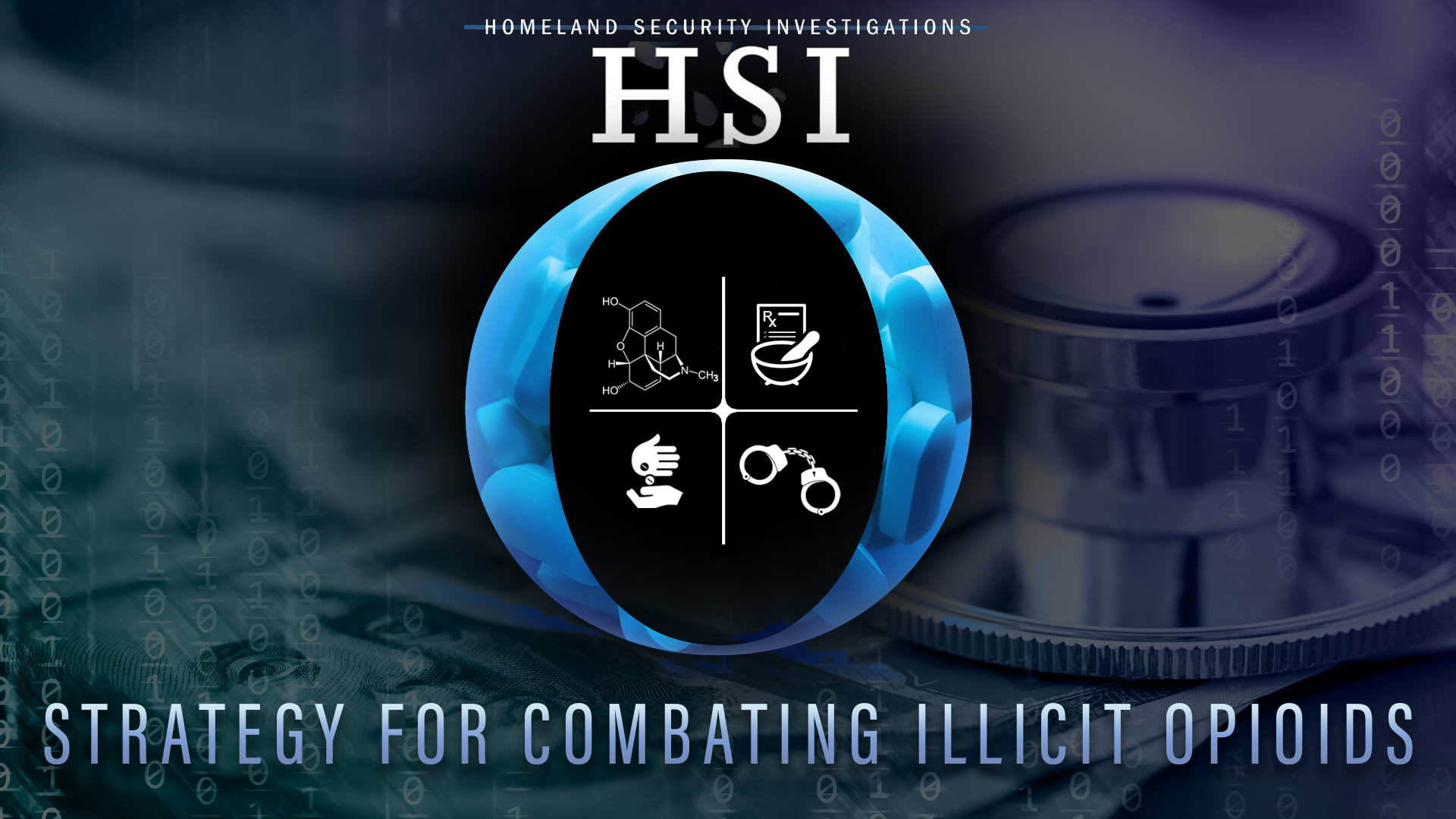 Opioid overdose is the leading cause of death for 18- to 45-year-olds in the United States — and drugs like fentanyl, heroin, morphine and oxycodone are sweeping through big cities and small towns across the nation, taking lives everywhere they go. These deadly drugs, which are often manufactured and sold by transnational criminal organizations, are highly addictive and extremely profitable. Proceeds from illicit opioids fuel gang activity, weapons trafficking, human smuggling and human trafficking, cybercrime, and even money laundering activities, which means Homeland Security Investigations is uniquely positioned to tackle the issue.
HSI's Strategy for Combating Illicit Opioids
Homeland Security Investigations' Strategy for Combating Illicit Opioids addresses the opioid crisis our nation is facing. Released to the public on Sept. 19, 2023, the strategy involves taking down drug traffickers and those who import deadly precursor chemicals that opioid manufacturers use to create the street drugs that are killing so many.
HSI's Strategy for Combating Illicit Opioids has four goals:
Reduce the international supply of illicit opioids.
Reduce the domestic supply of illicit opioids.
Attack the enablers of illicit opioid trafficking, illicit finance, cybercrime and weapons smuggling.
Conduct outreach with private industry.
The following sections explain HSI's strategy for meeting its objectives.
HSI Opioid Goal #1: Reduce the International Supply
Most of the illicit opioids that kill Americans are produced abroad, through supply chains that don't traverse into the United States until they're in their final drug form. HSI works with its international partners to identify and mitigate these threats before they reach the United States. Its primary goal in this arena is to dismantle precursor chemical supply chains.
Under its Strategy for Combating Illicit Opioids, HSI is:
Increasing its capacity to investigate supply chains.
Reinforcing the ongoing development of new approaches, including partnering with the Department of Justice's Consumer Protection Branch, to charge and prosecute the companies that supply precursor chemicals.
Using Transnational Criminal Investigative Units and other foreign law enforcement and trade partnerships to dismantle supply chains.
Strengthening its relationship with the World Customs Organization and leveraging its enforcement capabilities to target precursor chemical shipments, shippers and brokers linked to manufacturing.
HSI Opioid Goal #2: Reduce the Domestic Supply
The majority of opioids that enter the United States come through the southwest border. HSI agents work closely with U.S. Customs and Border Protection officers to seize illicit opioids and investigate organizations that smuggle drugs into the country.
To further reduce the domestic supply of illicit opioids, HSI is:
Augmenting staff at ports of entry along the nation's southwest border.
Increasing the number of HSI task forces — including Border Enforcement Security Task Forces — and strengthening these task forces' abilities to investigate illicit opioids.
Expanding partnerships with federal, state, local and tribal enforcement agencies.
HSI Opioid Goal #3: Take Down Enablers
Illicit opioid manufacturing and distribution doesn't happen in a vacuum. It requires global trade, communication and finance, which all rely on criminal organizations and those who enable their crimes. With a proven track record of disrupting the flow of illegal weapons exports to Mexico, HSI continues its efforts in Operation Without a Trace and other operations.
HSI is increasing its ability to identify the relationships between legitimate commerce and criminal organizations, and to that end, it:
Established the Cross-Border Financial Crime Center to support the disruption, dismantlement and prosecution of transnational criminal organizations and their enablers.
Uses the National Bulk Cash Smuggling Center to target and prevent the repatriation of illicit proceeds.
Increases data exchange with foreign partners to disrupt trade-based money laundering.
Uses the HSI Cyber Crimes Center to support investigations through cryptocurrency analytics and provides support for undercover activities online.
HSI Opioid Goal #4: Reach Out to Private Industry Partners
Private industry partners can play a significant role in preventing the flow of illicit opioids, particularly when they recognize the techniques that criminal organizations use to exploit legitimate systems.
To make and strengthen necessary connections with private industry partners under its new Strategy for Combating Illicit Opioids, HSI is:
Proactively engaging with domestic chemical companies that export legitimate precursor chemicals to Mexico and Central America, informing them of red flags that indicate they may be working with bad actors.
Enhancing narcotics enforcement agreements with express consignment carriers.
Frequently Asked Questions About Illicit Opioids in the United States
Illicit opioids plague cities and towns all over the United States, tearing apart families and destroying the fabric that holds communities together. Because they're so pervasive — and because the issue is so complex — many people have questions about illicit opioids, how they make their way into our communities, and what to do with information on trafficking. The following sections explain the answers to these questions and more.
Precursor chemicals are substances used to illegally manufacture illicit drugs. Many precursors also have legitimate uses and are used in consumer products, such as medications, and in industrial processes.
Some drug precursor chemicals come from the United States, where they're manufactured for legitimate purposes. Some come from Asia, and others come from South America. The reality is that precursor chemicals can come from anywhere; that's because they're usually everyday substances that have other uses.
Opioids are a class of drugs that include the following:
Fentanyl. Fentanyl is a powerful synthetic opioid that can be up to 100 times more potent than morphine. It's prescribed for pain in some situations, but it's also made illegally. When it's illegally manufactured, it often — but not always — appears in counterfeit pills made to resemble prescription drugs.
Heroin. Heroin is made from morphine, another opiate. Heroin isn't used medicinally; it's solely a street drug.
Narcotic analgesics. Narcotic analgesics are pain relievers that doctors sometimes prescribe, such as oxycodone and hydrocodone.
Morphine. Morphine is a non-synthetic narcotic derived from opium. It's sometimes used as a prescription pain reliever.
Illicit opioids are opiate drugs sold or used illegally. Any of these drugs, including those a doctor prescribes, can become illicit opioids when they're exchanged unlawfully (including without a prescription).
In 2021, around 107,622 people died from drug overdoses in the United States. Data suggests that 68% of those drug overdose deaths involved synthetic opioids, such as fentanyl.
Between fiscal year 2021 and fiscal year 2023, HSI seized more than 77,000 pounds of fentanyl.
Between fiscal year 2021 and fiscal year 2023, HSI interdicted over 3.4 million pounds of synthetic drug precursor chemicals.
If you have information on illicit opioid trafficking in your community, contact your local law enforcement agency, call the HSI Tip Line at 866-347-2423, or fill out the HSI Tip Form online. You may remain anonymous if you call the HSI Tip Line.
The opioid epidemic sweeping our nation affects us all. To stop it, we need your help. By standing up and sharing the information you have, you'll save countless lives — possibly even the lives of your children, your siblings and other family members, and your friends. Remember: You can share information with HSI and remain anonymous.