Intro
Some of the most important work U.S. Immigration and Customs Enforcement (ICE) does is support victims of crimes such as human trafficking, child exploitation, cybercrime, financial crimes and identity theft. Through ICE Homeland Security Investigations, known as HSI, the agency identifies and rescues victims of crimes even after perpetrators have been arrested. Using a victim-centered approach to law enforcement, HSI balances the identification and stabilization of victims, as well as the investigation and prosecution of criminals.
Other ICE programs such as Victims Of Immigration Crime Engagement (VOICE) and ICE's Victim Assistance Program (VAP) help coordinate services such as crisis intervention, counseling and emotional support to help victims of crime.
HSI special agents and victim assistance specialists understand far too well the severe consequences that crimes like human trafficking and child exploitation can have on the victims. Raising awareness during National Crime Victims' Rights Week about the work ICE and HSI do in this area can help victims everywhere.
ICE HSI Victim Assistance Program Statistics
(info dated 04/24/2020)
| Description | Number |
| --- | --- |
| FY 19 Total victims assisted | 2,647 |
| Child Exploitation | 811 |
| Financial Crimes | 1,225 |
| Human Trafficking | 428 |
| Other | 183 |
| Minors | 1,008 |
|   |   |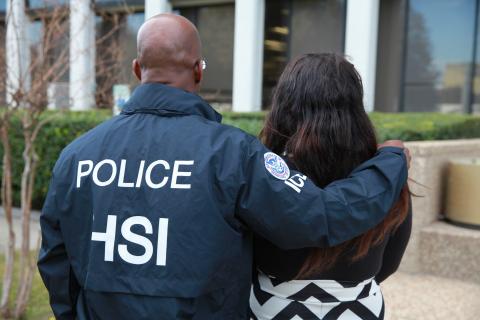 Tonya was a victim of human trafficking.
When she was 13, she met "Eddie" at the apartment she was living in with her mother in the Dallas, Texas, area. His estranged wife was the property manager. Tonya (a pseudonym) was classmates with Eddie's stepdaughter, so the two would often see each other at the apartment and in the local grocery store. It was there that the two first exchanged numbers. It was a "normal" arrangement at first. Tonya would cook, clean and look after Eddie's kids from time to time. However, it was when the two were at a party filled with alcohol and drugs that the relationship took a turn.
"He approached me and told me in so many words, 'I want you to have sex with this guy for money,'" Tonya said. "I was very uncomfortable, and I kept saying no, I didn't want to do it. He kept telling me, 'If you love me, you'll do this. It's just one thing. Just try it.'"
After nearly 30 more minutes of constant pressure, Tonya agreed to have sex with the man. What she thought would be a one-time thing became an everyday routine for the next few weeks. Night after night and bar after bar, Tonya would go out with Eddie while he advertised her to potential "suitors."
Read more about Tonya's story.
Child Exploitation

One of the top priorities for ICE HSI special agents is to combat child exploitation and rescue these innocent victims from further abuse. Each year, millions of children fall prey to sexual predators. These young victims are left with permanent psychological, physical and emotional scars. ICE HSI's Child Exploitation Investigations Unit maintains a close working relationship with the National Center for Missing & Exploited Children in the fight against child exploitation. The Operation Predator app enables users to receive alerts about wanted predators and view news about arrests and prosecutions of child predators and additional resources about ICE and its global partners in the fight against child exploitation.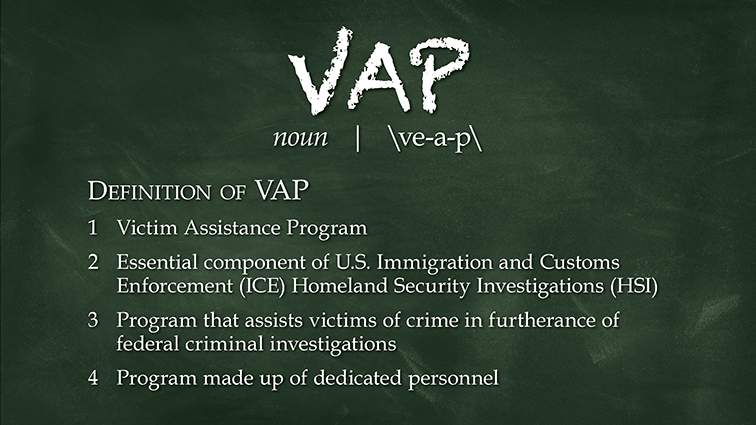 The Victim Assistance Program is an essential component of ICE HSI. It is made of dedicated personnel such as HSI Detroit Forensic Interview Specialist Amy S. Allen who assist victims of crime in furtherance of federal criminal investigations. 
Allen met Gabe at the Dayton, Ohio, Child Advocacy Center. Gabe suffered physical abuse by his mother's boyfriend and four years later was exploited online by a predator posing as a young teenage girl.
Gabe thought he was 'talking' to a teenage girl online; instead, it was a 36-year-old man trying to solicit photographs of young boys. A forensic interview was needed for identification purposes. Children such as Gabe, who have been sexually abused and have confusion about sexuality, are especially vulnerable to online predators.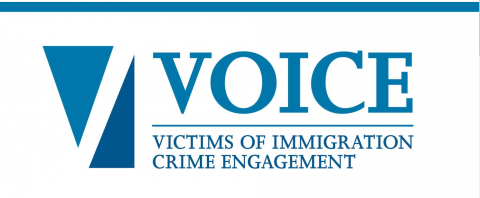 ICE established the Victims Of Immigration Crime Engagement (VOICE) Office to acknowledge and serve the needs of crime victims and their families who have been affected by crimes committed by individuals with a nexus to immigration.
The type of assistance the VOICE Office offers includes:
Establishing local contacts to help with unique victim requests;
Linking victims with ICE VOICE Victim Assistance Specialists (VASs) who serve as local representatives to help victims understand the immigration enforcement and removal process;
Offering victims the opportunity to provide a victim impact statement before the immigration courts;
Providing access to social service professionals who are able to refer victims to local resources and direct service providers;
Assisting individuals in signing up to receive automated custody status information through the DHS-Victim Information and Notification Exchange (DHS-VINE); and
To the extent permitted by law or policy, providing information about the offender, including the offender's immigration status and custody status, and answering questions and concerns regarding immigration enforcement.
View the VOICE Office Most Wanted >>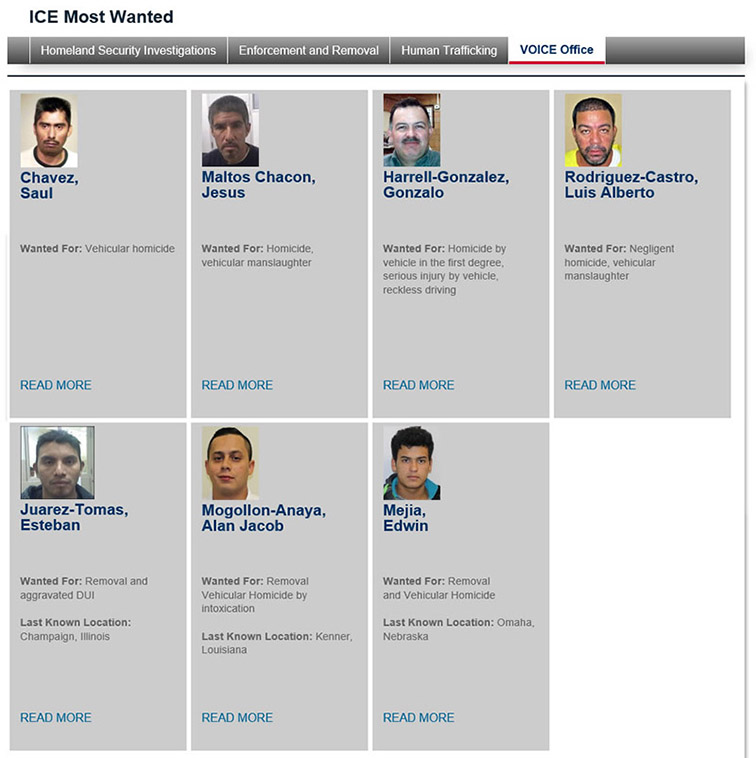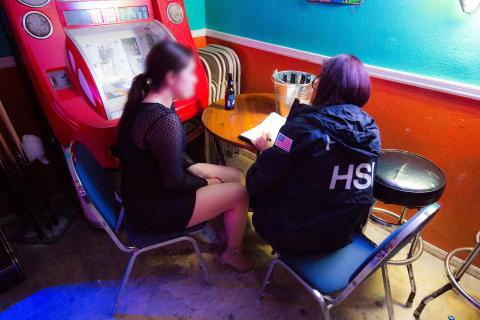 Every day, ICE HSI special agents around the globe work to uncover, dismantle and disrupt human trafficking. They come face to face with the worst of humanity – traffickers profiting off the forced labor and commercial sex of their victims using physical and sexual abuse, threats of harm and deportation, false promises, economic and psychological manipulation and cruelty. ICE proactively identifies cross-border criminal trafficking organizations and prioritizes investigations according to the degree of risk posed by each to national security and public safety. 
Financial Crimes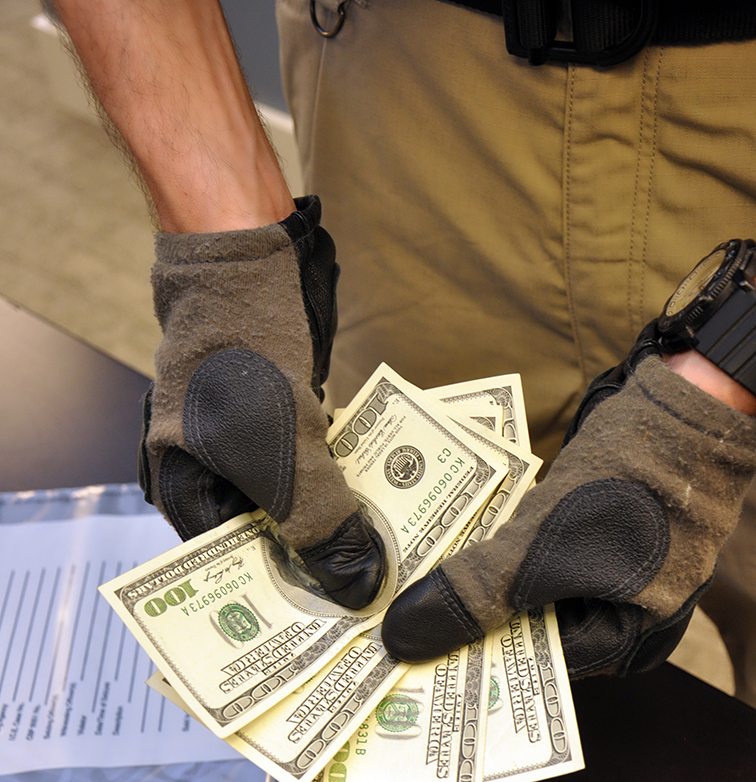 ICE investigates a wide array of financial crimes including money laundering, bulk cash smuggling, illicit trade and counterfeiting. In recent years, U.S. law enforcement has encountered an increasing number of major financial crimes, often resulting from the needs for drug-trafficking organizations to launder large sums of criminal proceeds through legitimate financial institutions and investment vehicles. ICE HSI seeks to identify not only the illicit proceeds of crime, but also targets the financial networks and third-party facilitators that conceal and launder the illegal proceeds. ICE is committed to protecting victims from additional financial crimes such as financial fraud and mass-marketing fraud. The agency has collaborated with partners such as the Jamaica Constabulary Force to identify, investigate and prosecute telemarketing scammers and return the stolen funds to the victims.
ICE places a high priority on investigating document and benefit fraud. These types of fraud pose a severe threat to national security and public safety because they create a vulnerability that may enable terrorists, other criminals and illegal aliens to gain entry to and remain in the United States. Document and benefit fraud are elements of many immigration-related crimes, such as human smuggling and human trafficking, critical infrastructure protection, worksite enforcement, visa compliance enforcement and national security investigations.
The Identity and Benefit Fraud Unit is charged with investigating and disrupting document and benefit fraud schemes. ICE works to protect victims who have had their identity stolen or personal documents misrepresented for the use of criminal activity.
The ICE HSI Tip Line was created to collect information that could aid ICE HSI special agents with investigations targeting sex offenders, especially child predators. It provides individuals across the world with a way to report suspicious criminal activity 24 hours a day, seven days a week. Highly trained specialists take reports from both the public and law enforcement agencies on more than 400 laws enforced by ICE HSI. 
If you would like to report suspicious criminal activity: Call 866-DHS-2-ICE (866-347-2423) (from U.S. and Canada)