WANTED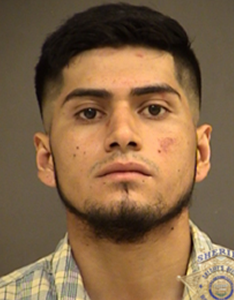 Washington County Jail detainer refusal: Manslaughter 2nd Degree, Assault 3rd Degree, Reckless Driving
| | |
| --- | --- |
| Name | Maldonado-Hernandez, Alejandro |
| | |
| | |
| | |
| Place of Birth | Mexico |
| Skin Tone | Medium |
| Height | 5'7" |
| Weight | 130 lbs |
| | |
| --- | --- |
| Eyes | Brown |
| Hair | Black |
| Gender | Male |
| Scars/Marks | Tattoos on Right Arm, Left Arm, Chest and Left Hand |
| Last Known Location | Hillsboro, Oregon |
| Occupation | None |
| | |
Summary:
On July 12, 2019, deputies with the Washington County Sheriff's Office in Hillsboro, Oregon, arrested Maldonado-Hernandez for the offenses of Manslaughter 2nd Degree, Assault 3rd Degree and Reckless Driving.
On July 16, 2019, ICE lodged a detainer with the Washington County Jail in Oregon.
On Aug. 8, 2019, the jail failed to honor the detainer and released Maldonado-Hernandez from the jail into the community. He remains an at-large criminal alien.
Warning:
Do not attempt to apprehend any subject. If you have information about the whereabouts of these fugitives, immediately contact your local U.S. Immigration and Customs Enforcement (ICE) office or call the national hotline at 1-866-DHS-2-ICE as soon as possible!
Return to the Detainer Non-Cooperation Threatens Public Safety spotlight page