WANTED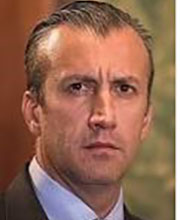 Narcotics
| | |
| --- | --- |
| Name | El Aissami Maddah, Tareck Zaidan |
| Alias | Tareck El Aissami/Tarek El Aissami |
| | |
| | |
| Place of Birth | Venezuela |
| Skin Tone | Light Brown |
| Height | 6' 2" |
| Weight | 190 lbs |
| | |
| --- | --- |
| Eyes | Brown |
| Hair | Black/gray |
| Gender | Male |
| Scars/Marks | N/A |
| Last Known Location | Caracas, Venezuela |
| Occupation | Minister of Industry and National Production for Venezuela |
| Reward | N/A |
Summary:
In February 2017, the U.S Department of the Treasury's Office of Foreign Asset Controls (OFAC) designated Tareck Zaidan El Aissami, a Venezuelan citizen, as a specially designated narcotics trafficker (SDNT) pursuant to the Kingpin Act for playing a significant role in international narcotics trafficking. El Aissami was appointed Executive Vice President of Venezuela in January 2017. He previously served as Governor of Venezuela's Aragua state from 2012 to 2017, as well as Venezuela's Minister of Interior and Justice starting in 2008. He facilitated shipments of narcotics from Venezuela, to include control over planes that left from a Venezuelan air base and drug routes through the ports in Venezuela. In his previous positions, he oversaw or partially owned narcotics shipments of more than 1,000 kilograms from Venezuela on multiple occasions, including those with the final destinations of Mexico and the United States.
El Aissami has been designated as target of the U.S. Department of State's Narcotics Rewards Program, with an up to $10 million reward to be offered for information leading to his arrest and/or conviction.
If you have any information, contact the nearest U.S. Embassy, email tareck.tips@ice.dhs.gov or call 1-866-347-2423.
Warning:
Do not attempt to apprehend any subject. If you have information about the whereabouts of these fugitives, immediately contact your local U.S. Immigration and Customs Enforcement (ICE) office or call the national hotline at 1-866-DHS-2-ICE as soon as possible!
All ICE Most Wanted