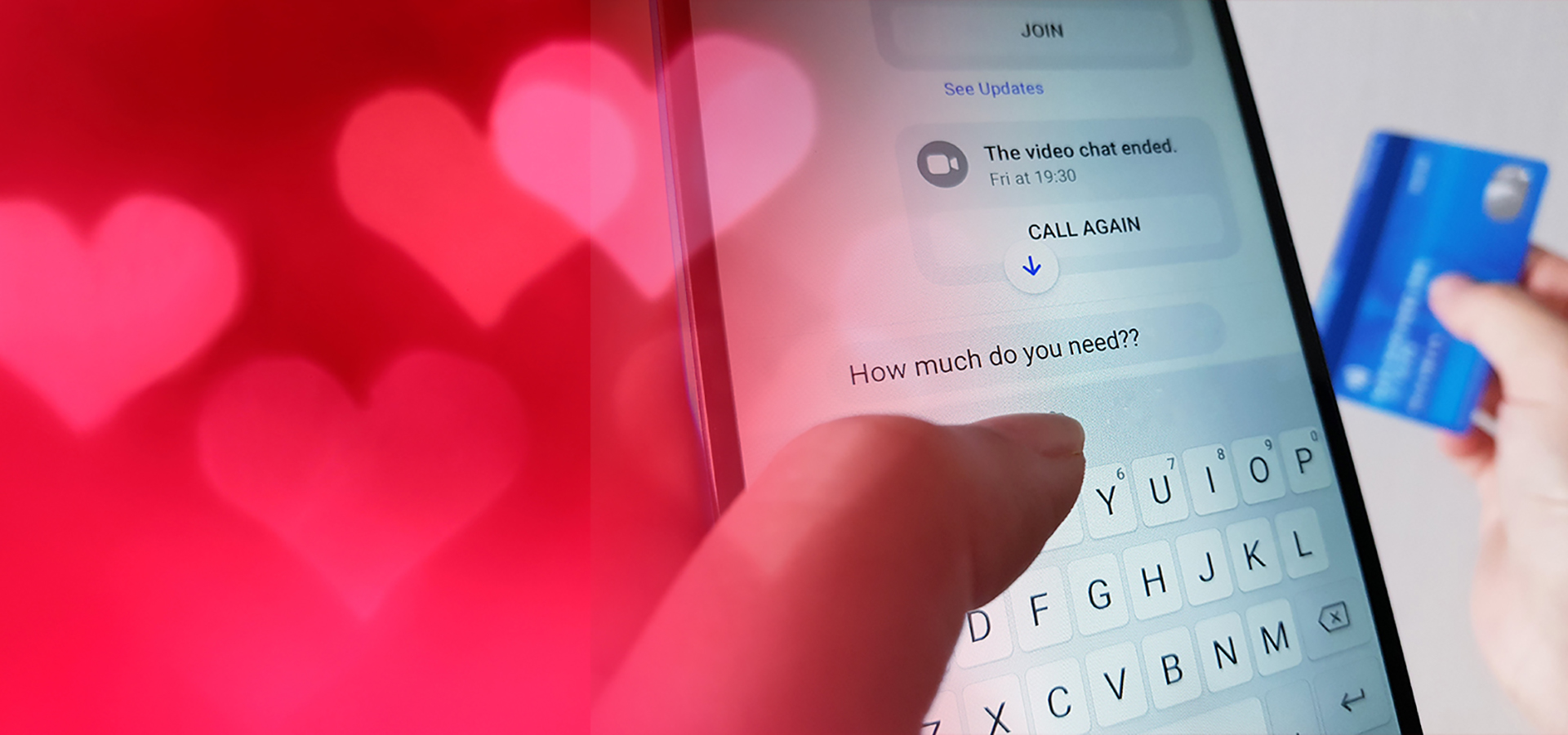 "Deborah" fell hard when she met her Spanish lumberjack on a dating site in the middle of the COVID-19 pandemic. He was 66, somewhat attractive and looked uncannily like Deborah's late husband who died just months before the pandemic hit.
"I was missing not having him here to talk about, you know, what was going on in the world and everything," Deborah said. "So, somebody suggested to go online through a dating service … and this guy's pictures shows up and he's just you know, no George Clooney, nothing gorgeous, but in fact, he had a resemblance to my husband."
For Deborah, who was in her late 60s and looking to start over after the loss of her husband, it was a perfect storm.
In this video, Deborah speaks to Homeland Security Investigations about her experience being the target of an online romance scam and gives advice for others who may be targets.
The rise of romance scams
Loneliness — especially during COVID-19 isolation periods — and the development of new technologies have contributed to the continued rise of romance scams. The number of older adults turning to the internet for dating has doubled over the past three years and 12% of those aged 55-64 reported using mobile dating apps. As Americans increasingly go online to find love, scammers are following suit.
Older adults reportedly lost nearly $139 million in romance scams in 2020.
Total reported losses to romance scams were higher than any other scam reported to the Federal Trade Commission in 2020. In 2020, people reported losing $304 million to romance scams – nine times higher than it was five years prior.
And while dating scams can happen to people of all ages, it's especially risky for older adults. Romance scams are riskiest to people in the 55 – 64 age group. Older adults reportedly lost nearly $139 million in romance scams in 2020. (FTC 2020 - 2021 Protecting Older Consumers Report).
Bank transfers and payments sent in connection with romance scams accounted for nearly $31 million in 2020, with older adults accounting for about a third of the dollars lost. Romance scammers reportedly took an additional $12 million total in cryptocurrency from older adults.
How HSI combats romance scams
Many of these romance scams originate in west Africa, predominantly Nigeria and Ghana. Criminal organizations use legitimate dating apps to defraud people who are looking for love. The scammers strategically target recently widowed or divorced seniors due to their vulnerabilities and access to cash.
In order to combat criminal organizations involved in romance scams, HSI works closely with other Department of Homeland Security components, such as the U.S. Secret Service, U.S. Customs and Border Protection, the DHS Office of the Inspector General and the DHS Office for Civil Rights and Civil Liberties, as well as the Federal Bureau of Investigations, the U.S. Postal Inspection Service, and the Internal Revenue Service. By operating in the United States, transnational criminal organizations (TCOs) pose significant multi-jurisdictional challenges to U.S. law enforcement. To combat this, HSI and its partner agencies have worked with the Department of Justice to produce a coordinated enforcement and prosecution effort. This effort involves law enforcement working jointly with prosecutors, our foreign law enforcement partners and the financial industry. This collaboration has led to a more cooperative law enforcement effort that will eventually lead to the disruption and dismantlement of the TCOs that victimize our senior citizens.
Tips to avoid losing money to a romance scam
Protect yourself and older loved ones by raising awareness. Although this can be an uncomfortable topic, make sure you, your family and your friends are familiar with romance scams. The more you know about these scams, the better prepared you are to prevent being a victim.
Check in on older loved ones. Scammers are seeking to target those living alone or grieving the loss of a spouse as they are more vulnerable.
Limit what you share online. Scammers can use details shared on social media and dating sites to better understand and target you.
Do your research. Research the individual's photo and profile using online searches to see if the image, name or other details have been used elsewhere.
Go slowly and ask lots of questions. Don't let the individual rush you to leave a dating service or social media site to communicate directly.
Listen to your gut. If the individual seems too good to be true, talk to someone you trust.
Don't overshare personal information. Requests for inappropriate photos or financial information could later be used to extort you.
Be suspicious if you haven't met in person. If the individual promises to meet in person, but consistently comes up with an excuse for cancelling, be suspicious.
Don't send money. Never send money to anyone you have only communicated with online or by phone.
Think you've been scammed?
Stop communicating with the individual immediately.
Talk to someone you trust and describe what's going on.
Report the incident to local law enforcement.
Submit a fraud complaint with the Federal Trade Commission.
Even if it's too late to recoup losses, details may help others from becoming a victim.
Call 1-866-347-2423 to report suspicious criminal activity, including possible romance scams, 24 hours a day, 7 days a week, every day of the year.