Transnational criminal organizations (TCOs) pose an ever-present threat to border security, public safety and national security. Their members are involved in countless criminal activity, including murder, narcotics and weapons trafficking and human smuggling. To combat this, U.S. Immigration and Customs Enforcement's (ICE) Homeland Security Investigations (HSI) uses its unique immigration and customs legal authorities to protect the United States from all illegal activity with a border nexus. As the largest investigative arm of the Department of Homeland Security (DHS), combating TCOs illegally exploiting America's travel, trade, financial and immigration systems is the primary focus of HSI special agents.
As part of those efforts, HSI's Border Enforcement Security Task Force (BEST) gathers officers from more than 100 different law enforcement agencies under one roof to combat emerging and existing TCOs by employing the full range of federal, state, local, tribal and international law enforcement authorities and resources in the fight to identify, investigate, disrupt and dismantle these organizations at every level of operation. The BESTs strategy eliminates the barriers between federal and local investigations and close the gap with international partners in multinational criminal investigations. Over the years, BEST has become a successful interagency law enforcement collaboration model that's keeping the homeland safer.
BEST History
In 2005, HSI partnered with U.S. Customs and Border Protection (CBP) and other law enforcement partners to create a BEST in Laredo, Texas. The success of this task force led to it being recognized as a model program for leveraging efforts against TCOs and enhancing border security. As DHS's "executive agent" for the development and management of the BEST program, HSI has led a collaborative campaign to establish and administer these investigative task forces in locations most affected by transnational crime.
In 2006, ICE was designated to serve as the executive agent for DHS in the development and management of BESTs. BESTs were initially established in locations where the threat of cross-border crime and associated violence exist.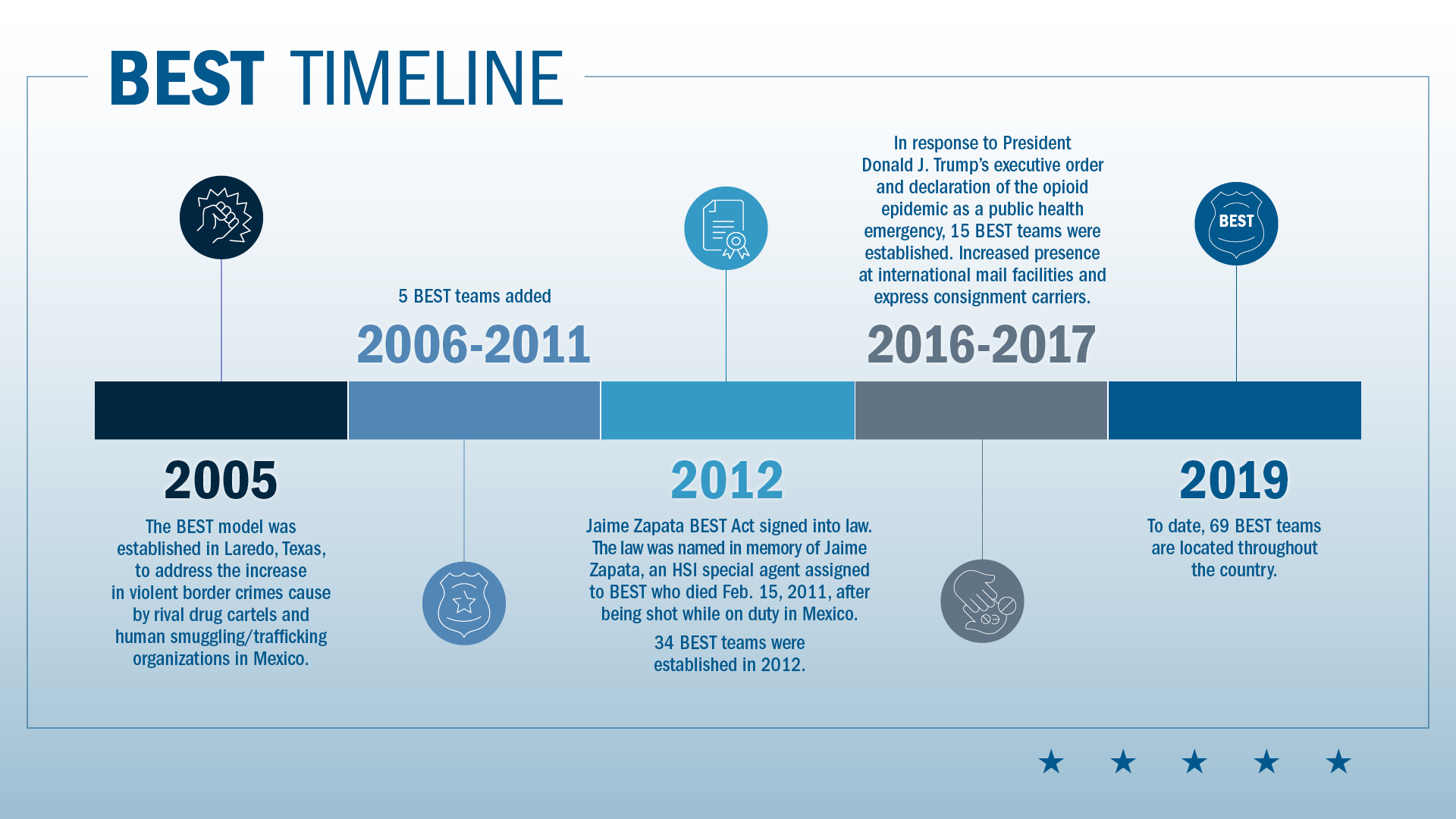 In executing its operations BEST special agents and task force officers investigate a wide range of criminal activity to include drug trafficking, arms trafficking, human trafficking and smuggling, gangs, money laundering and bulk cash smuggling, child exploitation, maritime smuggling, illicit tunnels, and commercial fraud. BESTs also work in conjunction with other investigative, analytic, and information sharing entities and programs including High Intensity Drug Trafficking Areas (HIDTA), Organized Crime and Drug Enforcement Task Forces (OCDETF), state and metropolitan area fusion centers, and Joint Terrorism Task Forces (JTTF).
Border Enforcement Security Task Forces in the U.S.
BESTs are comprised of more than 1,200 members and are located along northern and southwest land borders, major sea and river ports and international airports from Hawaii to Puerto Rico. In FY18, HSI expanded the BEST program from 88 to 96 groups under 69 sanctioned units throughout the United States at air sea, and land ports. The local HSI special agent in charge determines the mission for the BEST within their area of responsibility. Several BESTs serve more specialized missions targeting illicit cross-border tunnels, maritime smuggling (contraband and human) using modified fishing vessels (panga) and illegal international flights using ultralight aircraft for smuggling contraband.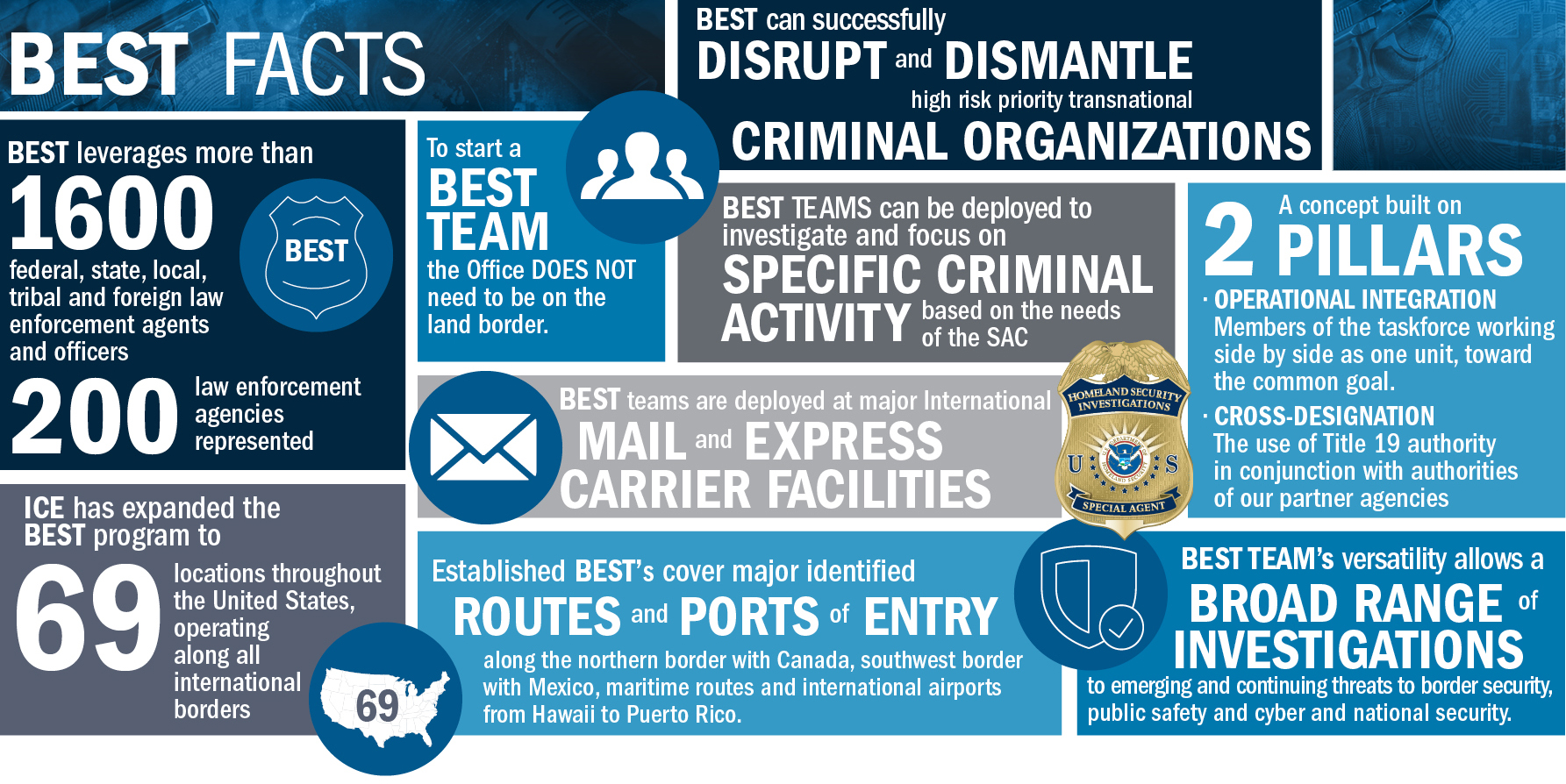 The Opioid Fight
BESTs are a significant tool used to combat opioid smuggling. Additionally, HSI established BEST units within international mail facilities specifically targeting opioids. HSI is working with international carriers identifying and intercepting opioid laden parcels entering the United States. These efforts are aimed at dismantling domestic smugglers and distributors by cutting off their supply chains.
Jaime Zapata BEST Act
In 2012, President Barack Obama signed into law the Jaime Zapata Border Enforcement Security Task Force (BEST) Act (Pub. L. 112-205). The law established the BEST program to enhance border security by fostering coordinated efforts among federal, state and local law enforcement agencies to protect U.S. citizens and communities from transnational crime. The law was named in memory of Jaime Zapata, an ICE HSI Special Agent assigned to BEST. On Feb. 15, 2011, Special Agent Zapata was murdered while on duty in Mexico. This law amends the Homeland Security Act of 2002 to formally establish the BEST program within DHS and authorizes the Secretary of Homeland Security to direct the assignment of federal personnel to BEST, subject to the approval of the head of the department or agency that employs such personnel, as well as take other actions to aid federal, state, local, tribal, and international law enforcement agencies participating in BEST, including providing financial assistance, as appropriate, for operational, administrative and technical costs associated with their participation in BEST.
BEST in the Midwest: HSI Kansas City establishes BEST task force
U.S. Immigration and Customs Enforcement (ICE) Homeland Security Investigations (HSI) Kansas City has established a Border Enforcement Security Task Force (BEST) to work with their law enforcement partners to combat the TCOs that seek to exploit the nation's interstate systems, mail facilities, intermodal transportation and general aviation routes that exist within the Kansas City area. The Kansas City Interdiction (KCI) BEST targets transnational criminal activity including, but not limited to, the smuggling of currency, narcotics, weapons, human smuggling/trafficking, benefit fraud, document fraud and intellectual property rights. Learn more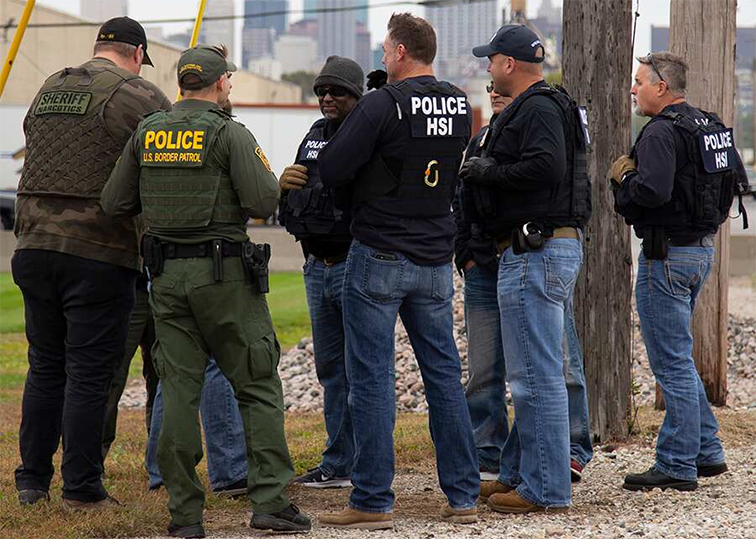 BEST In Action
ICE HSI Philadelphia participates in joint press conference announcing the seizure of over 17 tons of cocaine
On June 21, 2019, HSI Philadelphia and CBP announced the multi-agency seizure of over 17 tons of cocaine with an estimated street value of about $1.1 billion.
Several days earlier, CBP, HSI, and U.S. Coast Guard authorities detected anomalies while examining seven shipping containers aboard the MSC Gayane, a 1,030-foot Liberian-flagged container ship. The boarding team escorted the ship to a port in South Philadelphia and continued its inspection. The containers were unloaded from the vessel on Monday, June 17, 2019, at which time HSI and CBP escorted the containers to CBP's Centralized Examination Station and began the process of offloading truckloads of packaged cocaine from the containers.
ICE HSI BEST seizure results in indictment of retired Cabell County deputy sheriff and son
In August 2019, agents and officers assigned to the Mountain and Old Dominion Border Enforcement Security Taskforce seized 1.2 kilograms of fentanyl as part of an ongoing narcotics investigation, resulting in a recent indictment announced by United States Attorney Mike Stuart. A federal grand jury sitting in Huntington has returned a six count superseding indictment charging Steven Dale McCallister, 45, and his father, Larry McCallister, 76, a retired Cabell County Deputy Sheriff, with various drug and gun crimes.
BEST team in Baltimore seizes 333 pounds of cocaine in container of beach chairs from China
A BEST team in Baltimore comprised of HSI agents and CBP officers seized 332 pounds of cocaine in the port of Baltimore June 18.
While conducting import trade enforcement, CBP officers detected an anomaly during an x-ray scan of a container of beach chairs from China. Officers also observed that the original security seal lock was replaced with another lock. Officers discovered four large black duffel bags inside the container. The bags contained a combined 125 bricks of a white powdery substance that field-tested positive for cocaine.
The cocaine weighed about 151 kilograms, or about 333 pounds, and has a street value of about $10 million.
Bronx man charged following NY BEST investigation
A Bronx man was arrested in May 2018 after investigation initiated by HSI New York's BEST. The investigation, worked by taskforce members from the New York City Police Department (NYPD), CBP and the Bureau of Alcohol, Tobacco, Firearms & Explosives, led to the arrest of Richard Laugel following a city-wide manhunt, who is now charged with firearms and narcotics offenses.
As alleged in the complaint, on May 22, 2018, HSI and the NYPD executed a search warrant at Laugel's home in the Bronx in connection with an alleged illegal operation to distribute controlled substances. During the search, law enforcement officers recovered from Laugel's home and garage, among other items, firearms silencers, a grenade launcher, an AR-15 Rifle, three handguns, two of which had defaced serial numbers, plastic molds used to make the lower receiver of handguns, firearms barrels, drill press and milling machines, ammunition, and a teddy bear that contained approximately 30 grams of cocaine.