Every day, as the clock creeps closer to 5 p.m., Joseph Dyer's mind begins to shift to a peaceful space.
As a Computer Forensic Analyst (CFA) for U.S. Immigration and Customs Enforcement's (ICE) Homeland Security Investigations (HSI) Tampa field office, Dyer spends his days performing forensic examinations of seized digital storage devices, such as computer hard drives, flash drives, PDAs, mobile phones, DVDs, CDs and tape media. CFAs provide expertise on investigative strategies, assisting case agents in preparing search warrants targeting digital evidence. Dyer often encounters identity and benefit document fraud, money laundering and child pornography, among other material.
"When we get someone's computer, we have their whole life from A-Z," he said. "You see their good memories as well as the bad they've done. You get a snapshot of their life and some of the material is stomach-turning. It gets grueling at times."
The information and images CFAs consume on a daily basis can take its toll on the strongest person. For Dyer, he practices different techniques to prevent burn out. He takes his scheduled breaks throughout the day, either going for a walk or chatting with coworkers.
However, when the clock hits 5, Dyer heads home to his safe haven.
"You have to do your best to get out of work mode," Dyer said. "Everything that happens, whether stressful or not, is in the past. When I come home and cross that threshold, it's a whole new ballgame."
For Dyer, his safe haven is in front of a blank canvas in his designated painting area at home. For about an hour a day, he's painting, even if it's just a little bit here and there. On weekends, however, it gets more "intense." As Dyer describes it, he turns on music, watches football and really gets lost in the painting.
"The next thing you know it's Monday morning," he said.
It's an unlikely hobby. Growing up in Little Rock, Arkansas, Dyer was never into drawing, let alone painting. His career led him to the U.S. Navy, where he served six years as a helicopter mechanic. After suffering a serious back and nerve injury that forced him into separating early, Dyer wanted to find a career that was challenging and would be in demand for the foreseeable future. That led him to Keiser University, where he pursued a degree in cyber forensics via the G.I. Bill. During that time, a counselor recommended HSI's Human Exploitation Rescue Operative (HERO) program. He interviewed and was ultimately hired as an intern with HSI Tampa in 2015.
"I'm stabilized now. I'm not moving around a lot. When I was in the Navy, we worked in situations that were often not hospitable and there were a lot of physical demands on my body, especially working on helicopters which often required lifting heavy equipment," said Dyer, who is now a full-time HSI employee. "The demands now are different. Working here at HSI, I'm at a desk every day focusing on fighting crime."
Yet the physical pain was still there.
At the Veterans Affairs building in Tampa, there is a pain management program that provides veterans with activities, learning hobbies and skills that distract from any pain they may be experiencing, whether mental, PTSD or physical pain. For Dyer, it was nerve and back pain.
One of the activities offered was painting by numbers. Every day for the three weeks Dyer attended, he would paint. Once he finished the program, he kept painting and did so without the numbers to guide him. When paintings didn't come out to his liking, Dyer kept at it, refining the painting until it became something he was proud of.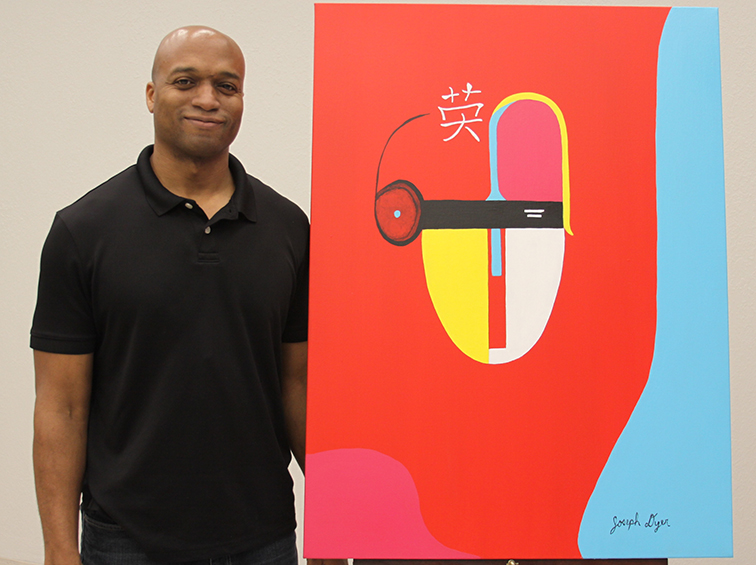 "I had no interest in painting, but I tried it out. It took me a while to get my first painting where I wanted it to be and after that, I kept going on and on," Dyer said. "When I paint, it's relaxing for me. It's not so much trying to express myself through art, it's me distracting myself from issues of chronic pain."
Surprisingly, Dyer has never had any formal training. He's picked up painting gradually on his own through trial and error and the occasional YouTube tutorial. When he starts a new painting, there's no specific inspiration. He doesn't intentionally go out, start a painting and wanting it to look a specific way. He simply paints whatever comes to mind.
"One of my favorite paintings, I didn't mean for it to look that way. I just put a random brush stroke on the canvas and kept creating it from there," Dyer said. "What inspires me right now is that I'm just having fun. I feel good while I'm doing what I want to do."
The long term plan for Dyer is to grow his painting from a hobby to a business. In the interim, he wants to make more paintings for veterans. As a veteran himself, Dyer understands that those who enter the doors of the VA facility are coming from a long journey. For others, it's a task just to get there. Painting has become a place of peace for Dyer. He now wants to use that gift to help others.
"When they go in there, I want them to have something they can see that takes their mind off of things for a few seconds," Dyer said. "Hopefully my paintings can distract them from their pain even if it's for a moment."