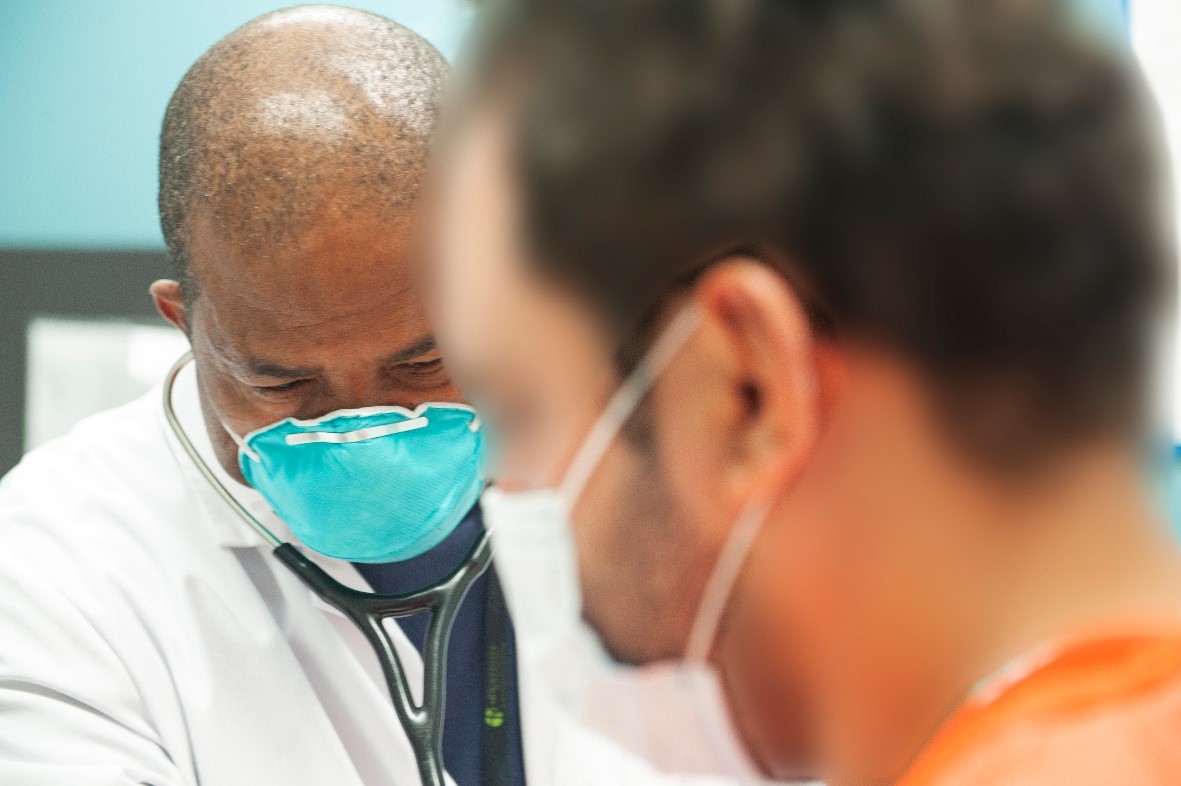 ICE Health Service Corps focused on best patient outcomes
The ICE Health Service Corps (IHSC) is the only entity in ICE with the responsibility of providing direct patient care. IHSC is made up of a workforce of approximately 1,700 employees that includes U.S. Public Health Service (PHS) Commissioned Corps officers, federal civil servants and contract health professionals. IHSC is committed to providing health care services to reduce global disease and support the safe apprehension, enforcement and removal of detained individuals involved in immigration proceedings.
ICE Health Care System
IHSC provides direct care to approximately 88,000 detainees housed at 21 designated facilities throughout the nation to include medical, dental and mental health care, and public health services. In Fiscal Year (FY) 2021, IHSC oversaw health care for over 169,000 detainees housed in 150 non-IHSC staffed facilities and directly supported ICE field leadership on medical issues within their area of responsibility. In many instances, the care that detainees receive while in ICE custody is the first professional medical care they have received, and it is common for detainee health screenings to identify chronic and serious health conditions that were previously undiagnosed.
ICE's detainee population presents unique health care challenges. Some detainees have recently come into the United States under dangerous conditions and may suffer from dehydration, injuries, misdiagnoses, or previously existing medical conditions.
Detainees within IHSC-staffed facilities receive timely medical care. The care includes a health screening within 12 hours of arrival, and a complete health assessment within 14 days. A medical delivery care person staffs each facility 24 hours a day, seven days a week for direct patient access.
Detainees identified as high-risk during the intake process are triaged to a higher level of care immediately. If at any time a patient verbalizes an issue such as, "I feel very bad" or "I don't have the medicine I need" a nurse or mid-level practitioner contacts a higher level medical provider, usually a physician, so that the patient is seen within 24 hours.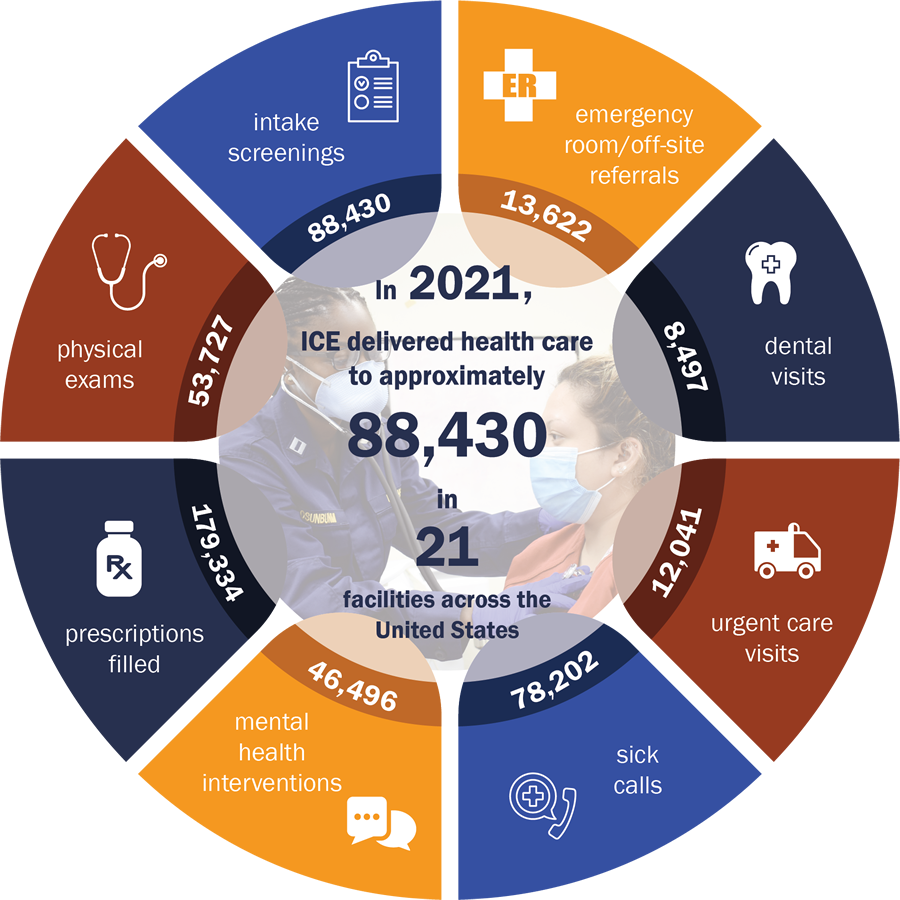 IHSC recognizes the need for patient privacy, honors patient requests for same-gender or preferred-gender, providers, and utilizes a telephonic language line for assistance with translation and dialect interpretation when needed.
IHSC Response to Coronavirus (COVID-19) Pandemic
In early 2020, IHSC responded to an emerging public health threat caused by a new coronavirus, SARS-CoV-2 or COVID-19. Efforts to contain the virus necessitated comprehensive, coordinated and innovative approaches executed at all levels of the organization. IHSC tracked national and international trends, and in turn issued real-time guidance for the detention environment as the pandemic evolved.
IHSC adjusted quickly by implementing virtual mental health services and infectious disease consults, as well as issuing and implementing preventive guidance in accordance with Centers for Disease Control and Prevention recommendations. In addition to direct patient care provided, many staff worked behind the scenes to ensure coordination of daily operations between IHSC headquarters, Enforcement and Removal Operations, and the field.
ICE charged IHSC with developing and executing a plan in April 2020 to provide health care to families and unaccompanied children held until removal in three hotels located in El Paso, Texas; McAllen, Texas; and Phoenix, Arizona. IHSC rapidly established the IHSC Hotel Operation and deployed field medical coordinators, who are registered nurses, to the hotels within 48 hours of activation.
IHSC's COVID-19 testing capacity continues to strengthen and normalize over time. IHSC distributes test kits and machines across 25 IHSC and non-IHSC-staffed facilities, testing detainees from more than 65 different countries. IHSC continues to track national and international trends, and issues real-time guidance for the detention environment as the pandemic evolves.
IHSC's Motivation to Provide High Quality Health Care
Dr. Stewart D. Smith, IHSC Assistant Director, strongly believes in the mission and capabilities of the agency's health care team.
"Our mission is simple: to be the best health care delivery system in detention health care and correctional health care, and to safely deliver high quality health care to those in ICE custody."
IHSC's Vision
To be the best health care delivery system in detention and correctional health care.
IHSC's Mission
Provide the safe delivery of high-quality health care to those in ICE custody.
IHSC's Core Values
Integrity. We consistently conduct business and deliver goods and services openly, honestly, and to the best of our ability.
Commitment. We are committed to providing quality, cost-effective health care in collaboration and partnership with both federal and non-federal partners.
Accountability. We are responsible for our personal and organizational decisions, actions, and results. We are good stewards of government funds and resources.
Service. We strive to satisfy and meet the needs of the organization and stakeholders in support of immigration law enforcement.
Excellence. We provide services and mission support utilizing highly qualified health care professionals to work toward achieving optimal outcomes.
"The ICE Health Service Corps staff comprises the highest caliber of health professionals who have chosen detention health care as a noble and rewarding career," Smith said. "Our team is second to none."
IHSC Workforce
The IHSC workforce consists of physicians, nurse practitioners, registered nurses, psychiatrists, psychologists, social workers, pharmacists, dentists and administrators.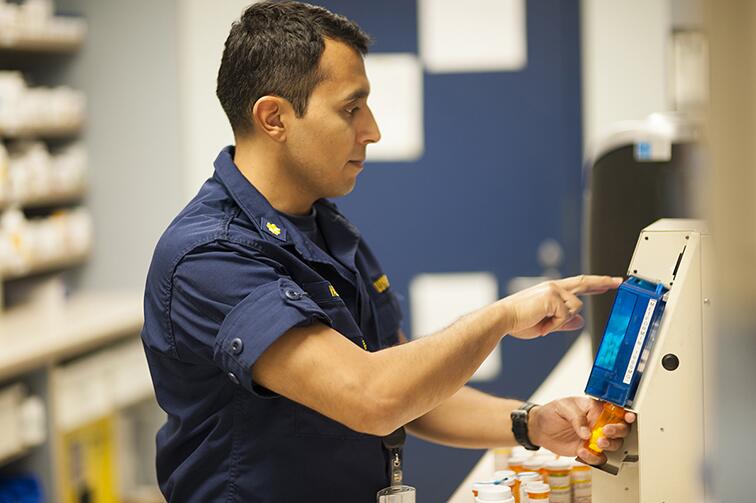 The IHSC Special Operations Unit (ISOU) works with the U.S. Coast Guard (USCG) and provides health care to migrants on board USCG vessels to help stabilize and return the migrants to their country of origin. ISOU also provides medical support during ground, flight and sea operations. ISOU consists of specially trained PHS officers who, in addition to meeting the medical needs of detainees, serve as liaisons between law enforcement officials and key stakeholders.
ICE family residential centers in Dilley and Karnes, Texas, and Berks, Pennsylvania, each have their own standardized care delivery system to accommodate a population that includes women and children. The three centers provide training that includes: parenting classes, school for children with certified teachers, language classes, social skill training, social networking, nutrition classes, internet training, library training and how to use a law library.
ICE embraces nationally recognized performance standards for detention and health care delivery. IHSC conducts significant training to ensure excellent detainee care. IHSC's medical personnel undergo more scrutiny than any other integrated health delivery program in the nation. ICE enforces its standards with regular reviews, on-site assessments, and corrective action plans, if needed.
ICE Health Service Corps Accreditations and Credentials
American Correction Association
National Commission on Correctional Health Care
National Practitioner Data Bank
ICE Family Residential Standards
ICE Performance Based National Detention Standards