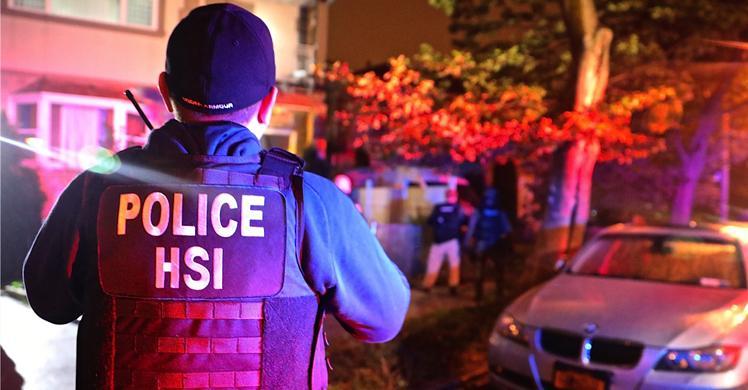 A Year of Success
Transnational criminal street gangs represent a significant threat to public safety in communities throughout the United States. Their members are involved in a myriad of criminal activity, including murder, extortion, narcotics and weapons trafficking, human smuggling/trafficking and prostitution and other crimes with a nexus to the border. U.S. Immigration and Customs Enforcement's (ICE) Homeland Security Investigations' (HSI) National Gang Unit (NGU) is a critical part of ICE's mission to bring the fight to transnational criminal gangs. The NGU identifies and develops intelligence on gang membership, associates, activities and international movements. It oversees HSI's expansive transnational gang portfolio and enables special agents to bring the fight to these criminal enterprises through the development of uniform enforcement and intelligence-sharing strategies.
In 2017, HSI continued its fight to combat transnational gangs, making 4,818 criminal arrests in the fiscal year. Of that number, there were 796 MS-13 arrests, 555 of which were criminal and 241 admin.
Community Shield
In what began more than a decade ago, Operation Community Shield is an international law enforcement initiative that combines HSI's expansive statutory and civil enforcement authorities to combat the growth and proliferation of transnational criminal street gangs, prison gangs and outlaw motorcycle gangs throughout the United States. HSI special agents working in conjunction with federal, state and local law enforcement agencies have since made more than 61,000 gang-related arrests; more than 8,100 of those being members or associates of MS-13.
Several operations HSI conducted in 2017 continued what Operation Community Shield started in 2005.
A six-week nationwide gang operation led by HSI concluded in May with 1,378 arrests across the United States – the largest gang surge conducted by HSI to date. Of the 1,378 total arrested, 1,098 were arrested on federal and/or state criminal charges, including 21 individuals arrested on murder related charges and seven for rape and sexual assault charges. The remaining 280 were arrested on administrative immigration violations. Of the total arrested, 933 were U.S. citizens and 445 were foreign nationals from 21 countries in South and Central America, Asia, Africa, Europe and the Caribbean.
Operation Matador nets 39 MS-13 arrests in last 30 days
With more than 10,000 members across 40 states, MS-13 is one of the most dangerous criminal organizations in the United States today. In June, HSI, along with ICE's Enforcement and Removal Operations (ERO) announced their recent launch of Operation Matador and the DHS Transnational Organized Crime Initiative (DHS TOCI), which represents a unified effort dedicated to combat the proliferation of MS-13 and other transnational criminal gang activity in the New York City metropolitan area, including Long Island.
The ongoing joint enforcement effort resulted in a total of 45 individuals arrested, all of which were confirmed as gang members and affiliates – including 39 affiliated with MS-13, two with the Sureños, one with the 18th Street Gang, one with the Latin Kings, one with Los Niños Malos and one with Patria.
Of the gang members arrested during this ongoing enforcement action, 20 had additional criminal histories, including prior convictions for assault and weapons charges.
Caso Pilato, an 18 month investigation into MS-13 by HSI's Transnational Criminal Investigative Unit (TCIU) in El Salvador, with significant support from HSI San Salvador, concluded in September following an 18-month investigation with the arrests of 53 MS-13 members and associates during Operation Tecana, the enforcement phase of the investigation.
Caso Pilato and Operation Tecana focused on disrupting the capacity of the Stoners Locos Clique of MS-13 to obtain and utilize illicit proceeds. The Stoners Locos had generated $1.9 million in illicit revenue since 2015 through crimes such as extortion, robbery, vehicle theft, money laundering, assault, and homicide.
During a previous related enforcement action in June 2017, HSI Los Angeles and ERO Task Force Officers arrested the highest member of the Stoners Locos Salvatruchos, Cesar Lopez Larios, alias Grenas, for illegal re-entry after deportation. Lopez Larios had maintained functional control of the organization from Los Angeles. After his subsequent removal to El Salvador, Lopez Larios was immediately arrested by the HSI TCIU San Salvador for conspiracy to commit homicide according to Salvadoran law.
Operation Raging Bull
Operation Raging Bull signaled a renewed focus on combating the gang with an unprecedented level of cooperation among DHS's components and our domestic and international partners. Operation Raging Bull resulted in the arrest of 267 in U.S. and overseas.
The operation was conducted in two phases, targeting dangerous gang members and their global financial networks. In September, ICE announced the results of the first phase of this operation which netted 53 arrests in El Salvador at the conclusion of an 18-month investigation. The second phase was conducted across the U.S. from Oct. 8 to Nov. 11, and concluded with 214 MS-13 arrests nationwide.
Combating Gang Activity
HSI has committed great resources to this fight. The NGU oversees HSI's expansive transnational gang portfolio and enables special agents to bring the fight to these criminal enterprises through the development of uniform enforcement and intelligence-sharing strategies.
The presence of violent transnational street gangs, as well as the amount and violent nature of the criminal activity they support, presents on ongoing challenge to law enforcement at every level.
Whether on the local, state or federal level, effective collaboration with other law enforcement partners is an essential part of the criminal investigations HSI conduct.
The 2017 end of year statistics reflect the agency's commitment to dismantle violent street gangs.