Without family, friends or support, victims can get lost in the shuffle. Ignored. Forgotten.
Even after Homeland Security Investigations officials identify them, victims typically face long, uphill roads to recovery.
Often, even small victories are tough to come by. Though each victim's path is unique, HSI's Victim Assistance Program is leveling the playing field — with measurable success. The program, often called VAP, ensures victims of federal crimes get the support they need.
What is the VAP?
The experiences victims have with law enforcement officials influence the way they approach all future interactions with the criminal justice system. These interactions and experiences also set the stage for their healing and recovery processes.
And that's why it's so important that VAP professionals are available to victims in HSI investigations.
The VAP creates and fosters safe pathways for victims — not only so investigators can unearth the facts and build a successful case, but so that victims can get their voices back.
"When we recognize and understand that each victim is unique from their experience to how they perceive what they experienced, we're meeting them where they are and honoring their ability to take control of their lives," said Deputy Assistant Director Edward V. Owens, who oversees the VAP program. "This is how we empower victims at the most basic level."
The program, staffed by highly trained experts, is designed to provide victim assistance from the moment law enforcement officials identify them. It helps victims of a wide range of federal crimes that fall under HSI's purview, including:
Meeting the Professionals Who Help Victims Start the Healing Process
In the months, days and hours leading up to an operation, countless professionals — including a legion of Homeland Security Investigations special agents, forensic interviewers, victim assistance specialists and other experts — plan around the clock.
These experts coordinate their efforts and make sure they have a plan in place to care for victims; they don't simply arrest a suspect and forget about the fallout.
Here's a closer look at the key roles each plays in a victim's recovery and healing process.
HSI Special Agents
Special agents piece together information that helps them identify victims and gather evidence for a successful investigation. When special agents identify crime victims, they coordinate with HSI forensic interview specialists and victim assistance specialists to ensure that the victims are safe and that someone is there to provide them with the care, support and services they need.
Implementing a multidisciplinary, victim-centered, trauma-informed and culturally sensitive approach has a positive impact in a victim's ability to become an effective witness and to participate in the criminal justice process.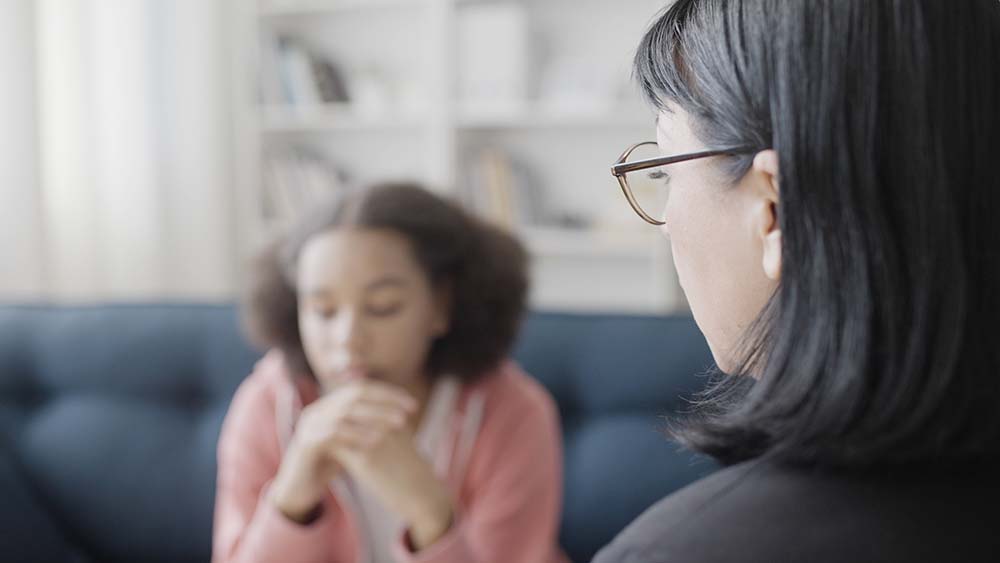 Forensic Interview Specialists
Forensic interview specialists are critical resources for HSI special agents. They gather facts from crime victims about their experiences, perpetrators and other potential victims while minimizing retraumatization or revictimization. These specialists create neutral, safe spaces where victims are empowered to share information in their own words.
Victim Assistance Specialists
Victim assistance specialists connect victims to local resources for comprehensive services, such as health and mental health care, food, shelter, legal assistance and other social service programs that may provide them with the stability and security they need.
Small Gestures Make Big Differences for Victims
Simple things matter the most to many crime victims.
Amy, a forensic interview specialist with HSI Detroit, recalls one teen victim of human trafficking who didn't have family or friends to help her meet her basic needs. She was alone in the United States, effectively cut off from everyone she ever knew or cared about. After what she'd been through, she certainly didn't expect anyone to come through for her — especially not someone working with law enforcement.
Amy and the teen met moments after HSI special agents removed her from a trafficking situation. Amy asked her, "Is there anything I can do for you?
Amy knew from three decades of experience that completing one small act of kindness — or even just showing up when she said she would — could begin to build an essential bridge of trust. And when Amy showed up again the next day, her follow-through sparked a connection between the pair.
Sadly, safety and trust are unfamiliar territory for many crime victims.
"Sometimes they'll just say, 'Oh, you did come back,'" Amy said.
Overcoming Obstacles to Make Connections
In many cases, criminals lead their victims to believe that law enforcement officials or professionals working with the government are out to get them. They often try to scare their victims away from getting help, telling them that if they reach out to officials, they'll be ignored, arrested, jailed or removed from the United States.
That creates an uphill battle for VAP experts, who typically need to take baby steps to make connections and build trust with victims. Earning trust usually starts with back-and-forth dialogue that leads to victims getting the care and services they need.
"My role as a victim assistance specialist is to be a source of support for victims and their families. I'm a resource within HSI and subject matter expert on victim-related matters," said Robin, who works with HSI Charlotte. "I educate people on their rights as victims of federal crimes; assess immediate, long-term and changing needs; and serve as a conduit to connect victims to the services that they identify that they need."
Robin's main goal is to maintain relationships with victims, ensuring that each person she deals with knows that they matter.
"I'm primarily responsible for ensuring consideration of the victim is maintained throughout the investigation. I also make sure their needs are appropriately addressed and their rights are honored while minimizing the potential for retraumatization," Robin said.
Putting Away Perpetrators With Victims' Help
When victims are ready to share their experiences, the VAP's forensic interview specialists gather information from them. Sometimes they get everything in one session, and other times, a victim's answers only lead to more questions. It's not unusual for VAP forensic interview specialists to meet with victims more than once if more information is needed for a case, and if the victims are willing and ready to share more information to assist with the investigation.
When forensic interview specialist Amy knows she'll need to gather more information, she gives victims a heads-up.
"I'll say, 'Here's what's going to happen in the next couple of days. We're going to come back. We'll check on you, and I'll ask to meet with you. We'll have a conversation with you, and we'll be able to update you or answer some questions that you think of between now and then,' and it means something to them," said Amy.
Outlining what's going to happen next gives victims a sense of stability, and it gives special agents and investigators the opportunity to prove that they're really there to help, rather than harm, the victim.
Keeping Tabs on Victims' Well-Being
No matter how many times a forensic interview specialist comes back to find facts, they're always dialed-in to the case through the victim assistance specialist, who's there to connect victims with services until the victims no longer need them. Forensic interview specialists and victim assistance specialists work as teams to provide victims with comprehensive support.
In Their Words: Interviews With VAP Professionals
Forensic Interview Specialist Amy
Question: How long have you been with HSI, and why did you choose to become a forensic interview specialist?
Answer: "I was really drawn to law enforcement, but my dad refused to let me go to a police academy out of high school. That was back in the day, when you didn't have to go get the college degree; you could go straight to police academy. My dad said, 'You're going to go get a four-year degree!' So I went to get a four-year degree and really, the only fit was behavioral science, psychology and social work that I was drawn to, because I always wanted to work with kids. I didn't know how that was going to collide with law enforcement until I started working at a small agency and encountered children who had been sexually abused, where the criminal justice response was not assisting them based on their age and inability to articulate enough for us to charge someone."
Question: What's the most rewarding part of your job?
Answer: "The most rewarding part of the job is when a victim wants to participate in the criminal justice system, and for the justice system to work in their favor. I still celebrate when perpetrators go to jail for victimizing people. We really want the system to be about victims and not without victims. Are you able to prosecute some cases without a victim's outcry or just based on evidence? Yes — but a case that gets prosecuted with that victim's participation, and them knowing what their rights are and being part of our team to prosecute is really very rewarding. If it's successful and people are empowered and rehabilitated, you know, emotionally or psychologically, you say, 'You know what? I can get up tomorrow and do all this again.'"
Victim Assistance Specialist Robin
Question: How long have you been with HSI, and why did you choose to become a victim assistance specialist?
Answer: "I've been with HSI for a little over 12 years. I joined as the victim assistance specialist with HSI New Orleans, where I served for nine years. It was after HSI's realignment, which created several new areas of responsibility, that I relocated to Charlotte, where I continue to do the work that I enjoy.
I became a victim assistance specialist because it's an ideal way to operate within my purpose of leaving this world a little bit better than I found it. I'm able to do that by supporting, encouraging, uplifting and empowering each person who's touched through my role.
I work with HSI because it allows me to fulfill my purpose while exercising my interest in the criminal justice system. It provides me with the support and autonomy to do the work I do — work that matters and makes a difference in people's lives every day."
Question: What's the most rewarding part of your job?
Answer: "I've had the opportunity of supporting some of the most vulnerable people in society. I'm allowed in the lives of those who have been victimized and endured experiences no one should ever have to fathom. I am moved by observing the journey of those I serve as they elevate from victim to survivor. I am also moved by any step toward healing, recognition of, or regaining of one's power after having been victimized. It is rewarding just to be included in the victim's journey from victim to survivor. It is also rewarding to be a member of the HSI team whose input is sought and valued."
Question: What do you want the public to know about the Victim Assistance Program?
Answer: "It's through the forensic interview specialist and victim assistance specialist working together that victims and their families get the support they need, can tell their stories, and can actively engage in the criminal justice system. That effects change within society and the world. In action, this is a wonderful illustration of this year's National Crime Victims' Rights Week theme of Survivor Voices: Elevate, Engage, Effect Change."
Question: Do you have any really memorable cases you can share?
Answer: "Two survivors in particular come to mind because of the courage and resilience they demonstrated — despite their experiences," said Robin. "One was a teenage girl who lost any semblance of a 'regular' teenage life because of human trafficking. She was able to begin working through her traumatic experiences and made advances along her road of healing, even to the extent she was able to regain some fraction of a 'regular' teenage life. She returned to school and attended her high school prom. The second survivor is a foreign national who experienced ongoing exploitation over several years and had a child as a result of her exploitation. She received assistance and support, including immigration relief. Now, she's built a life for herself and her baby. She's been able to cultivate a healthy and supportive community to surround her."
Integrating Survivors' Voices: What it Means to Survivors and VAP
VAP serves victims and survivors of numerous federal crimes, many of whom have experienced multiple traumas and victimizations. Many are also unable to leave the perpetrators and are afraid to seek help.
"Integrating voices of survivors into VAP's work requires us to respect the time an individual needs to get to a place physically, mentally and emotionally where they are willing to try to trust and work with a first responder or a service provider," said VAP Unit Chief Gail Fraser.
The VAP team works closely with special agents to integrate a victim-centered approach into investigations. For VAP team members, that means providing accurate, clear information that lets survivors take control of their lives. It also means connecting them with services in the community that will put them on the road to healing and recovery.
"As first responders and service providers, we work as multidisciplinary teams and coordinate our responses, involvement and information as much as laws and policy dictate. We want to minimize the number of times someone has to tell their story and maximize the amount of information we gather from those discussions by hearing everything someone is trying to tell us. We listen carefully after asking the right questions to make sense of what that person is trying to tell us. Victims and survivors are in the best position to teach us where we can improve our response, how we can expand the services offered, and how we can understand their needs, frustrations and fears," Fraser said.
Going Global With a Victim-Centered Approach
Real-world experiences show that integrating a victim-centered approach helps victims, investigators and prosecutors — and it's the best way to hold perpetrators accountable while empowering victims.
The VAP isn't limited to the United States and its territories. In coordination with HSI attaché offices abroad, VAP personnel share promising practices with foreign law enforcement officers, prosecutors, judges and representatives from nongovernmental organizations. They work to help foreign criminal justice systems understand the critical need for victim assistance personnel to provide essential support. The VAP program also conducts victim-centered approach training at the International Law Enforcement Academies.
"The way an agency treats victims directly reflects that agency's mission and core values. By using the VAP and incorporating victim-centered, trauma-informed approaches to our investigations, HSI is directly influencing every victim's overall safety and stability while opening the door to healing and closure that people need to be successful, productive members of society," said Fraser.
Getting Technical: Fast Facts on the VAP
As one of HSI's most innovative initiatives, the VAP is always evolving to meet new needs in the field. Here's a quick run-down on the VAP and what it does:
The VAP's victim-centered and trauma-informed approaches seek to center investigations on victims and empower victims so they feel safe, have choices and can take back control.
VAP professionals are liaisons between the criminal justice system and victims. They keep victims informed on the status of pending investigations and provide support as needed, which goes a long way with victims — especially those whose cases take years to complete.
VAP provides overall guidance throughout HSI on victim assistance, including training and technical assistance, and monitors compliance with federal crime victim assistance statutes. These include the Crime Victims' Rights Act and the Victims' Rights and Restitution Act.