Over the course of several days in June 2016, Fugitive Operations Teams with U.S. Immigration and Customs Enforcement's (ICE) Enforcement and Removal Operations (ERO) arrested 45 fugitives, many of whom are currently wanted by a foreign government on Interpol Red notices for a range of alleged criminal activity, including homicide, rape and gang activity.
Known as Project Red, the nationwide operation highlights the robust, effective collaboration between ICE, its state and local law enforcement partners, the United States Marshals Service, Europol, and Interpol. The name 'Project Red' comes from the fact that those targeted by ICE are wanted fugitives, and many are the subject of warrants and active Interpol Red notices. From its headquarters in France, Interpol uses a color-coded system of notices and alerts, as well as an advanced, secure communications network to share intelligence and analysis, informing the 190 member nations of a variety of potential threats.
"Criminal activity is seldom restricted by international borders," said ICE Director Sarah R. Saldaña. "As such, it is incumbent on all of us in the global law enforcement community to share intelligence and build capacity in our operations by working closely with our many partners to ensure that those who threaten public safety and defy the integrity of our immigration laws and border controls do so at the very real risk of their arrest, removal, and incarceration."
With its immigration enforcement policies affirmed by Department of Homeland Security (DHS) Secretary Jeh Johnson in November 2014, ICE continues focusing its removal resources on violent criminals and other high priority fugitives who pose a danger to our communities. Since October 2009, ERO has identified, apprehended, and removed nearly 1,800 foreign fugitives who were sought in the native countries for serious crimes, including kidnapping, rape, and murder.
This level of success requires significant coordination. ICE's strategic partnership with Interpol has grown significantly in recent years, thanks in part to a shared understanding that transnational crime cannot be countered by the law enforcement community in isolation. By engaging in partnerships across sectors, we can share expertise, technology and resources and, as a result, strengthen our joint response.
For example, ICE personnel assigned to Interpol's Washington, DC office work alongside officers, attorneys and analysts from other DHS components, the Department of Justice and the Department of State on a daily basis. Together, they strive to confirm identities and criminal warrants with foreign countries, provide fugitive lead referrals to the field, provide assistance in obtaining travel documents, and coordinate with Justice and State on extradition matters.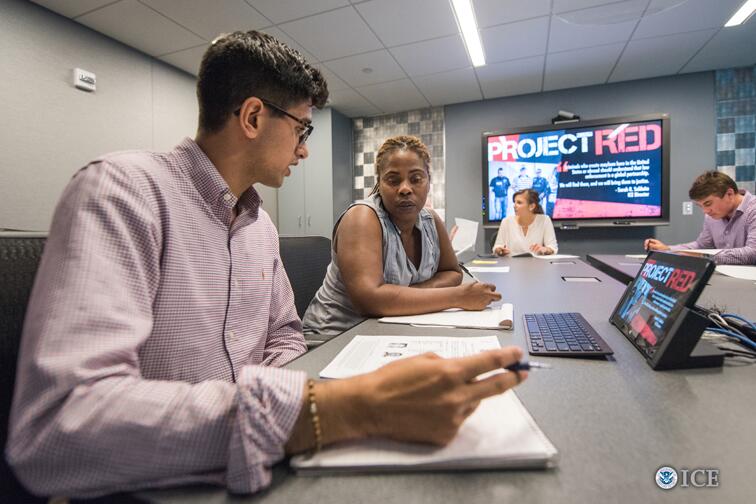 In 2015, the partnership between ICE and Interpol was further strengthened to include a permanent ICE ERO liaison at Interpol Washington's Alien/Fugitive Division, providing programmatic oversight of transnational immigration enforcement and fugitive investigations.
"For more than a decade, Interpol Washington and ICE have partnered to share critical law enforcement investigative information to keep fugitives off of our streets. Project Red is the culmination of what these two agencies can achieve when we work together," Interpol Washington Director Geoffrey S. Shank said. "The investigative leads Interpol Washington provided from our international law enforcement partners made it easier for foreign fugitives to be identified and arrested by ICE."
A similar series of coordinated enforcement actions targeting Interpol Red notice fugitives occurred in June of 2015, leading to the arrest and removal of 27 high-priority individuals in nine states. In fact, since conducting its first joint operation with Interpol Washington in 2010, the number of foreign fugitives arrested by ICE has increased steadily each year, sending a strong signal to individuals and criminal networks attempting to hide from justice in the United States.
In addition to the cooperation needed between ICE and its law enforcement partners to ensure the operation's success, the agency continues seeking the general public's help in sharing any information they might have regarding criminal fugitives at large in the United States. Effective public outreach and community engagement not only contributes to strengthening the overall security of our cities and towns, but also fosters greater trust and collaboration among a general public that often finds itself the victim of additional crimes perpetrated by those already wanted, or convicted, by our partner nations.
News Release: ICE, US Marshals arrest 45 international fugitives with Interpol notices