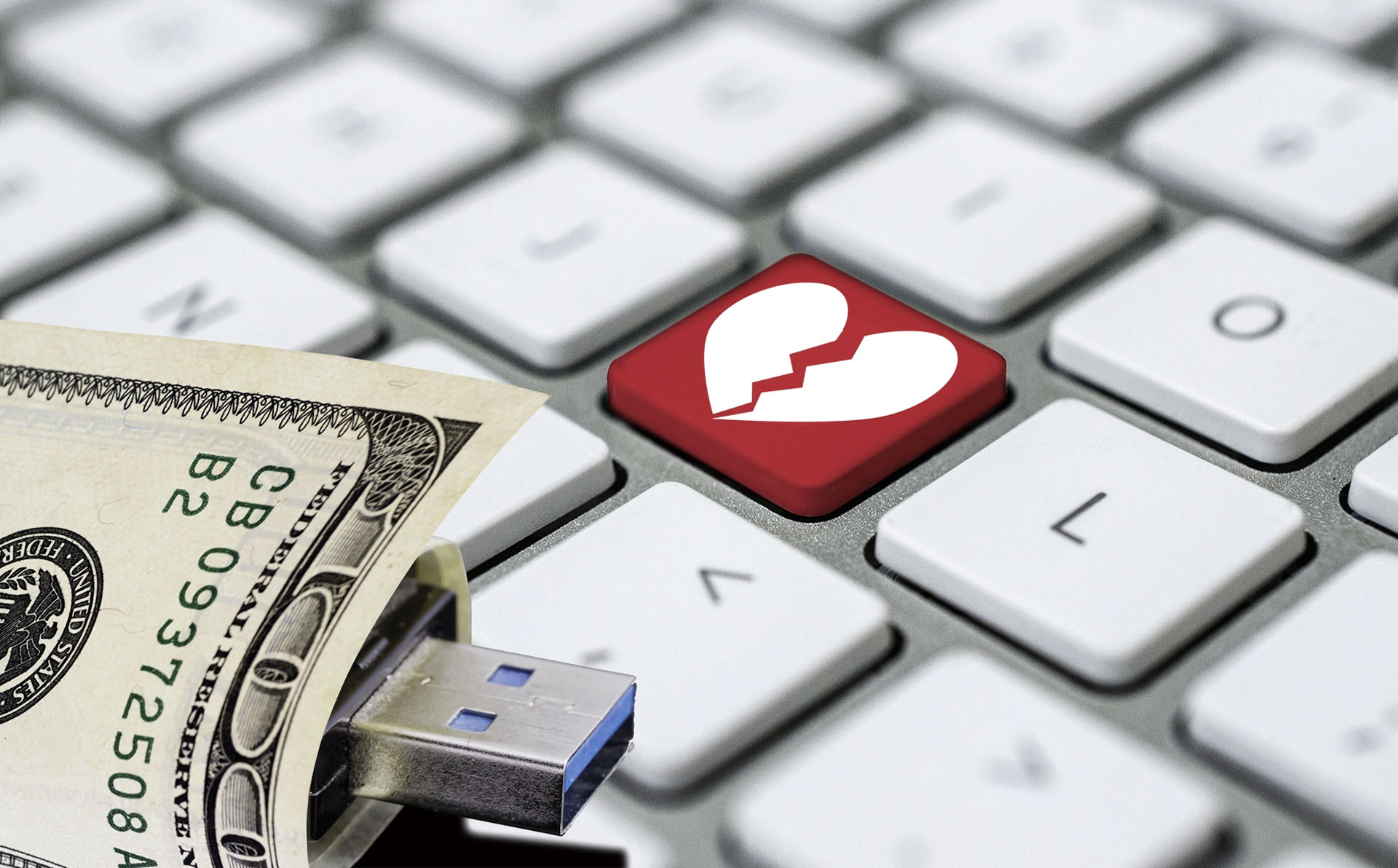 "Deborah" fell hard when she met her Spanish lumberjack on a dating site in the middle of the COVID-19 pandemic. He was 66, somewhat attractive and looked uncannily like Deborah's late husband who died just months before the pandemic hit.
"I was missing not having him here to talk about, you know, what was going on in the world and everything," Deborah said. "So, somebody suggested to go online through a dating service … and this guy's pictures shows up and he's just you know, no George Clooney, nothing gorgeous, but in fact, he had a resemblance to my husband."
For Deborah, who was in her late 60s and looking to start over after the loss of her husband, it was a perfect storm.
"Bernard" was attentive, caring and a widower himself. He told her he was born and raised in Madrid. He was married to his first love for 35 years before she died of cancer. Five years ago, he and his young daughter moved to New York to be near his mother and take over his father's logging business.
He said he had one last job to do in Canada and then he would be home for good and they'd have time to find out about each other. He had rented an apartment near her in Manhattan Beach, California, and he would soon be home.
"He's asking about my kids," Deborah said. "And I was having some back problems at the time, and he said, 'What are you doing to take care of yourself?' It was really just slowly developing into this wonderful relationship."
But just a few weeks later, it all started.
These scams often follow a pattern. Someone reaches out, often on a dating site or social media. They're affectionate, validating and incredibly attentive. They're attractive, but not to the point of drawing suspicion. And they claim they're foreign born, which helps explain the accent and grammar.
They live nearby and usually set up a date to meet, only to have urgent business take them out of town or overseas. They usually have jet-setting international jobs like engineers, contractors, investors, even lumberjacks.
The courting can go on for months. Then the charmers will say they're in a jam and need money quickly.
"Maybe two or three weeks later, one of his machines broke down and he had to pay for the repair," Deborah said. "It was another little red flag that I should have known, but I was blinded to it because I was overwhelmed with the possibility of a future, and he seemed like a wonderful man."
When Deborah told him he resembled her late husband, and sent him a photo, he agreed and said she looked a little like his late wife said he would show her photos when he saw her.
But that meeting never happened.
The first time "Bernard" asked for money, he said he'd be home in three days and would pay her back then. But suddenly his trip was delayed and then another emergency requiring her financial support.
"I kept thinking, if I don't give him more, he won't get home and I'll never get back my original money. It snowballed from there," Deborah said.
Deep down, Deborah was continuously questioning his validity. But Bernard knew exactly what to say to keep her going with a script of details of his logging business which included photos and promises of a wonderful life together once he returned.
The usual red flags continued to pop up. While living in the forest, Bernard claimed he had several laptops and phones stolen, so he learned to bring a cheap phone and computer with him. That's why the camera on his laptop or phone didn't work, he would tell her when they tried to FaceTime.
Despite interventions from her daughter, son and close friends, Deborah continued to secretly send money as each new "emergency" arose.
"The red flags were there, and I knew it. I even told a friend, if someone told me the same story, I'd know in an instant it was a scam," she said. "But there was a continual voice in my head saying this guy is different. I know he's telling me the truth and when he gets home, we're going to have an incredible life together."
Realizing that a substantial chunk of the savings she and her husband put aside for retirement was gone, Deborah started recognizing this was not what it appeared to be.
The turning point involved a bank transaction in the UK.
Bernard was finally on his way back home to California. He sent Deborah the details of his flight the night before he was to fly.
The next morning, he called her from the airport.
"He was at the airport," she said. "I could hear airport noise."
But another call comes in from Bernard after a slight flight delay. He says security is stopping him and he is not allowed to board. He tells her he will call her back.
When he calls back, he is heading for jail.
"He was being detained because his accountant was caught embezzling $4 million from all of his clients," Deborah said. The man who was supposed to being paying Bernard's taxes to the Canadian government for doing business there had absconded with all his money. He now needed to get funds to get out of jail by paying the $400,000 in taxes he owed to the Canadian government.
Bernard told her he is going to make her the beneficiary of the money in his London account so she can write the check to pay for his taxes and then transfer the rest of the money to him when he got home.
"Again, I'm thinking, well what's the harm in this?" she said. Meanwhile, Bernard was becoming more desperate and demanding in their exchanges and her uneasiness with the situation continued to grow.
While emailing with the bank in London she noticed an odd discrepancy in the letterhead from the bank.
The banker's signature line on the letterhead was different from his email address.
"I saw that right away and I said to Bernard, I don't know if I trust this," she says.
Bernard agreed and said he would write an email and copy her on it.
In response, the banker explained that the bank has different domain names depending on different transactions.
He suggested she come to London for two days so she can sign all the papers and get them notarized.
"I am not going to London," she says. "Are they out of their minds? They say, OK, we can do it by proxy, but you have to send a fee of $26,000."
That's when reality set in. Deborah called the bank's main branch and told them the situation. She sent all the documentation between her, Bernard and the fraudulent banker. Two weeks later she got a call from the head of the legitimate bank's fraud office in London.
"That's when I heard it from some outside official person," she said. She was then referred to the head of global fraud at the bank's Toronto office who contacted DHS in Los Angeles. They took up the investigation to track down Bernard and the complex crime organization he was likely connected to.
"Three days later, I'm eating breakfast in my robe and there's a knock on my door and there's two guys standing there and they're telling me they're agents with DHS (Department of Homeland Security)," she said. "I was so paranoid. I am thinking, no, you're fake. You're part of the whole scam."
The two agents finally earned Deborah's trust and she agreed to use a recording device in a call to Bernard, among other ways of gathering evidence. HSI also put Deborah in touch with an emotional support group and she joined a private support group for Victims of Romance Scammers on Facebook. She is getting help from a therapist to learn to trust again.
"It's hard to forget as I am left with this enormous debt, which reminds me every day. It has been a year and a half now. I just try to take it one second, one minute, one day at a time," Deborah said.
The rise of romance scams
Loneliness — especially during COVID-19 isolation periods — and the development of new technologies have contributed to the continued rise of romance scams. The number of older adults turning to the internet for dating has doubled over the past three years and 12% of those aged 55-64 reported using mobile dating apps. As Americans increasingly go online to find love, scammers are following suit.
Older adults reportedly lost nearly $139 million in romance scams in 2020.
Total reported losses to romance scams were higher than any other scam reported to the Federal Trade Commission in 2020. In 2020, people reported losing $304 million to romance scams – nine times higher than it was five years prior.
And while dating scams can happen to people of all ages, it's especially risky for older adults. Romance scams are riskiest to people in the 55 – 64 age group. Older adults reportedly lost nearly $139 million in romance scams in 2020. (FTC 2020 - 2021 Protecting Older Consumers Report)
Bank transfers and payments sent in connection with romance scams accounted for nearly $31 million in 2020, with older adults accounting for about a third of the dollars lost. Romance scammers reportedly took an additional $12 million total in cryptocurrency from older adults.
How HSI combats romance scams
Many of these romance scams originate in west Africa, predominantly Nigeria and Ghana. Criminal organizations use legitimate dating apps to defraud people who are looking for love. The scammers strategically target recently widowed or divorced seniors due to their vulnerabilities and access to cash.
In order to combat criminal organizations involved in romance scams, HSI works closely with other Department of Homeland Security components, such as the U.S. Secret Service, U.S. Customs and Border Protection, the DHS Office of the Inspector General and the DHS Office for Civil Rights and Civil Liberties, as well as the Federal Bureau of Investigations, the U.S. Postal Inspection Service, and the Internal Revenue Service. By operating in the United States, transnational criminal organizations (TCOs) pose significant multi-jurisdictional challenges to U.S. law enforcement. To combat this, HSI and its partner agencies have worked with the Department of Justice to produce a coordinated enforcement and prosecution effort. This effort involves law enforcement working jointly with prosecutors, our foreign law enforcement partners and the financial industry. This collaboration has led to a more cooperative law enforcement effort that will eventually lead to the disruption and dismantlement of the TCOs that victimize our senior citizens.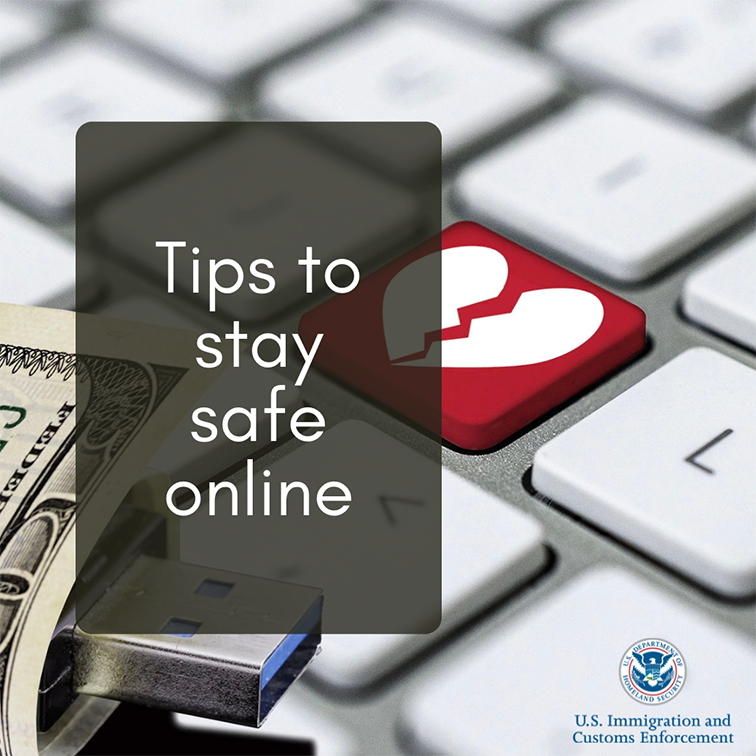 Tips to avoid losing money to a romance scam
Protect yourself and older loved ones by raising awareness. Although this can be an uncomfortable topic, make sure you, your family and your friends are familiar with romance scams. The more you know about these scams, the better prepared you are to prevent being a victim.
Check in on older loved ones. Scammers are seeking to target those living alone or grieving the loss of a spouse as they are more vulnerable.
Limit what you share online. Scammers can use details shared on social media and dating sites to better understand and target you.
Do your research. Research the individual's photo and profile using online searches to see if the image, name or other details have been used elsewhere.
Go slowly and ask lots of questions. Don't let the individual rush you to leave a dating service or social media site to communicate directly.
Listen to your gut. If the individual seems too good to be true, talk to someone you trust.
Don't overshare personal information. Requests for inappropriate photos or financial information could later be used to extort you.
Be suspicious if you haven't met in person. If the individual promises to meet in person, but consistently comes up with an excuse for cancelling, be suspicious.
Don't send money. Never send money to anyone you have only communicated with online or by phone.
Think you've been scammed?
Stop communicating with the individual immediately.
Talk to someone you trust and describe what's going on.
Report the incident to local law enforcement.
Submit a fraud complaint with the Federal Trade Commission.
Even if it's too late to recoup losses, details may help others from becoming a victim.
Call 1-866-347-2423 to report suspicious criminal activity, including possible romance scams, 24 hours a day, 7 days a week, every day of the year.