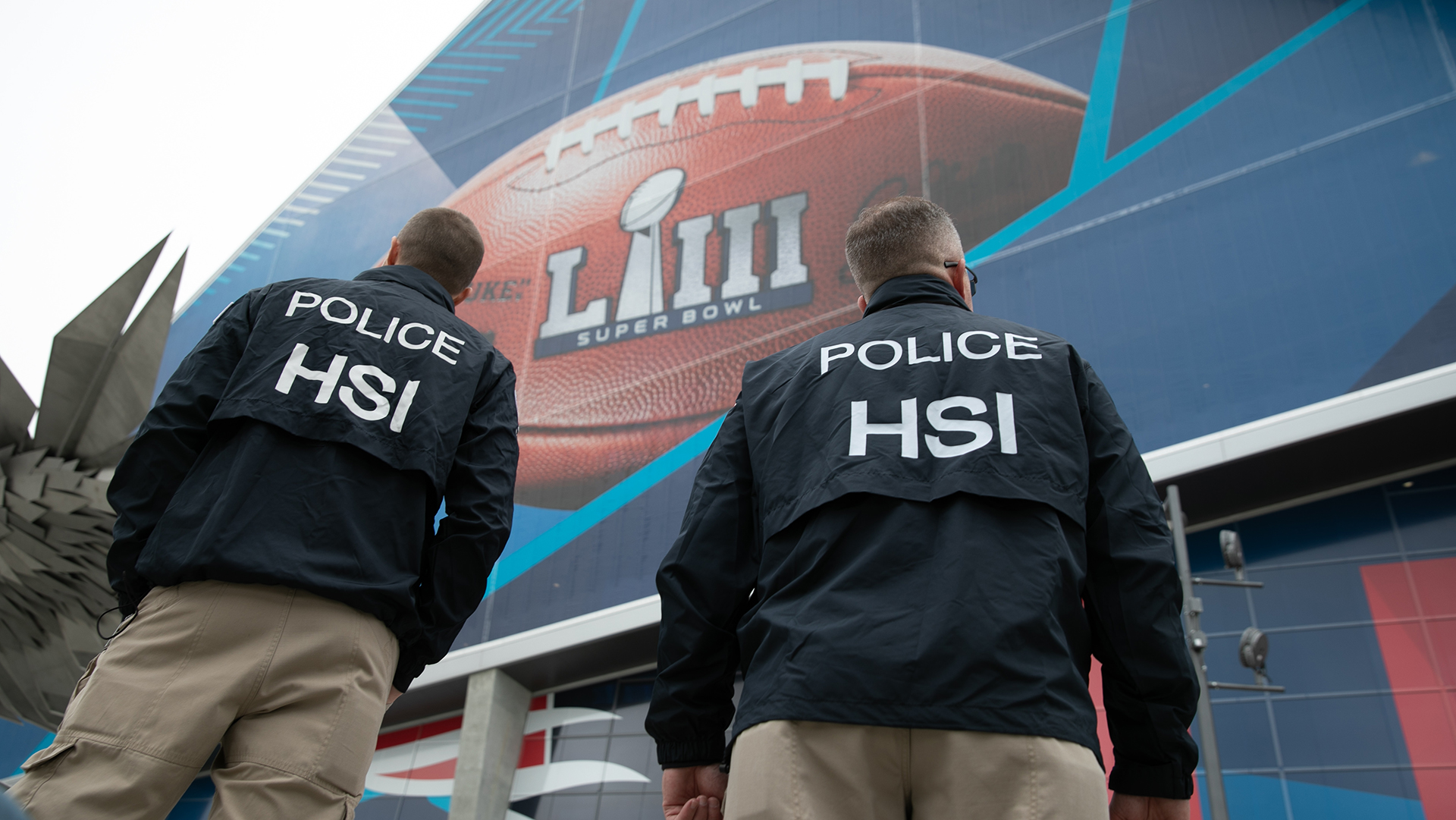 ICE at Super Bowl 53
The New England Patriots are champions once again. As Tom Brady and company secured their record-tying sixth Super Bowl with a 13-3 win over the Los Angeles Rams, U.S. Immigration and Customs Enforcement's (ICE) Homeland Security Investigations (HSI) personnel executed their own game plan in helping secure Mercedes-Benz Stadium and the surrounding area in downtown Atlanta, Georgia.
It was the culmination of more than two years of planning and a week of execution in which the men and women of ICE HSI worked alongside its law enforcement partners as part of a massive collaborative security effort.
Led by HSI Atlanta Special Agent in Charge Nick Annan, who served as the federal coordinator for the event, HSI's presence at the Super Bowl was three-fold: public safety, partner support and economic security.
Public Safety
ICE has a long-standing partnership with the NFL to keep the keep the public safe from terrorist threats, economic fraud, transnational crime and a host of other criminal activity in line with the mission. While fans from around the country enjoyed the festivities surrounding the big game, HSI personnel worked with the City of Atlanta, the local police department and other federal agencies to vet individuals seeking credentials for the game, assist with surveillance capabilities and provide the necessary resources needed to support a high-security event such as Super Bowl 53.
HSI special agents also took time to spread awareness to the public about the dangers of human trafficking and child exploitation.
Partner Support
The success of securing the Super Bowl could not happen without effective planning and collaboration. For an event as large as the Super Bowl in a city as large as Atlanta, all hands were on deck during all steps from preparation to execution of the mission. As federal coordinator, SAC Annan was responsible for partnering with the Atlanta Police Department to support the needs that were identified and make sure that access to all federal resources were readily available. HSI was in place throughout Super Bowl week to support its partners wherever needed.
Economic Support
The HSI-led National Intellectual Property Rights Coordination Center (IPR Center), focuses on the illegal importation of counterfeit sports apparel and merchandise. Through Operation Team Player, the IPR Center leads coordinated efforts during the Super Bowl to target contraband that impacts the economy, enables additional criminality and poses health and safety hazards to the public. HSI special agents conducted operations in mail packaging facilities and malls in the Atlanta area searching for counterfeit merchandise associated with Super Bowl 53.
Not only was counterfeit merchandise on HSI's radar, combatting the sale and distribution of counterfeit tickets was a high priority. The IPR Center worked in partnership with the NFL at the Ticket Reconciliation Center to assist fans who were victims of counterfeit ticket sales.