#ICEatSB51
U.S. Immigration and Customs Enforcement (ICE) will have a large presence in Houston, Texas, over the next week as the Atlanta Falcons and New England Patriots prepare to face off in Super Bowl LI on Sunday, Feb. 5.
Personnel from ICE's Homeland Security Investigations (HSI) and Enforcement and Removal Operations (ERO) will be on hand to help protect the estimated one million fans traveling to Houston for the numerous events throughout the week. ICE will work with local law enforcement partners and other federal agencies/components to vet individuals seeking credentials, identify and investigate the sale of counterfeit items, assist with surveillance capabilities for the Super Bowl LIVE festival and provide tactical support on game day, among many other critical tasks.
The ICE Office of Public Affairs (OPA) will be on location in Houston to give readers an up-close look at the agency's involvement leading up to and during the game. Through text, pictures and video, OPA will provide regular updates that will highlight ICE's efforts in ensuring the safety of those in attendance and the protection of the homeland.
Visit ICE.gov for all "ICE at the Super Bowl" content and follow the hashtag #ICEatSB51 on social media for the latest updates.
Day 1
Super Bowl week is off and running. As both teams prepare for Sunday's big game, U.S. Immigration and Customs Enforcement (ICE) is hard at work behind the scenes enforcing its own game plan. On Monday, Jan. 30, special agents from ICE Homeland Security Investigations' (HSI) Houston field office hit the streets of Houston in search of criminals selling counterfeit merchandise and apparel related to Super Bowl LI. Many counterfeiting groups are also involved in everything from forced labor to drug trafficking - all crime under ICE's jurisdiction. In the following video, we take you along a ride with HSI Houston special agents as they conduct a raid to seize counterfeit goods.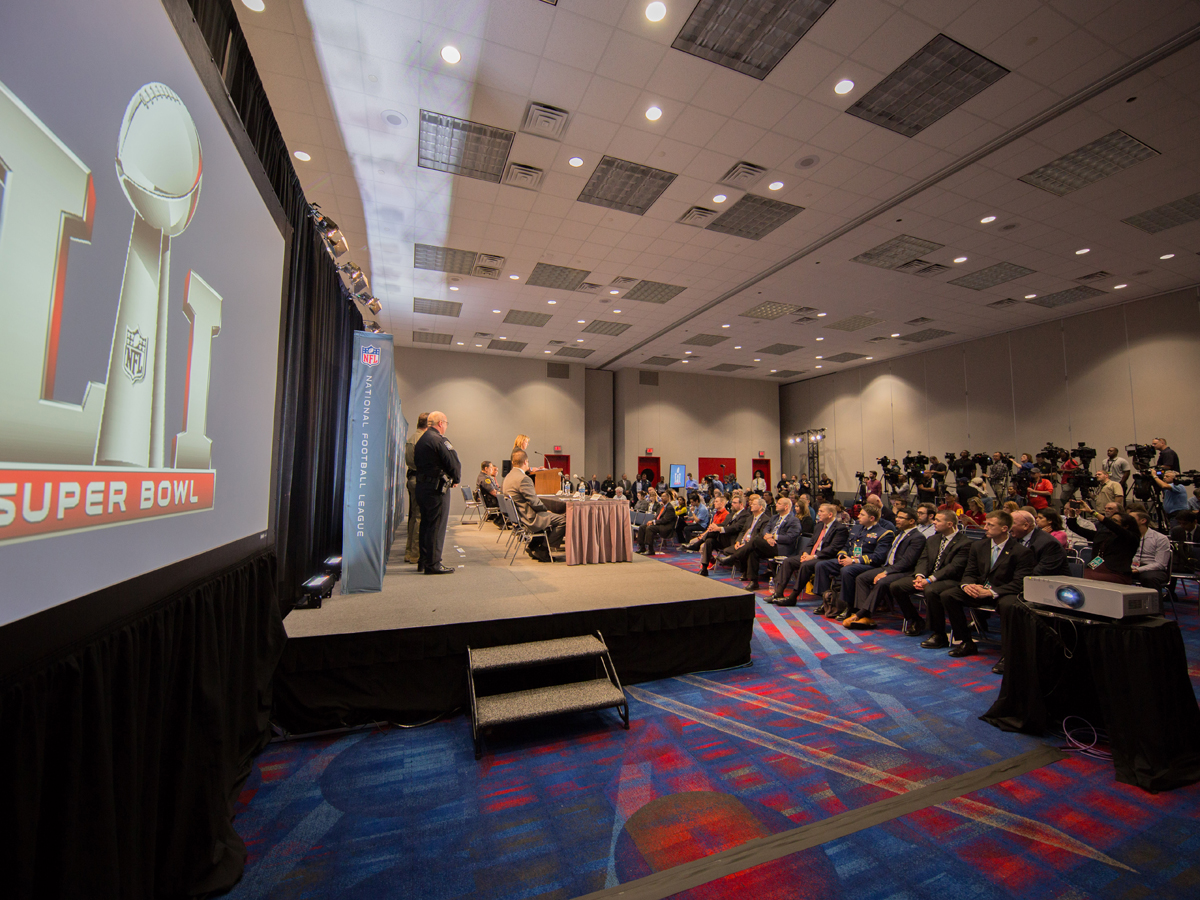 Day 2
NFL Public Safety Press Conference
On Tuesday, Jan. 31, ICE held a joint press conference with DHS, the NFL, Houston Police Department and other state and local law enforcement partners to discuss public safety efforts.
With the Super Bowl being a designated Special Event Assessment Rating (SEAR) 1 event, a variety of capabilities including mobile command centers, K-9 teams and cyber security teams, among others, were brought in for the week to support the Houston Police Department.
"An event of this magnitude requires federal coordination," said HSI Houston Deputy Special Agent in Charge Sean McElroy. "The federal government remains committed to working with our state and local partners and private sector partners to bring about a safe and secure Super Bowl."
Officials from all agencies reiterated to the public the risks that come along with an event of the Super Bowl's magnitude. The safety and security of those in attendance is at the top of the list with human trafficking and counterfeiting also a primary concern. At the time of the press conference, there have been six people arrested for selling counterfeit products and 38 prostitution arrests.
"We are a team. We might have different shields and come from different organizations, but we have one single focus," said Cathy Lanier, senior vice president of security for the NFL. "I want to thank all the police agencies at every level of government that are here. This is definitely a multidisciplinary approach to keeping the Super Bowl safe."
Day 3
A Team Effort
Throughout the week, ICE has collaborated with its law enforcement partners to ensure the safety of fans in Houston. There has been a coordinated effort by the federal government agencies on site to provide all the necessary resources needed to support a high-security event such as Super Bowl LI. Those resources are distributed to the city, the county and Houston Police Department, which is the lead for security for Super Bowl LI. More than 20 agencies within DHS are providing support this week.
"It's a tremendous undertaking for any city that takes this on," said HSI Houston DSAC Sean McElroy, who is serving as the federal coordinator for the Super Bowl. "My job is to coordinate all of the federal agencies that are involved in assisting the state and local and city authorities in creating a safe and fun experience for the public."
One of those partners is U.S. Customs and Border Protection (CBP). As Super Bowl Sunday approaches, many vehicles have to enter NRG Stadium carrying various loads of cargo. CBP is tasked with scanning all vehicles entering the stadium during the week to secure the safety of fans and workers on Super Bowl Sunday.
The following two videos provide a behind-the-scenes look at the team effort of ICE and its partners.
Virtual Ride Along
ICE special agents and other law enforcement partners worked tirelessly throughout the week to seize counterfeit merchandise. OPA was able to go on a ride along and got an up close look at the work that goes into a counterfeit merchandise operation. Below is a moment-by-moment recap of the ride along.
Experience a law enforcement operation through the eyes of ICE Homeland Security Investigations special agents. Starting at 7:30 PM ET #SB51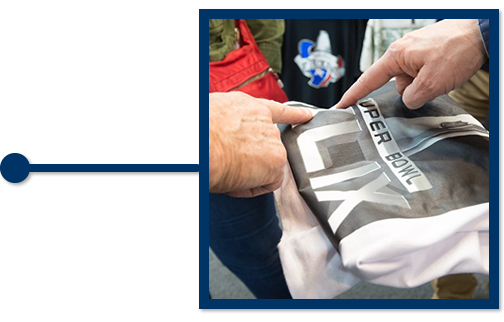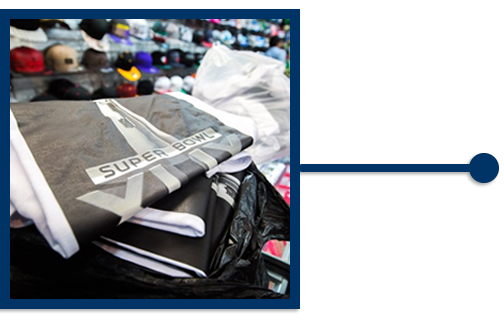 Tune in right here to participate in a virtual ride along with ICE law enforcement as they seize counterfeit merchandise. 7:30 PM ET #SB51
#SB51 week is in full swing. Tonight we're talking about ICE's role in support of public safety in advance of this large public event. This virtual ride-along was pre-recorded. Enjoy the ride.
Join us over the next hour for a snapshot of a counterfeit merchandise law enforcement operation. #SB51
7:45 p.m.: ICE's HSI special agents arrive on scene at the target location suspected of peddling counterfeit merchandise. #SB51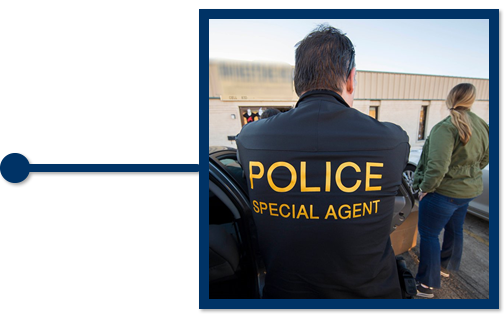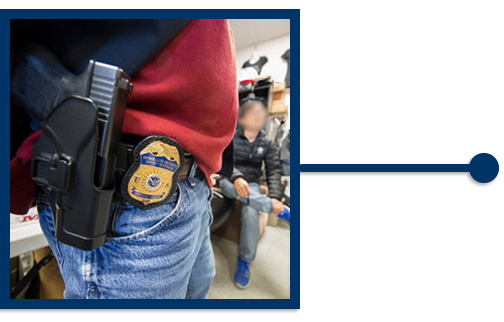 #ICE is working with local, state and federal law enforcement partners, including @DHSgov, @houstonpolice, @ATFHQ and @CustomsBorder. #SB51
Why does ICE use its customs authorities to combat counterfeiting? Piracy funds organized crime, impacts jobs and poses a health risk. #SB51
7:49 p.m.: HSI special agents move in and identify the business owner. #SB51
Counterfeiting wreaks havoc on our economy and funds criminal elements involved in other illegal activities. It affects individuals at every level of transaction. #SB51
Buying fake goods doesn't just affect the executive suite; it's the truck drivers, the sales people and the cashiers, etc. #SB51
7:56: p.m.: The team identifies counterfeit merchandise by certain telltale signs. #SB51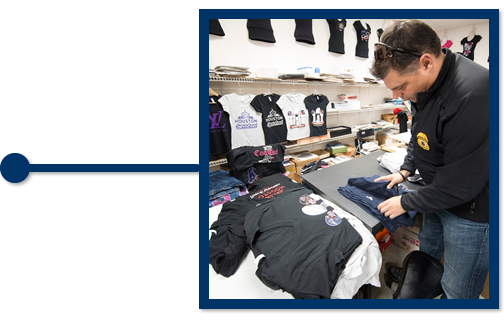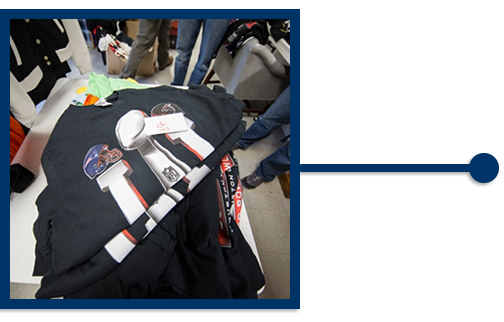 Counterfeit medications and automotive parts present a significant public safety issue. #SB51
ICE HSI takes counterfeiting very seriously. Trafficking counterfeit goods is the 2nd largest illicit trade activity valued at ~$250B. #SB51
8:02 p.m. @HoustonPolice seizes counterfeit t-shirts. #SB51
Industry reports cited by IACC claim businesses lose estimated $600-$700 billion annually due to counterfeiting. That means U.S. jobs. #SB51
8:07 p.m.: HSI special agents examine purchase records and continue investigating the scene. #SB51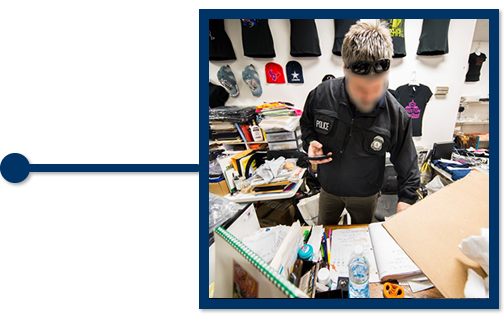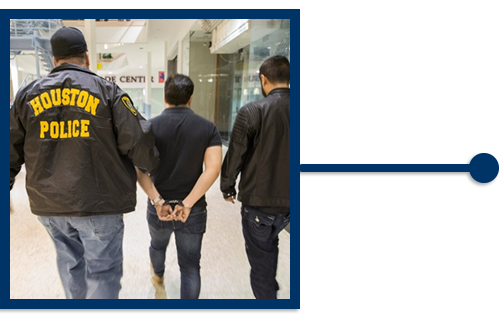 Many counterfeiting groups are also involved in everything from forced labor to drug trafficking - all crime under ICE's jurisdiction. #SB51
Through counterfeiting investigations, we've found links to gangs + transnt'l criminal org's involved in drug & weapons trafficking. #SB51
8:13 p.m.: @HoustonPolice arrest owner of business peddling the counterfeit materials. #SB51
What do ICE HSI special agents look for when examining fake merchandise? Hear it from the source #SB51
8:18 p.m.: The team is on the move to another business suspected of selling knock off merchandise. #SB51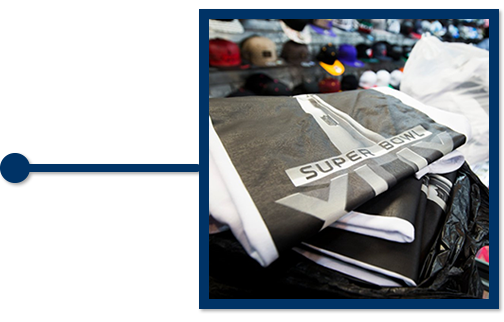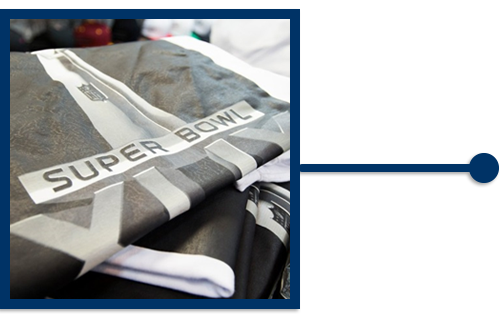 8:33 p.m.: Special agents move on to more businesses throughout the evening, working with partner agencies. #SB51
Get involved! Report counterfeit activity at http://IPRCenter.gov or call HSI tip line at 1-866-DHS-2-ICE. #SB51
That's all for tonight! Thanks for joining us for this window into one part of what our special agents do in support of public safety #SB51
This virtual ride along was pre-recorded. Hope you enjoyed the ride. #SB51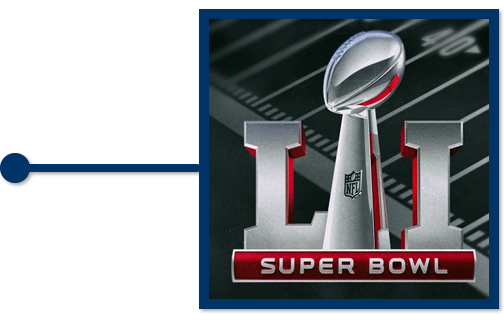 Day 4
Fighting Criminal Enterprises
ICE, in coordination with CBP, the NFL and local Houston law enforcement agencies, held a joint press conference on Thursday to discuss the ongoing efforts to fight criminal enterprises.
The illegal manufacturing and sale of counterfeit goods has been one of the primary concerns of ICE and its partners during the week leading up to the Super Bowl. The practice endangers public health, the economy and restricts the competitiveness of U.S. products in the global market. According to Dolores Dibella, vice president of legal affairs for the NFL, the league has worked to give its fans an authentic NFL experience and protect them from the sale of counterfeit merchandise.
As part of those efforts, Operation Team Player, an ongoing effort developed by the HSI-led National Intellectual Property Rights Coordination Center (IPR Center) to crackdown on the illegal importation of counterfeit sports apparel and merchandise, has worked through the year to identify warehouses, stores, flea markets, online vendors and street vendors selling counterfeit and game-related sportswear and tickets throughout the country. The IPR Center leads coordinated efforts with major sporting leagues to target contraband that impacts the economy, enables additional criminality and poses health and safety hazards to the public.
Prior to and during Super Bowl week, HSI special agents and CBP officers have been working with the NFL and law enforcement partners to identify illegal shipments imported into the U.S.
"Fans that spend their hard-earned money to support the NFL and their favorite teams can rest assured that HSI and its partners are working around the clock to ensure that they are getting only genuine, high quality, officially licenses merchandise in return," said HSI Houston SAC Mark Dawson.
Day 5
One Mission, Many Players
ICE's collaboration with federal and local law enforcement partners has been a constant theme throughout Super Bowl week. One of those partners has been the United States Marshals Service (USMS). In the following video, a USMS official discusses the efforts his officers are taking to detect potential explosives in and around the area of the Super Bowl.