Continue Your Service to America
U.S. Immigration and Customs Enforcement (ICE) and the Department of Homeland Security (DHS) are hiring veterans for career opportunities in mission critical and mission support occupations. DHS is a leader in veterans' employment across the federal government; employing more than 50,000 veterans and growing!
All veterans are invited to Continue Your Service to America and come learn more about the Department, its missions and components at our upcoming DHS Veterans Recruitment and Hiring Event. Veteran candidates will have the opportunity to talk to onsite recruiters and hiring managers and, if qualified, interview for open positions.
Learn more and Continue Your Service to America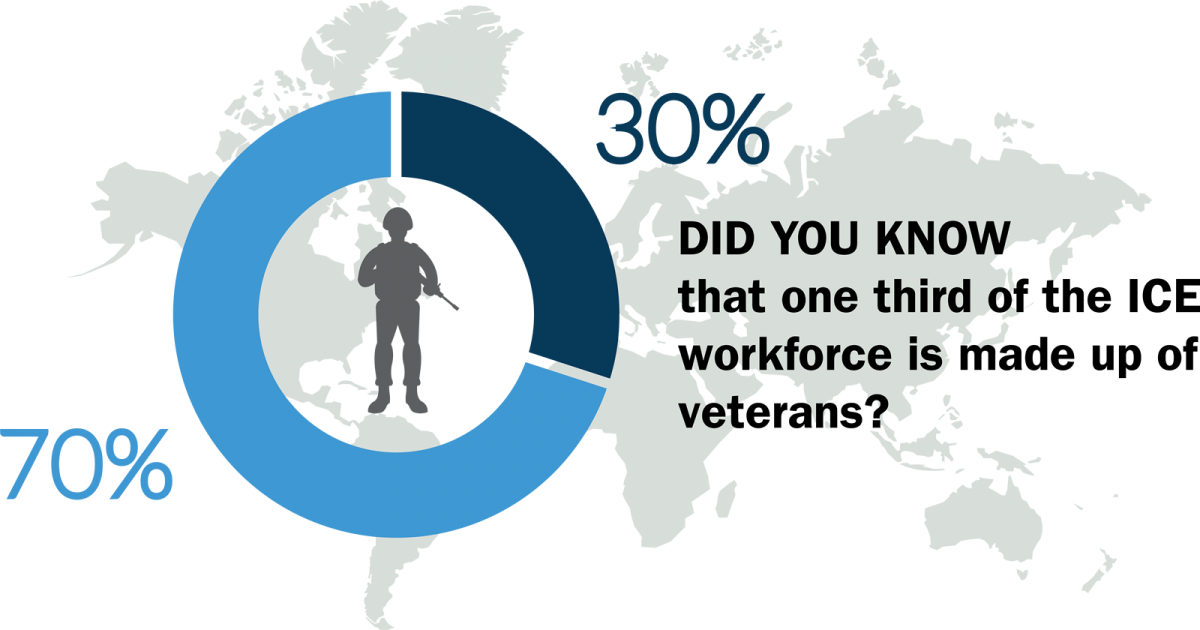 ICE supports the employment of veterans in the agency workforce. We actively recruit qualified veterans for positions within the agency. We value the commitment, work ethic and experience that veterans bring to the job, as well as their specialized skills and talents. Currently, veterans compose a significant portion of the ICE workforce.
Learn more about the different career opportunities at ICE
Do you have the skills that ICE is looking for? Veteran candidates are strongly encouraged to apply for open job opportunity announcements. To apply, create or update a personal profile, upload your resume and apply through USAJOBS. You should also update your resume today and make it searchable on USAJOBS.
Use the following steps to build or update a resume and make it searchable.
Log in to your USAJOBS account.
Select "Documents" from the left navigation menu.
Upload your resume or build a resume with USAJOBS. Note: Only Word, text-based PDF, and text files are searchable.
On the Documents page, check "Searchable" next to the resume you want federal hiring managers to view
Important documents
When applying in person, veterans should have a current resume and veteran documents*, including:
Form DD-214, Certificate of Release or Discharge from Active Duty
Statement of Service for transitioning service members still on active duty
Standard Form-15, Application for 10-point Veteran Preference (if applicable)
Department of Veterans Affairs, Service Connected Disability Award Letter
Transcripts (if applicable)
*Additionally, you may also want to add these to your USAJOBS account.