Operation Stolen Promise One-Year Anniversary
One year after its inception in April of 2020, Operation Stolen Promise (OSP) has yielded significant results, both statistically and in terms of the impact the initiative has on protecting the health and safety of the American public. HSI's work has kept counterfeit and substandard goods out of the medical and consumer supply chains while ensuring violators are held accountable for their criminal efforts to exploit the pandemic for profit.
HSI has also worked diligently to ensure the integrity of online marketplaces and COVID-19 related websites, collaborating with law enforcement and private sector partners to proactively warn the public of scams and other fraudulent activity. These efforts translate into real-life impacts for individual consumers, medical professionals, businesses, non-governmental organizations, financial institutions, and government agencies that criminals have sought to victimize and exploit throughout the pandemic.
Operation Stolen Promise 2.0
U.S. Immigration and Customs Enforcement (ICE) Homeland Security Investigations (HSI) launched Operation Stolen Promise (OSP) in April 2020 to protect the Homeland from the increasing and evolving threat posed by COVID-19-related fraud and criminal activity. Since the Operation's inception, HSI has capitalized upon its unique and expansive federal criminal investigative authorities; its strong intelligence analysis capabilities and resources; its expansive domestic and international footprint; and its robust law enforcement and private sector partnerships to lead the government's investigative response to pandemic-related crime.
In the coming months, HSI anticipates that high public demand for access to vaccines and treatments will lead to illegal attempts to introduce counterfeit versions of these items into U.S. and global marketplaces. In response, HSI has initiated Operation Stolen Promise 2.0, which expands the focus of OSP to address this emerging public health threat.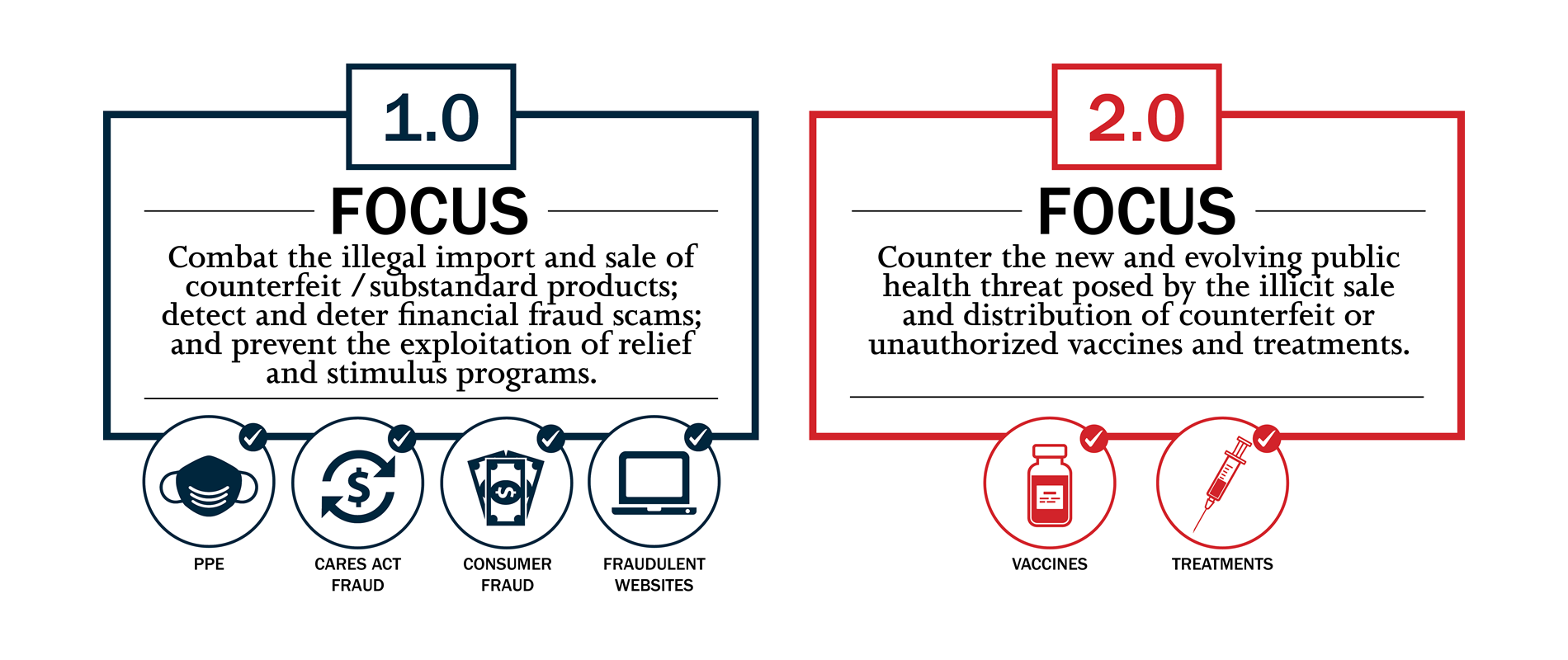 How to Protect Yourself Against Fraud Involving Counterfeit Vaccines and Treatments
⌦

Always consult with a licensed medical professional to obtain a COVID-19 vaccine or treatment.

⌦

Do not purchase COVID-19 vaccines and treatments over the Internet.

⌦

Do not purchase COVID-19 vaccines and treatments through an online pharmacy.

⌦

Ignore unsolicited offers for vaccinations and miracle treatments or cures.

⌦

Don't respond to texts, emails or robocalls about vaccines and treatments.

⌦

Be wary of ads for vaccines and treatments on social media.

⌦

Report any suspicious activity involving COVID-19 vaccines and treatments to COVID19FRAUD@dhs.gov
As the pandemic persists, the public must continue to remain vigilant, and to do so, must know how to RECOGNIZE and REPORT potential COVID-19 Fraud. HSI has initiated the S.T.O.P. COVID-19 Fraud campaign to provide facts, tips, and red flags on pandemic related crime and to guide the public on how to recognize potential fraud, protect themselves from it, and report it to authorities.
Click on the links below to find out more.
Operation Stolen Promise Strategy
OSP was established as a multi-pronged strategic action plan designed to protect the Homeland from bad actors who criminally exploit the pandemic. The plan is built around four central pillars, each of which represent a core element of the HSI approach to address this issue:
As part of OSP, HSI special agents have opened investigations nationwide, seized millions of dollars in illicit proceeds; made multiple arrests; and shutdown thousands of fraudulent websites. HSI continues to work alongside U.S. Customs and Border Protection to seize shipments of mislabeled, fraudulent, unauthorized or prohibited COVID-19 test kits, treatment kits, homeopathic remedies, and purported anti-viral products and personal protective equipment (PPE).
HSI is also working closely with law enforcement and private sector partners to identify and investigate financial fraud schemes. While scammers are attempting to profit from the pandemic through fraudulent fundraising for fake charities, various medical scams and online sales of counterfeit medicines and medical supplies, HSI is working diligently to stop them. In the cyber realm, HSI continues to deploy its robust capabilities and expertise to target and take down online platforms and dark web sites that enable the sale and distribution of illicit materials related to COVID-19, facilitate financial crime, and victimize the American people.
While the ongoing pandemic has severely disrupted much of our daily life, transnational criminal organizations continue to target the most vulnerable among us. HSI is responding to these threats with Operation Stolen Promise to ensure the continued health and safety of the American public and the American economy.
Operation Statistics
In the midst of a relentless global pandemic, when there is less and less about our lives that is certain, the American people are counting on law enforcement to protect the vulnerable and ensure that every city and town is safe from individuals and organizations intent on inflicting even greater suffering. This is why the men and women of HSI are focused on identifying and dismantling these schemes rapidly and effectively, allowing the public to focus on the health and safety of their loved ones.

3,131 COVID-19 RELATED SEIZURES
Prohibited COVID-19 Test Kits • Prohibited Pharmaceuticals • Counterfeit Masks & More

362 CRIMINAL ARRESTS

31 CONVICTIONS

$54.7+ MILLION USD ILLICIT PROCEEDS SEIZED

84.6K COVID-19 RELATED DOMAINS ANALYZED

$38.1+ MILLION CARES ACT FRAUD SEIZURES
Combating COVID-19 Vaccine Fraud
Countering the new and evolving threat posed by counterfeit vaccines and treatments

110 SEIZURES

49 CASES INITIATED

15 CRIMINAL ARRESTS

1 INDICTMENT

43 WEBSITES REMOVED

$3.0 MILLION USD ILLICIT PROCEEDS SEIZED
Updated 09/23/2021 9:50am
Faced with an unprecedented global health crisis, HSI has continued its efforts to advance the agency's mission. In field offices throughout the country and around the world, the HSI workforce remains dedicated to upholding public safety at a time when such commitment and sacrifice carry with it an even greater risk.
For example, in Los Angeles, California, a British man was named in a federal criminal complaint April 1 charging him with smuggling into the United States mislabeled drugs purported to be a treatment for those suffering from COVID-19. HSI Los Angeles and the Food and Drug Administration's Office of Criminal Investigations, with assistance from U.S. Customs and Border Protection and the U.S. Postal Inspection Service, investigated the case.
In another investigation, HSI special agents arrested a Georgia man in mid-April for illegally importing and selling an unregistered pesticide, and mailing a prohibited article, as part of an online scheme offering the product for sale online and claiming, without any legal basis, the illegal pesticide would protect persons from COVID-19.