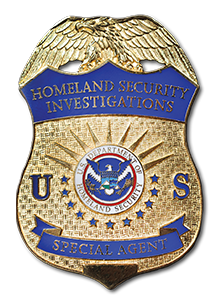 Overview
COVID-19 has brought much of the world to a halt, while social distancing and other preventive measures have become the new normal for society. The disease is currently affecting approximately 195 countries around the world. Despite the danger and uncertainty this global pandemic has caused, individuals and organizations around the world are attempting to take advantage of it for illicit financial gain. These illegal efforts not only compromise legitimate trade and financial systems, but threaten the integrity of the U.S. border, and endanger the safety and security of the American public.
With its expansive authorities, robust cyber capabilities, and strategic partnerships worldwide, U.S. Immigration and Customs Enforcement's (ICE) Homeland Security Investigations (HSI) is uniquely positioned to combat the efforts of perpetrators who violate the laws of the United States to further COVID-19-related criminal activity.
Operation Stolen Promise
As the pandemic continues, fraud scams involving financial relief, COVID-19 stimulus checks and traditional boiler room operations will increase. Criminal organizations intent on importing counterfeit and prohibited pharmaceuticals and test kits are preying on Americans searching for effective treatments and testing, and bogus medical supplies are endangering our citizens. Additionally, malicious cyber actors will continue to use the internet to facilitate fraud and other forms of illegal activity at the expense of the American public.
To combat these threats, HSI recently launched Operation Stolen Promise (OSP), which targets COVID-19-related fraud and other criminal activity. The initiative combines HSI's expertise in global trade investigations, financial fraud, and cyber investigations with robust private and public partnerships to disrupt and dismantle this criminal activity and strengthen global supply-chain security.
OSP was established as a multi-pronged strategic action plan designed to protect the Homeland from bad actors who criminally exploit the pandemic. The plan is built around four central pillars, each of which represent a core element of the HSI approach to address this issue:
As part of OSP, HSI special agents have opened investigations nationwide, seized millions of dollars in illicit proceeds; made multiple arrests; and shutdown thousands of fraudulent websites. HSI continues to work alongside U.S. Customs and Border Protection to seize shipments of mislabeled, fraudulent, unauthorized or prohibited COVID-19 test kits, treatment kits, homeopathic remedies, and purported anti-viral products and personal protective equipment (PPE).
HSI is also working closely with law enforcement and private sector partners to identify and investigate financial fraud schemes. While scammers are attempting to profit from the pandemic through fraudulent fundraising for fake charities, various medical scams and online sales of counterfeit medicines and medical supplies, HSI is working diligently to stop them. In the cyber realm, HSI continues to deploy its robust capabilities and expertise to target and take down online platforms and dark web sites that enable the sale and distribution of illicit materials related to COVID-19, facilitate financial crime, and victimize the American people.
While the ongoing pandemic has severely disrupted much of our daily life, transnational criminal organizations continue to target the most vulnerable among us. HSI is responding to these threats with Operation Stolen Promise to ensure the continued health and safety of the American public and the American economy.
Operation Statistics
In the midst of a relentless global pandemic, when there is less and less about our lives that is certain, the American people are counting on law enforcement to protect the vulnerable and ensure that every city and town is safe from individuals and organizations intent on inflicting even greater suffering. This is why the men and women of HSI are focused on identifying and dismantling these schemes rapidly and effectively, allowing the public to focus on the health and safety of their loved ones.

20 CRIMINAL ARRESTS

36,892 COVID-19 RELATED DOMAINS ANALYZED

$4.9 MILLION+ USD ILLICIT PROCEEDS SEIZED

36 DISRUPTIONS OF ILLICIT ACTIVITY

850 LEADS TO DOMESTIC / INTERNATIONAL OFFICES

38 SEARCH WARRANTS

668 COVID-19 RELATED SEIZURES
Prohibited COVID-19 Test Kits • Prohibited Pharmaceuticals • Counterfeit Masks & More
Updated 06/03/2020 10:45am
Faced with an unprecedented global health crisis, HSI has continued its efforts to advance the agency's mission. In field offices throughout the country and around the world, the HSI workforce remains dedicated to upholding public safety at a time when such commitment and sacrifice carry with it an even greater risk.
For example, in Los Angeles, California, a British man was named in a federal criminal complaint April 1 charging him with smuggling into the United States mislabeled drugs purported to be a treatment for those suffering from COVID-19. HSI Los Angeles and the Food and Drug Administration's Office of Criminal Investigations, with assistance from U.S. Customs and Border Protection and the U.S. Postal Inspection Service, investigated the case.
In another investigation, HSI special agents arrested a Georgia man in mid-April for illegally importing and selling an unregistered pesticide, and mailing a prohibited article, as part of an online scheme offering the product for sale online and claiming, without any legal basis, the illegal pesticide would protect persons from COVID-19.
S.T.O.P. COVID-19 FRAUD
HSI's S.T.O.P. COVID-19 Fraud campaign is a key public outreach component of Operation Stolen Promise. The campaign relays critical information to the public related to COVID-19 fraud and criminal activity. The campaign provides facts, tips, and red flags and will guide the public on how to recognize potential fraud, protect themselves from it, and report it to authorities. HSI encourages the public to report potential fraud to COVID19FRAUD@DHS.GOV.
Last Reviewed/Updated: 06/03/2020