Office of Professional Responsibility
The ICE Office of Professional Responsibility (OPR) is responsible for upholding the agency's professional standards through a multi-disciplinary approach of security, inspections and investigations. OPR promotes organizational integrity by vigilantly managing ICE's security programs, conducting independent reviews of ICE programs and operations, and impartially investigating allegations of serious employee and contractor misconduct, as well as internal and external threats against ICE personnel and facilities.
OPR assesses pre-employment suitability and continuously evaluates background investigations of the ICE workforce. OPR also manages physical security and classified national security information, which includes administering clearance levels and access to classified information, systems and equipment. OPR provides ICE senior leadership with an independent assessment of their programmatic compliance with requirements of agency policies, procedures, and detention standards. OPR's role in safeguarding the organization permits the agency to focus on its larger mission of promoting homeland security and public safety.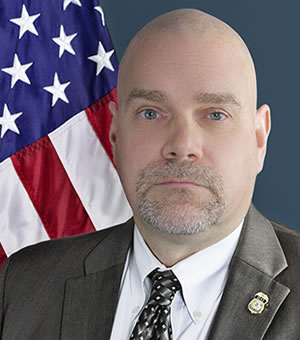 Erik P.
Breitzke
Associate Director, Office of Professional Responsibility
Mr. Breitzke previously served as the Assistant Director of OPR Investigations.  Prior to his assignment with OPR, Mr. Breitzke was the Special Agent in Charge and Deputy Special Agent in Charge for ICE Homeland Security Investigations (HSI) in El Paso, Texas.  Mr. Breitzke also served as the federal coordinator for Operation Allies Welcome at Fort Bliss, responsible for coordinating interagency efforts in ensuring the safe resettlement of vulnerable Afghan evacuees in the United States.  Prior to his service in El Paso, Mr. Breitzke was the HSI Assistant Special Agent in Charge in Sells, Arizona.  In addition, he held the position of Human Smuggling and Trafficking Unit Chief, responsible for management and oversight of the national human smuggling and trafficking programs, including development of the Department's Blue Campaign to combat human trafficking and co-chairing the U.S. Government's Interagency Working Group on Alien Smuggling and Trafficking.  He also served as a section chief and program manager within Headquarters' Worksite Enforcement Unit.