Office of Professional Responsibility
The ICE Office of Professional Responsibility (OPR) is responsible for upholding the agency's professional standards through a multi-disciplinary approach of security, inspections and investigations. OPR promotes organizational integrity by vigilantly managing ICE's security programs, conducting independent reviews of ICE programs and operations, and impartially investigating allegations of serious employee and contractor misconduct, as well as internal and external threats against ICE personnel and facilities.
OPR assesses pre-employment suitability and continuously evaluates background investigations of the ICE workforce. OPR also manages physical security and classified national security information, which includes administering clearance levels and access to classified information, systems and equipment. OPR provides ICE senior leadership with an independent assessment of their programmatic compliance with requirements of agency policies, procedures, and detention standards. OPR's role in safeguarding the organization permits the agency to focus on its larger mission of promoting homeland security and public safety.
Beware of people and organizations posing as U.S. Immigration and Customs Enforcement (ICE) officers or agents.
People and organizations are posing as ICE officers and agents attempting to gain some form of payment from victims for fraudulent immigration services. This is a criminal act.
These criminals identify themselves as federal law enforcement officers, employees or contractors of ICE or the U.S. Department of Homeland Security, and will ask for or demand money, sexual favors, or merchandise from the victim in exchange for lawful immigration status, immigration documents, or other immigration services. The documents are never provided, or if provided, are fake.
An ICE employee will never ask a member of the public for payment of any type.
Protect Yourself: You can protect yourself by reporting any fraudulent schemes to the anonymous ICE Tip Line: 1-866-347-2423.
ICE personnel will never:
Offer lawful immigration status or other immigration services in return for money or a favor
Use the internet or telephone to contact a member of the public to offer immigration services in exchange for payment through pre-paid cash cards like GreenDot, or services like Western Union and MoneyGram
Use a third-party person to ask for and collect a fee from a member of the public in exchange for immigration services
Ask a member of the public for payment of any kind
Report anonymous tips to the ICE Tip Line: 1-866-347-2423.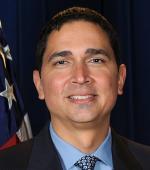 Waldemar
Rodriguez
Associate Director, Office of Professional Responsibility
As the Associate Director of the U.S. Immigration and Customs Enforcement's (ICE) Office of Professional Responsibility (OPR), Mr. Rodriguez is responsible for OPR's efforts to ensure ICE's organizational integrity through a multi-layered approach of investigations, security operations, inspections and detention oversight. He leads a unique organization that is equal parts law enforcement and security, internal affairs and inspections, and a vital service provider to ICE's workforce, stakeholders and leadership. He is also the ICE Chief Security Officer.