HSI Stays the Course in FY 2020
HSI's workforce includes special agents, analysts, auditors and support staff. Its men and women are assigned to cities throughout the United States and to offices around the world. HSI's international force is the department's largest investigative presence abroad and gives HSI one of the largest international footprints in U.S. law enforcement.
HSI has broad legal authority to enforce a diverse array of federal statutes. It uses this authority to investigate all types of cross-border criminal activity.
Despite the extraordinarily challenging conditions resulting from the coronavirus 2019 (COVID-19) pandemic, HSI in FY 2020 remained true to its core mission of protecting the homeland from transnational crime and threats.
HSI continued to lead the fight against America's ongoing opioid epidemic and maintained efforts to take dangerous narcotics and deadly weapons off our streets and violent gang members out of our communities. HSI prioritized crimes of victimization, investigating and arresting those exploiting children; and investigating human trafficking investigations, identifying traffickers and rescuing victims of these crimes.
HSI sustained its efforts to protect the integrity of our financial and trade systems, investigating international money laundering, intellectual property theft, and financial fraud and seizing illicit proceeds and assets from criminals seeking to profit from their crimes. HSI enforced sanctions against China, Iran, Russia, and North Korea, and prevented the illegal export of sensitive technology and weapons intended for our adversaries.
HSI continued to combat terrorism and mitigate other significant national security threats and remained committed to using cutting-edge investigative techniques and tactics to infiltrate and take down notorious dark net marketplaces that traffic weapons and narcotics, launder money and finance terrorism. These efforts helped secure our borders, protected national security, and ensured the safety of our communities and citizens.
FY 2020 Overall Successes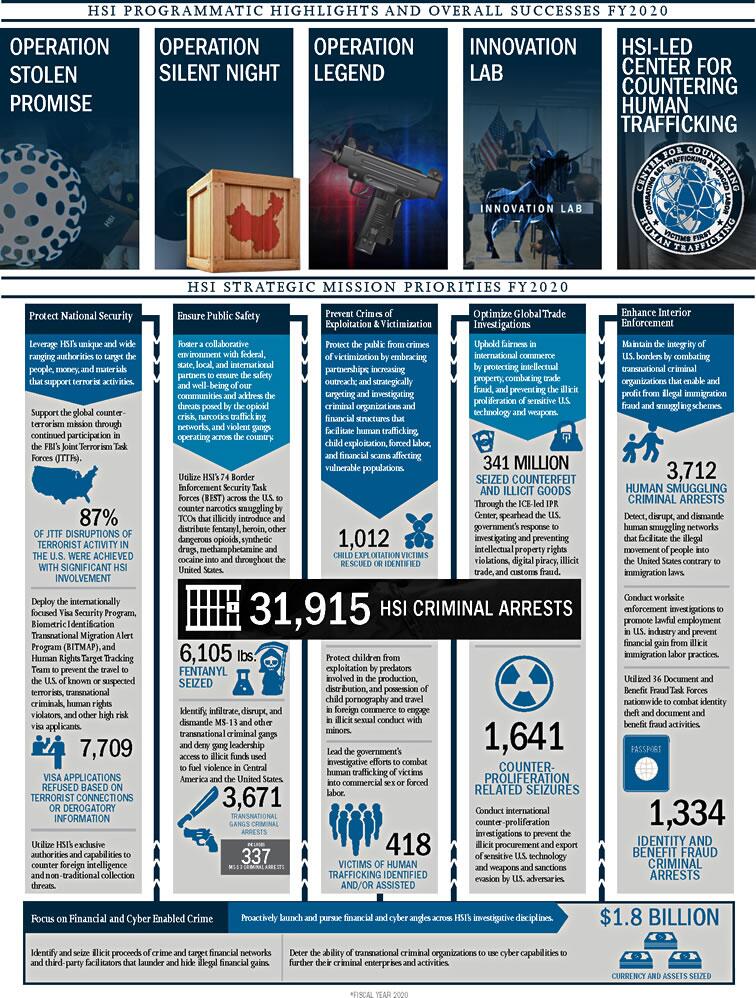 Innovation Lab
Officially launched in September 2020, the HSI Innovation Lab, in partnership with the ICE Office of the Chief Information Officer, is the centralized physical and virtual hub for the development of new advanced analytics capabilities, tools, and enhanced processes that are transforming HSI into a leader in 21st century law enforcement. The Lab combines innovative technology, agile development and industry leading design principles to re-imagine HSI's current processes and enhance investigative capabilities across the agency.
Human Trafficking
Human trafficking is one of the most heinous crimes investigated by HSI. In its worst manifestation, human trafficking is akin to modern-day slavery. Victims are forced into prostitution, involuntary labor, and other forms of servitude to repay debts that are often incurred during their illegal entry into the United States. HSI employs a victim-centered approach to human trafficking investigations where equal value is placed on identifying and stabilizing victims, as is placed on investigating and prosecuting traffickers. As a result of these efforts, HSI conducted 1,746 human trafficking related arrests and identified and/or assisted 418 victims in FY2020.
In October 2020, the Department of Homeland Security (DHS) launched the Center for Countering Human Trafficking (CCHT). The CCHT, led by HSI, aims to capitalize on HSI's operational expertise in human trafficking and forced labor fraud investigations, while utilizing a whole-of-government approach to combatting these crimes. The CCHT will enhance investigative coordination, increase public outreach awareness and effectiveness, support victim assistance programs, provide specialized training, and increase partnerships with key stakeholders.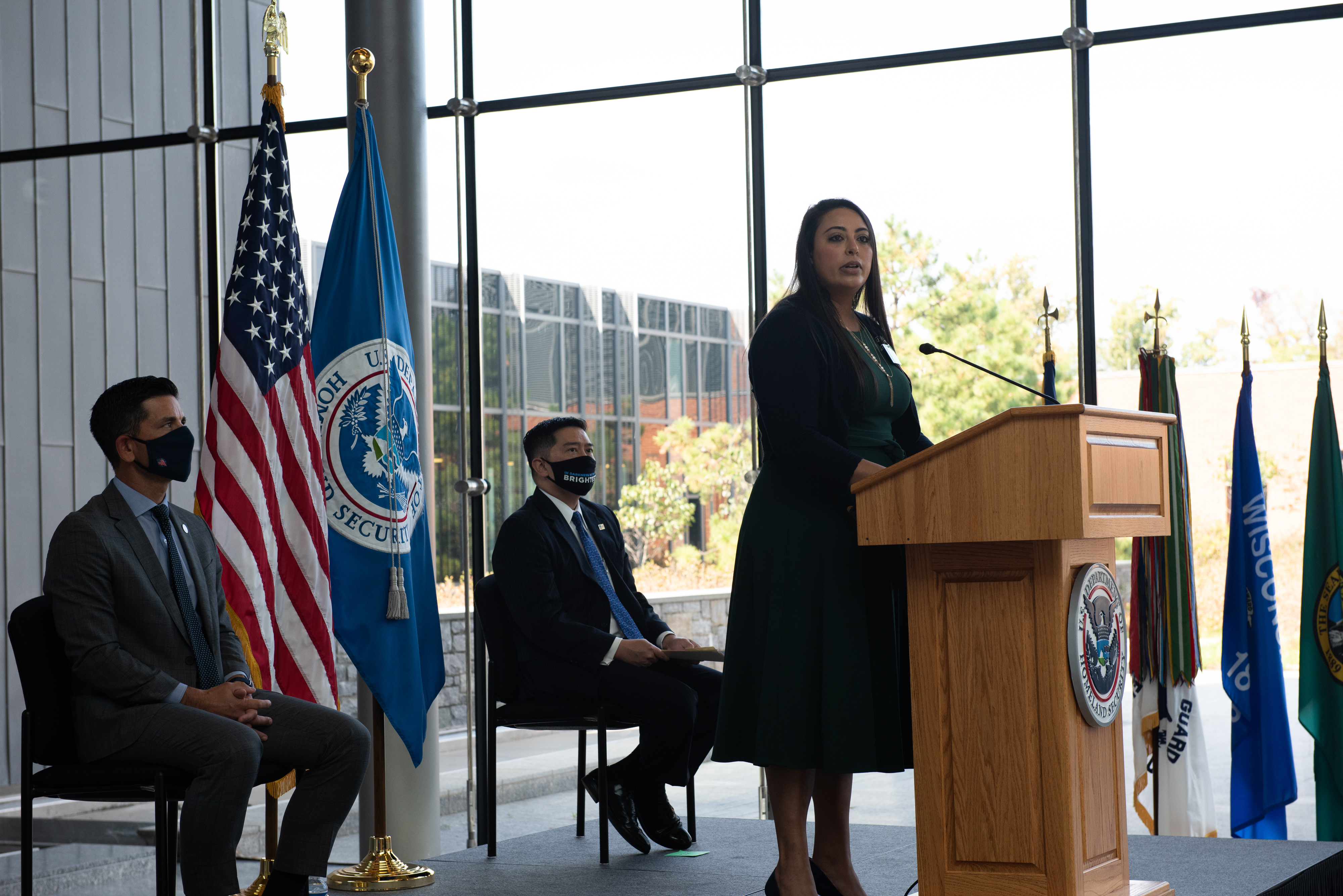 Transnational Gangs
HSI recognizes that transnational gangs represent a significant threat to public safety in communities throughout the United States. HSI routinely conducts gang investigations side-by-side with federal, state and local law enforcement partners in pursuit of racketeering influenced and corrupt organization (RICO), violent crime in aid of racketeering (VICAR) and Hobbs Act prosecutions, to effectively disrupt and dismantle these criminal enterprises and prevent them from preying on our communities and recruiting new members.
In FY2020, HSI made 3,671 criminal gang arrests including 337 criminal arrests of MS-13 members.
FY 2020 Operation Highlights
Operation Stolen Promise
HSI launched Operation Stolen Promise in April 2020 to protect the homeland from the increasing and evolving threat posed by COVID-19-related fraud and criminal activity. Operation Stolen Promise combines HSI's expertise in global trade, financial, cyber-crime, and intelligence-driven investigations to combat financial fraud schemes, the importation of prohibited pharmaceuticals and medical supplies, websites defrauding consumers, and other COVID-19 criminal activity that compromises legitimate trade or financial systems that endanger the public.
In FY2020, Operation Stolen Promise resulted in:
1,396 COVID-19-related seizures
132 criminal arrests
$18,805,833 disrupted transactions and recovered funds
Operation Silent Night
HSI's Operation Silent Night is a global operation targeting the smuggling of firearm silencers into the United States from China. The operation is led by the National Targeting Center – Investigations, and targets the manufacturer, supply chain, and end users of this contraband. HSI's efforts on this operation help to keep dangerous weapons parts out of the hands of criminal organizations and off our streets.
In FY2020, Operation Silent Night resulted in:
25,492 firearm silencers seized
2,305 firearms seized
99 criminal arrests
Operation Legend
In FY2020, HSI was a key contributor to the DOJ-led initiative to combat violent crime in U.S. cities known as Operation Legend.
HSI's participation in this operation in the cities of Chicago, St. Louis, Memphis, Albuquerque, and Detroit resulted in:
429 criminal arrests
264 gang arrests
47 search warrants
1,200 pounds of seized illegal drugs
215 seized firearms
$512 million in seized illicit proceeds
Reports
Full FY 2020 Report
Previous Years