ICE Air Operations prioritizes safety and security for its passengers
Accomplishing the agency's mission requires effective communication, hard work, and coordination from various internal and external stakeholders. ICE Air Operations has the responsibility to support all 24 field offices with air transportation movements, as well as ensuring the security, safety, and welfare of aliens on their return to their countries of origin.
ICE conducts removals through chartered flights, commercial airlines and ground transportation, for both escorted and unescorted removals. For countries not bordering the U.S., removals require ICE air charter or commercial flights.
"ICE Air Operations is capable of facilitating the removal of alien nationals from any location in the continental United States to anywhere in the world via commercial airline or charter aircraft, ensuring their safe and humane return to their countries of origin."
— Deputy Assistant Director for ICE Air Operations Katrina S. Kane
ICE field offices coordinate with ICE Air Operations, based in Mesa, Arizona, to schedule removal travel and/or domestic transfer via commercial airlines or charter aircraft. There are five ICE Air Operations locations throughout the United States: San Antonio and Brownsville, Texas; Alexandria, Louisiana; Miami, Florida; and Mesa, Arizona. All locations conduct daily domestic transfer missions and removal missions. ICE Air Charter Operations may adapt flight routes and schedules to meet various operational demands.
In addition, all ICE Air Operations locations have the ability to conduct removal missions to Central American countries such as Guatemala, El Salvador and Honduras, the Caribbean and South America, and conduct special high-risk charter missions to Europe, Asia, and Africa or to anywhere in the world.
A special high-risk charter mission is scheduled to repatriate individuals who cannot be removed via commercial airlines to locations worldwide, or because of other security concerns or risk factors. For example, detainees who may be disruptive during a flight or who have physically failed to comply with their removal will be removed using a special high-risk charter flight. High profile removal cases, such as aliens deemed national security threats, human rights violators, and detainees with overseas warrants, who are wanted in their home country, are all types of cases which may warrant removal via a special high-risk charter.
ICE Air Operations personnel follow best practices when it comes to the security, safety and welfare of the aliens returned to their countries of origin. Officers transport alien nationals to the flight line for air charter flights and assist with the boarding process.
There are a variety of ERO personnel on board who ensure the health and safety of the aliens and officers during removal flights.
A daily scheduled charter flight average cost is $8,577 per flight hour. A special high-risk charter flight average cost is between $6,929 to $26,795 per flight hour, depending on aircraft requirements. These rates cover the cost of not only the aircraft and fuel, but also the flight crew, security personnel, an onboard medical professional and all associated aviation handling and overflight fees.
ERO field office ground officer in charge – coordinates communication with airport security and ensures all documentation has been properly submitted.
The Pilot in Command – is not only the lead pilot of the aircraft, but also oversees all matters related to flight safety and service of the aircraft.
ICE Air Operations flight officer in charge – responsible for coordinating with field office personnel, contract aircraft and security crews, and medical personnel assigned to the charter flight, and reviews all associated documentation, flight manifests, medical documentation, medication, and property prior to take off.
Rear Cabin Crew – ensure the safety and security of the detainees aboard the aircraft and provide meal and beverage service as a secondary responsibility.
An in-flight medical professional – a licensed registered nurse, nurse practitioner, or physician's assistant, who monitors detainees' health during the flight, administers prescription medication, reports any medical issues to the flight officer in charge, and ensures continuity of care to detainees with medical issues. All medical professionals are trained in first aid to include CPR and the use of an on-board automated external defibrillator.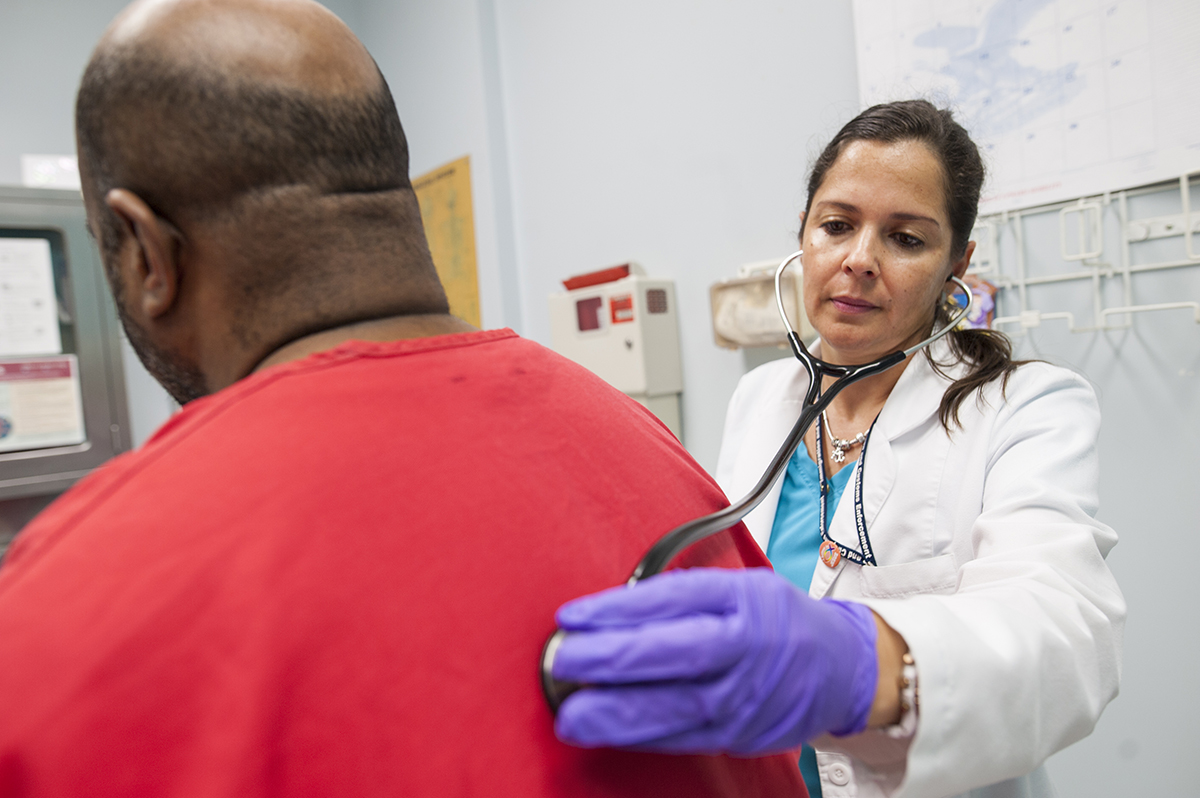 ICE Health Service Corps focused on best patient outcomes
Prior to boarding, the in-flight medical professional conducts a medical record review to ensure all detainees have the proper medical clearance to travel. The review includes tuberculosis check, prior medical history and current medical treatments and notes for any medication(s) that must be provided during the flight. When appropriate, a visual and verbal medical screening is conducted to determine that the detainee's health is consistent with ICE requirements for flight. Any detainee who fails to pass a health screening or who is suspected of having a health-risk condition that may be contagious to other aliens will not be allowed to board and will be referred to an ICE facility for care.
Detainees are allowed 40 pounds of their personal property on an ICE Air Operations flight.
While on a flight, detainees are offered sandwiches, granola bars and water among other items or a full meal depending on the length of the flight. Additional food is provided for detainees with a documented medical need.
ICE Air Operations uses a variety of aircraft to accomplish its mission.
For routine daily charter missions: B737 or MD80 series aircraft.
For large special high-risk charter missions: ICE charters B737 to B777 series aircraft.
For small special high-risk charter missions: ICE charters a small jet (i.e., Gulfstream IV or equivalent).