Cultural Property, Art and Antiquities Investigations
ICE, DOJ return historic Christopher Columbus letter to Spain
On June 6, 2018, U.S. Immigration and Customs Enforcement (ICE) and the Department of Justice (DOJ) returned a more than 500-year-old copy of Christopher Columbus' letter describing his discoveries in the Americas to the Kingdom of Spain during repatriation ceremony at the Residence of the Spanish Ambassador to the United States. The letter, originally written in 1493, was stolen from the National Library of Catalonia in Barcelona and sold for approximately $1 million.
"I am pleased to be able to return a priceless piece of cultural property to its rightful owners," said HSI Acting Deputy Executive Associate Director Alysa D. Erichs. "I would like to thank Ambassador Morenés for his hospitality in hosting us tonight, HSI Wilmington, Madrid, Brasilia and Paris for their excellent work on this investigation, as well as the tremendous assistance by our partners at the U.S. Attorney's Office in the District of Delaware, without whom today's repatriation would not be possible."
The return of the letter was the culmination of a seven-year cultural property investigation led by ICE's Homeland Security Investigations (HSI). It began in 2011 when HSI Wilmington (Del.) and the Delaware U.S. Attorney's Office received a tip that several 15th century original manually printed copies of the Columbus Letter were stolen from several European libraries and replaced with forgeries without the knowledge of library officials or local law enforcement agencies.
The investigation determined that the stolen Columbus Letter from Spain was sold in November of 2005 for 600,000 Euros by two Italian book dealers.
"This evening ceremony is a showcase of the ties that bind the United States and Spain together," said Ambassador of Spain to the United States Pedro Morenés. "The cooperation between Homeland Security Investigations and special units of the Guardia Civil has born great fruit in ensuring the return of stolen cultural property to Spain," Ambassador Morenes added.
In June 2012, a subject matter expert, accompanied by an HSI Wilmington special agent visited the National Library of Catalonia in Barcelona and reviewed the Columbus Letter in the possession of the library at which time it was determined, in coordination with Spanish authorities and with support from HSI Madrid that the letter at the library was a forgery.
In March 2013, it was discovered that the Columbus Letter believed to have been stolen from Barcelona was reportedly sold for 900,000 euros in June 2011. Following discussions with HSI Wilmington and the U.S. Attorney's Office for the District of Delaware, the individual in possession of the letter volunteered to transfer custody to HSI special agents, which was then brought to Wilmington, Delaware, in February 2014 for further examination, at which time a subject matter expert evaluated the letter and determined that the document was "beyond all doubt" the original stolen from the National Library of Catalonia.
Additionally, other experts conducted a series of non-invasive digital imaging tests, which determined, among other things, the probable use of a chemical agent to bleach the ink of National Library of Catalonia's stamp and that the paper fibers of the Catalonia Plannck II Columbus Letter had been disturbed from their original state where the stamps were previously located.
"The recovery of this Plannck II Columbus Letter on behalf of the Spanish government exemplifies not only the significance of federal agency partnerships in these complicated investigations, but the close coordination that exists between American and foreign law enforcement agencies," said U.S. Attorney David C. Weiss." We are truly honored to return this historically important document back to Spain – its rightful owner. I commend the dogged efforts of HSI special agents and Department of Justice attorneys who are dedicated to the recovery of stolen cultural artifacts from around the world."
ICE has returned more than 11,000 artifacts to over 30 countries since 2007, including paintings from France, Germany, Poland and Austria, 15th-18th century manuscripts from Italy and Peru, cultural artifacts from China, Cambodia, and two Baatar dinosaur fossils to Mongolia, ancient artifacts including a mummy's hand to Egypt; royal seals valued at $1,500,000 to the Republic of Korea; and most recently, thousands of ancient artifacts to Iraq.
The Cultural Property, Art and Antiquities Program is unique to HSI's portfolio.
Returning a nation's looted cultural heritage or stolen artwork, promotes goodwill with foreign governments and citizens, while significantly protecting the world's cultural heritage and knowledge of past civilizations.
The theft and trafficking of cultural heritage and art is a tradition as old as the cultures they represent. What has changed is the ability of cultural pirates to acquire, transport and sell valuable cultural property and art swiftly, easily and stealthily. These criminals operate on a global scale without regard for laws, borders, nationalities or the significance of the treasures they smuggle.
Federal importation laws give HSI the authority to take a leading role in investigating crimes involving the illicit importation and distribution of cultural property and art. Customs laws allow HSI to seize cultural property and art that are brought into the United States illegally, especially when objects have been reported lost or stolen.
Learn more about ICE's cultural property, art and antiquities investigations. Members of the public who have information about suspected stolen cultural property are urged to call the toll-free tip line at 1-866-DHS-2-ICE or to complete the online tip form.
With support from the Department of State's (DOS) Cultural Heritage Center (CHC) and in partnership with the Smithsonian Institution, HSI has trained hundreds of special agents, investigators and attorneys on cultural property. At these workshops, scientists and experts provide instruction on the handling, documentation, storage and photography of different types of artifacts; and attorneys and HSI special agents train customs officers, fellow agents, and prosecutors on investigative methods.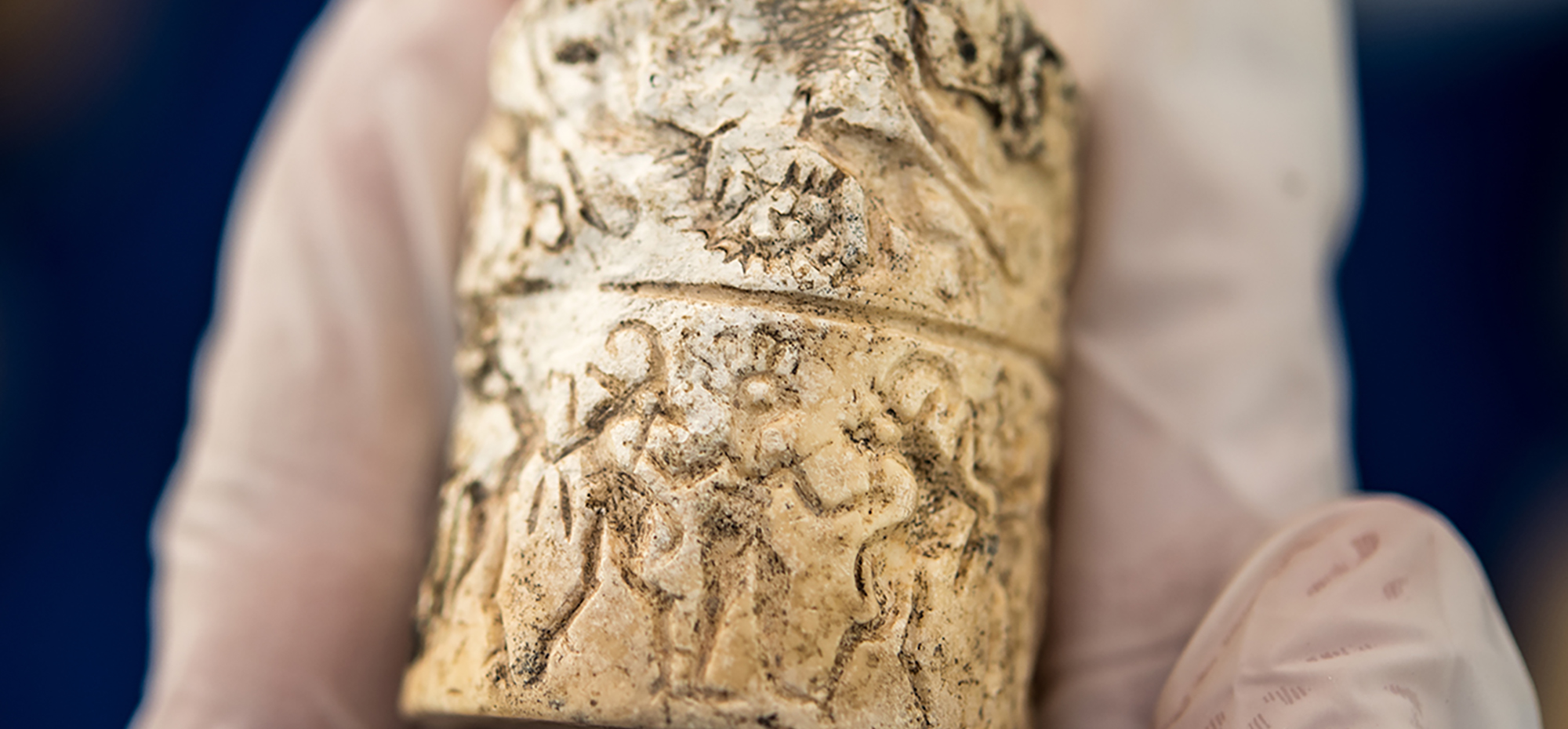 Spotlight: Iraqi Artifact Repatriation
On May 2, 2018, ICE returned 3,800 ancient artifacts, including cuneiform tablets, cylinder seals, and clay bullae, to the Republic of Iraq. The artifacts were smuggled into the United States in violation of federal law and shipped to Hobby Lobby Stores, Inc, a nationwide arts-and-crafts retailer.
Many of the tablets came from the ancient city of Irisagrig. The tablets, primarily from the Ur III and Old Babylonian period (2100-1600 BCE), were mostly legal and administrative documents, but also included an important collection of Early Dynastic incantations and a bilingual religious text from the Neo-Babylonian period. Two clay cones were inscribed with royal inscriptions from the Early Dynastic Lagash II periods (mid-third millennium BCE). The clay bullae include artifacts believed to be of Parthian or Sasanian date (late 2nd cent. BCE – early 7th cent. AD).
The artifacts returned were initially intercepted by U.S. Customs and Border Protection (CBP). The shipping labels on these packages falsely described the cuneiform tablets as tile samples.
"CBP is honored to have played a role, together with ICE, in the return of these national treasures to their rightful owner, the Republic of Iraq. In doing so, we ensure the protection of this priceless cultural heritage and secure a precious, tangible link to the past for future generations," said U.S. Customs and Border Protection Assistant Commissioner Ian Saunders.
After a review of the items and their documentation, ICE Homeland Security Investigations (HSI) Special Agents, in conjunction with Assistant U.S. Attorneys at United States District Court for the Eastern District of New York (EDNY) conducted interviews of several Hobby Lobby employees between January and June of 2016 which led to the discovery of a deliberate intent by employees of the company to avoid using a customs broker for the artifacts related to this transaction.
"The Republic of Iraq, standing on the land that was once home to the storied city-states and kingdoms of Mesopotamia, has a celebrated heritage as a cradle of civilization," stated U.S. Attorney Richard P. Donoghue. "We are proud to have played a role in removing these pieces of Iraq's history from the black market of illegally obtained antiquities and restoring them to the Iraqi people."
The May event was the first repatriation of cultural property to Iraq since March 2015, when ICE returned ancient antiquities and Saddam Hussein-era objects, including the Head of Assyrian King Sargon II, a limestone fragmentary head of Lamassu, the winged bull, from the Palace of Sargon II. ICE has returned more than 1200 items to Iraq in five repatriations since 2008.
Recent Cases
World War II Cultural Artifact
Stolen art, looted antiquities, fraudulently acquired artifacts – these are the little-known casualties of war. While the Nazi regime made a practice of looting art and other cultural property during the Holocaust, the loss of other works during World War II has been attributed to Soviet troops and even U.S. servicemen. In the years since, technology has made it easier for thieves and traffickers to move these priceless items around the globe. As such, investigating the loss or looting of cultural properties and returning them to their countries of origin are an important part of ICE's diverse mission.
ICE, the largest investigative agency of the Department of Homeland Security, has a special unit known as the Cultural Property, Art and Antiquities Investigative Program, which coordinates investigations from the National Intellectual Property Rights Coordination Center in Virginia. The unit works closely the Department of State's Holocaust Art Recovery Working Group and Cultural Heritage Unit.
Our specially trained investigators and attachés in more than 40 countries not only partner with governments, agencies, and experts who share our mission to protect these items, but they train the investigators from other nations and agencies on how to find, authenticate and enforce the law to recover these items when they emerge in the marketplace. Customs laws allow ICE to seize national treasures, especially if they have been reported lost or stolen. ICE works with experts to authenticate the items, determine their true ownership and return them to their countries of origin.
Enclosed are but a few examples of efforts done by ICE and our predecessor, the U.S. Customs Service, to return valuable works of art and cultural property to their rightful owners.
ICE returns dinosaur skeletons, eggs to Mongolia
In April 2016, HSI returned a variety of dinosaur skeletons and other fossils to the Mongolian government in New York. The fossils were recovered by HSI as a result of investigations in Wyoming and New York. Mongolian patrimony laws prohibit the export of dinosaur fossils, as well as the private ownership of these items. The returned pieces include nearly complete skeletons of Bactrosaurus, Protoceratops and Psittcosaurus, a nest of Protoceratops eggs, and the skulls of an Alioramus and a Psittcosaurus.
"A successful repatriation requires extensive cooperation among all parties involved, which is rewarded by the knowledge that we've returned what rightfully belongs to the people of Mongolia."
"Today's ceremony is an excellent demonstration of the cooperation between HSI, our colleagues at the Department of Justice and our foreign counterparts with the Government of Mongolia," said Peter T. Edge, HSI's executive associate director. "A successful repatriation requires extensive cooperation among all parties involved, which is rewarded by the knowledge that we've returned what rightfully belongs to the people of Mongolia."
"Mongolia is home to the world's largest reserve of dinosaur fossils with many discoveries waiting to be made," stated U.S. Attorney for the Eastern District of New York Robert L. Capers. "We are proud of our role in restoring this rich paleontological heritage to the Mongolian people and taking these cultural treasures from the hands of looters and smugglers. We stand beside the people of Mongolia by disrupting the international trade in smuggled fossils and returning them to their home where they will be studied and treasured."
"CBP is extremely proud to have played an important role in returning these valuable national treasures to their rightful owners," said Director of CBP's New York Field Operations Robert E. Perez. "CBP's cooperation with HSI demonstrates the continuing resolve of law enforcement in the United States to address illegal trafficking in stolen artifacts."
"Three years ago, we celebrated our first repatriation ceremony of the skeleton of a Tarbosaur-Bataar. The T-Bataar case was a unique one in many aspects. Most importantly, it has laid foundation of further strong and fruitful cooperation between our two governments in the fight against illegal trade of cultural heritages including fossils. Thanks to this fruitful cooperation, 23 dinosaur fossils were repatriated to Mongolia during the last three years and now we are witnessing a repatriation of seven fossils including an Alioramus skull," stated Mongolian Ambassador Bulgaa. "I take this opportunity, on behalf of the Government and people of Mongolia, to express our profound gratitude for the hard work and dedication of American law enforcement agencies. I have no doubt that these efforts will further strengthen of our bilateral ties, opening new opportunities and giving new impetus to our future cooperation."
ICE returns stolen Picasso painting valued at $15 million
"La Coiffeusse" or "The Hairdresser" was painted by Picasso in 1911 in oil on canvas and is an example of cubism. The painting was last displayed in 1998 in Munich and then returned to Paris' National Museum of Modern Art. It was reported stolen by the museum in 2001 when museum officials received a loan request and could not locate the painting in their archives.
ICE returned paintings linked to bank fraud
ICE returned two paintings, "Modern Painting with Yellow Interweave"; by Roy Lichtenstein and "Figures Dans Une Structure"; by Joaquin Torres-Garcia, to the government of Brazil. The paintings, which belonged to Brazilian banker Edemarcid Ferreira, were smuggled into the U.S. from the Netherlands in December 2006. The paintings may have been linked to financial crimes committed by Ferreira. He was convicted in Brazil of crimes against the national financial system and money laundering and is now serving 21 years in prison. Together, the paintings were valued at $50 million.
Peruvian pre-Columbian artifacts
ICE in Miami returned five pre-Columbian artifacts to the government of Peru on June 2, 2010. The items include two Peruvian terracotta vessels from the period A.D. 800-1500, a Chimu spouted globular vessel circa A.D. 700-1200, a Nazca region polychrome decorated terracotta beaker circa A.D. 400-900 and a Mochica-type fine line stirrup vessel circa A.D. 600-1200. ICE investigated the artifacts after they were advertised on eBay in 2008. ICE determined that the items were legitimate pre-Columbian Peruvian artifacts and were not permitted to leave Peru.
Stolen bookmark that had belonged to Hitler
An 18-carat gold bookmark, a gift from Eva Braun to Adolf Hitler and the property of a Spanish museum, was returned by ICE officials to Spanish authorities in June 2010. The bookmark had been stolen during a break-in at an art auction house in Madrid, Spain. In 2008, ICE agents in Seattle initiated an undercover investigation after receiving information that an individual was attempting to sell the bookmark. The bookmark dates to February 1943, when Braun reportedly gave it to Hitler after Germany's defeat in the battle of Stalingrad.
525 million-year-old Chinese fossils
ICE returned approximately 100 ancient fossils to the People's Republic of China at their Washington embassy on May 26, 2010. The fossils were determined to be 525 million-year-old paleovertebrate fossils by experts at the Field Museum of Chicago. A CBP officer discovered the fossils during a routine inspection at a Chicago airport mail facility. ICE handled the investigation and ultimately seized the Paleozoic-era fossils. Authenticators said the fossils came from the oldest deposit of soft tissues of animals anywhere in the world. Chinese law prohibits their exportation without special permits.
Salvadoran Mayan artifacts
On May 12, 2010, ICE returned dozens of pre-Columbian and Mayan artifacts to the Embassy of El Salvador. ICE and the National Civilian Police of El Salvador confiscated the artifacts while working together in their first joint investigation, which started after the items were discovered listed for sale on an Internet auction site. A CBP officer in Miami intercepted the items in 2007, when what appeared to be pre-Columbian artifacts were being shipped to Alabama. After an extensive joint investigation, ICE returned the items seized in the United States, and El Salvador was able to prosecute a man and wife who were illegally trying to sell the items, both in El Salvador and on the Internet to buyers in several countries.
Peruvian Skulls
ICE returned 12 human skulls that date back to A.D. 640-890 to Peru on April 7, 2010. In 2003 they had been part of a shipment of what appeared to be ceramics that traveled by plane from Peru for a customer in Miami.
The shipment, labeled "gifts," went unclaimed and was auctioned off as pottery.
A discount retail store bought the crated goods and shipped them by train to a warehouse in Cleveland

where they were discovered to contain human skulls when two warehouse workers accidentally dropped a crate and broke a mold containing a skull.

The employees notified ICE and an investigation ensued.
Klee Painting
On March 24, 2010, ICE returned a 20th century oil painting that was stolen in 1989 from the Marlborough Art Gallery in Manhattan to the Art Loss Register. "Bildnis in der Laube" (Portrait in the Garden, 1930) was created by Paul Klee, an internationally acclaimed Swiss painter of German origin who painted more than 500 works of art. ICE New York agents recovered the Klee from Landau Fine Art Inc., a gallery in Montreal, Canada. The gallery owner ultimately surrendered the painting to ICE after he discovered it had been stolen.
The public, government and private institutions often aid HSI in identifying, investigating and prosecuting illicitly trafficked cultural property. If you have information about the illicit trade of cultural property or art, call the HSI Tip Line, 1-866-DHS-2-ICE or report tips online.
Egyptian sarcophagus
An ancient Egyptian sarcophagus was returned to the Arab Republic of Egypt by ICE and CBP officials on March 10, 2010, at the National Geographic Society in Washington D.C.
A CBP officer in Miami examined the wooden coffin for agricultural concerns during routine inspections of goods coming into the U.S. and was concerned that the coffin might require a permit.

The officer referred the item to ICE for investigation.

ICE was able to track the sale of the sarcophagus to a U.S. citizen, who was neither an art dealer nor a broker.
Due to the absence of a credible provenance, the item was seized and returned to Egypt in accordance with its Cultural Patrimony Laws.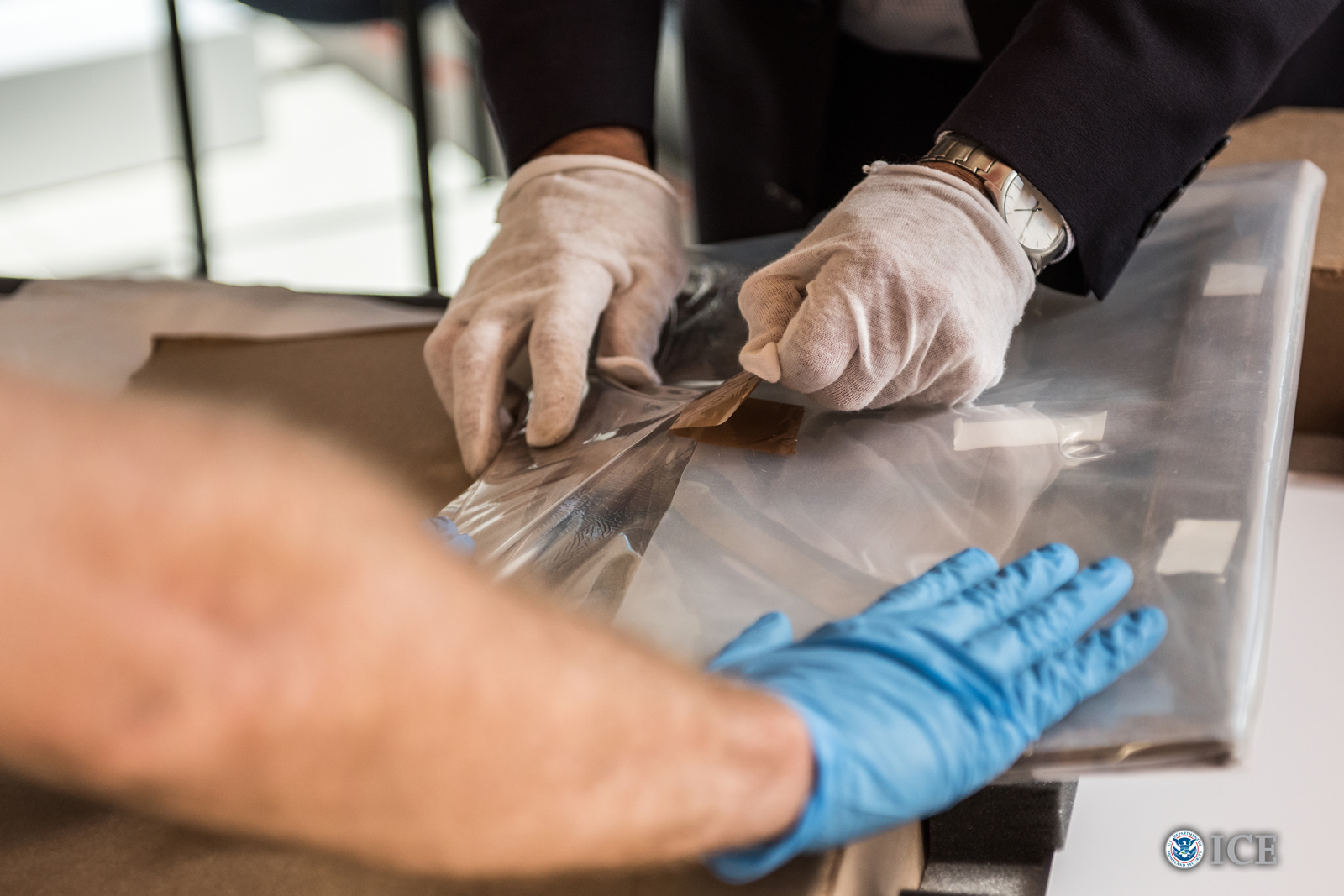 Russian pendant of Peter the Great
ICE returned a silver pendant engraved with the image of Peter the Great to Russian authorities in Moscow on March 4, 2010. Peter the Great served as the Tsar of Russia from 1682 to 1725. The engraved pendant, which weighs about two grams, is believed to have been crafted by artisans in Russia in the late 18th or 19th century. This pendant was among 1,200 other historical items linked to Peter the Great that were given to the State Hermitage Museum in St. Petersburg, Russia, in 1947. In 2006, the museum announced that more than 200 items from its permanent collection, including the silver pendant, had been stolen. Russian authorities contacted ICE after they learned that an antiques dealer in Seattle was selling a pendant that looked very similar to the stolen one. ICE agents in Washington were able to recover the pendant and turned it over for forensic examination by experts with the Moscow Kremlin Museum.
ICE returns artifacts and antiquities to Iraq Embassy
On Feb. 25, 2010, the United States returned six Iraqi artifacts to the government of Iraq after investigation by ICE. The items ranged from Iraq's ancient past to its recent political history. They included a Babylonian clay foundation cone, ca. 2100 B.C.; a Sumerian bronze foundation cone and stone tablet with inscription, ca. 2500 B.C. to 1800 B.C.; an Iraqi coin, ca. 250 B.C.; neo-Assyrian gold earrings ca. 8-7th Century B.C.; and an AK-47 bearing Saddam Hussein's image that may have been a gift given to his closest followers.
ICE announces the forfeiture of a Pissarro artwork as stolen property
On Jan. 12, 2010, ICE announced the forfeiture of a work by the artist Camille Pissarro known as Le Marché, following a one-week jury trial. ICE seized Le Marché from Sotheby's New York in November 2006. In 1981, it was stolen by Emile Guelton, who walked out of the Faure Museum in Aix-les-Bains, France, with the work under his jacket. In 1985, Guelton came to an art gallery in San Antonio, Texas, and asked the gallery owner, Jay Adelman, to sell Le Marché for him. Sharyl Davis, who was using space in the art gallery at the time, purchased Le Marché for $8,500. In early 2003, Davis consigned Le Marché to Sotheby's for an auction in which Sotheby's estimated the auction price range to be from $60,000 to $80,000. After Sotheby's asked for the artwork's provenance information, Guelton's information appeared in the auction catalog leading French officers to locate, contact and interview him. Guelton confirmed that he knew Adelman, was living in Texas in 1985, sent a container of artwork from France to the United States in 1984 and sold Adelman paintings.
ICE returns stolen religious artifacts to Peru
On Dec. 11, 2009, ICE returned to the Peruvian government eight cultural religious artifacts. The artifacts, which were seized in 2007 and 2008, include two small wooden statutes, a metal statue, two pendants, a crucifix, a painting and church vestments. In 2007, the Peruvian government contacted ICE about the alleged illegal sale of Peruvian cultural property in the United States. ICE investigated and obtained information that a Miami resident was allegedly selling the items on eBay. ICE seized an 18th century vestment chest full of gold and silver church vestments. In 2008, Customs and Border Protection (CBP) officers at Miami International Airport encountered the same Miami resident after arriving from Peru. An inspection of the individual's luggage revealed multiple items believed to be part of the cultural patrimony of Peru. CBP officers detained all the items and contacted ICE.
ICE returns stolen artifacts to Italy
On Dec. 2, 2009, ICE returned cultural artifacts, including a Corinthian column krater and a Pompeii wall panel fresco, to the government of Italy. The column krater dates back to 580 to 570 B.C. ICE agents recovered it from Christie's auction house in June 2009. The investigation into the Corinthian column krater revealed it may have been illegally introduced into the art market in 1985. The fresco panel was located at the excavation office in Pompeii between 1903 and 1904 and was reported stolen 12 years ago. This fresco panel, which was the subject of an international search by INTERPOL, was located by the Art Loss Register of New York, which brought it to the attention of Italian authorities and ICE.
ICE, CBP return prehistoric fossils to China
On Sept. 14, 2009, ICE and CBP returned prehistoric fossils to the Chinese government. The fossils, dating back 100 millions of years ago, included bones of a saber-toothed cat and over 24 fossilized dinosaur eggs. The artifacts were seized by CBP during routine inspections of goods coming into the United States and some are the subject of an ongoing investigation into violations of export and import laws. The parcels were turned over to ICE for further investigation.
More than 1,000 artifacts, from four investigations, returned to Iraq
In one of the largest repatriations to date, on Sept. 15, 2008, ICE returned 1,044 cultural antiquities to the government of Iraq that were seized in four separate investigations dating to 2001. The items, which included terra cotta cones inscribed in Cuneiform text, a praying goddess figurine that was once imbedded in a Sumerian temple and coins bearing the likenesses of ancient emperors, are an illustration of the long and varied history of the country now known as Iraq. Remnants of ancient Cuneiform tablets, which were seized by the Customs Service in 2001, were recovered from beneath the ruins of the World Trade Center in 2001 and will be restored in Iraq. The objects were turned over in a ceremony at the Embassy of Iraq, where Iraqi Ambassador Samir Shakir al-Sumaydi accepted on behalf of his government.
More than 60 pre-Columbian artifacts returned to Colombia
On July 8, 2008, in a Miami ceremony, ICE returned to the Colombian government 60 artifacts that were seized in a joint 2005 investigation with the Broward County, Fl., Sheriff's Office. The artifacts, which included ancient pottery, gold pieces and emeralds, some as old as 500 B.C., were stolen from Colombia and smuggled into the United States. The artifacts' ages and authenticity were confirmed by University of Florida's Dr. Carol Damian. ICE agents arrested and charged a 66-year-old Italian national, Ugo Bagnato, with sale and receipt of stolen goods. He was convicted and served 17 months in federal prison, after which he was deported.
| Event | Description |
| --- | --- |
| "Bactrian Bronze Age" tomb items turned over to Afghan museum director | In a special program at the National Geographic Society in Washington, D.C., May 22, 2008, ICE officials turned over to the Afghan national museum director, Omara Masoudi, eight items that had been illegally removed from Afghanistan and smuggled into the United States. The items, including the metal remnants of a spear, two axes, a dagger and knife blades, were authenticated by Dr. Paul Jett, lead scientist and conservator at the Smithsonian Institute, as dating to 2000 B.C., a period in Afghanistan known as the Bactrian Bronze Age. They were probably from excavations at burial sites in northern Afghanistan. The objects were the subject of a "Dateline NBC" 2005 undercover operation for the television show. "Dateline" turned them over to ICE. Unfortunately, at the time, Afghan cultural artifacts were not protected by the 1970 UNESCO Convention on Cultural Property Protection. The country signed the pact in 2007, allowing the repatriation to take place. |
| Huge cache of smuggled rare fossils sent back to Argentina | On May 10, 2008, Assistant Secretary of Homeland Security for ICE Julie L. Myers, returned more than 8,100 pounds of rare fossils to Argentina. Dr. Jose Nun, Minister of Culture, and Dr. Leonardo Salgado of the Museum of Geological and Paleontological Artifacts accepted the antiquities on behalf of the Argentine people. The rare prehistoric fossils had been illegally removed from Argentina and brought into the United States. The cache, including prehistoric pine cones and dinosaur eggs, was seized two years earlier by ICE agents at a gem and mineral show in Tucson, Ariz. The fossils' return sends an important message about ongoing international efforts to combat the trafficking of cultural artifacts and prehistoric specimens. |
U.S. arrests, convicts U.S. Army pilot for dealing in stolen Egyptian antiquities
On Feb. 6, 2008, ICE announced the arrest of Edward George Johnson, an active U.S. Army helicopter pilot, on charges relating to his sale of stolen Egyptian antiquities. In late September 2002, approximately 370 pre-dynastic artifacts were stolen from the Ma'adi Museum near Cairo, Egypt. The artifacts, dating to 3000 B.C. and earlier, were originally discovered during an excavation in Egypt in the 1920s and 1930s. Johnson was charged with one count of transportation of stolen property and one count of wire fraud. He pleaded guilty to possession of stolen property and was sentenced in September 2008 to 18 months probation.