ICE returns thousands of ancient artifacts seized from Hobby Lobby to Iraq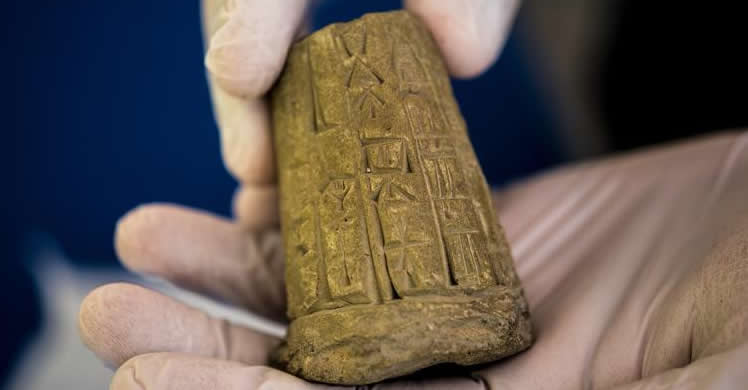 WASHINGTON — U.S. Immigration and Customs Enforcement (ICE) returned 3,800 ancient artifacts, including cuneiform tablets, cylinder seals, and clay bullae, to the Republic of Iraq. The artifacts were smuggled into the United States in violation of federal law and shipped to Hobby Lobby Stores, Inc, a nationwide arts-and-crafts retailer.
"On behalf of U.S. Immigration and Customs Enforcement (ICE), and thanks to the hard work of the Office of the Special Agent in Charge in New York, it is a great honor for me to return so many priceless cultural artifacts to the people of Iraq," said ICE Acting Director Thomas D. Homan. "I would like to thank my colleagues at U.S. Customs and Border Protection and the U.S. Attorney's Office for the Eastern District of New York for making this repatriation possible," Homan added. "We will continue to work together to prevent the looting of antiquities and ensure that those who would attempt to profit from this crime are held accountable. This ceremony should serve as a powerful reminder that nobody is above the law."
Many of the tablets can be shown to come from the ancient city of Irisagrig. The tablets, primarily from the Ur III and Old Babylonian period (2100-1600 BCE), are mostly legal and administrative documents, but also include an important collection of Early Dynastic incantations and a bilingual religious text from the Neo-Babylonian period. Two clay cones are inscribed with royal inscriptions from the Early Dynastic Lagash II periods (mid-third millennium BCE). The clay bullae include artifacts believed to be of Parthian or Sasanian date (late 2nd cent. BCE – early 7th cent. AD).
"These pieces are very important to us and they should be returned home to Iraq, to the rightful owner of these pieces," said Ambassador of Iraq to the United States Fareed Yasseen.
The artifacts returned were initially intercepted by U.S. Customs and Border Protection (CBP). The shipping labels on these packages falsely described the cuneiform tablets as tile samples.
"CBP is honored to have played a role, together with ICE, in the return of these national treasures to their rightful owner, the Republic of Iraq. In doing so, we ensure the protection of this priceless cultural heritage and secure a precious, tangible link to the past for future generations," said U.S. Customs and Border Protection Assistant Commissioner Ian Saunders.
After a review of the items and their documentation, ICE Homeland Security Investigations (HSI) Special Agents, in conjunction with Assistant U.S. Attorneys at United States District Court for the Eastern District of New York (EDNY) conducted interviews of a number of Hobby Lobby employees between January and June of 2016 which led to the discovery of a deliberate intent by employees of the company to avoid using a customs broker for the artifacts related to this transaction.
"The Republic of Iraq, standing on the land that was once home to the storied city-states and kingdoms of Mesopotamia, has a celebrated heritage as a cradle of civilization," stated U.S. Attorney Richard P. Donoghue. "We are proud to have played a role in removing these pieces of Iraq's history from the black market of illegally obtained antiquities and restoring them to the Iraqi people."
Wednesday's event was the first repatriation of cultural property to Iraq since March 2015, when ICE returned ancient antiquities and Saddam Hussein-era objects, including the Head of Assyrian King Sargon II, a limestone fragmentary head of Lamassu, the winged bull, from the Palace of Sargon II. ICE has returned more than 1200 items to Iraq in five repatriations since 2008.
ICE has returned over 8,000 artifacts to over 30 countries since 2007, including paintings from France, Germany, Poland and Austria, 15th-18th century manuscripts from Italy and Peru, cultural artifacts from China, Cambodia, and two Baatar dinosaur fossils to Mongolia, antiquities and Saddam Hussein-era objects returned to Iraq, ancient artifacts, including a mummy's hand, to Egypt, and most recently royal seals valued at $1,500,000 to the Republic of Korea.
Learn more about ICE's cultural property, art and antiquities investigations. Members of the public who have information about suspected stolen cultural property are urged to call the toll-free tip line at 1-866-DHS-2-ICE or to complete the online tip form.