WANTED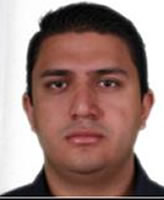 Money Laundering, Sanctions Evasion
| | |
| --- | --- |
| Name | De La Trinidad Ramirez Camacho, Joselit |
| Alias | JL |
| | |
| | |
| Place of Birth | Merida, Venezuela |
| Skin Tone | Medium |
| Height | 5'10" |
| Weight | 180 lbs |
| | |
| --- | --- |
| Eyes | Brown |
| Hair | Black |
| Gender | Male |
| Scars/Marks | N/A |
| Last Known Location | Caracas, Venezuela |
| Occupation | Superintendent of Venezuela Government Cryptocurrency |
| Reward | Up to $5,000,000 USD |
Summary:
Joselit de la Trinidad Ramirez Camacho, 33, a Venezuelan official, has been indicted in the Southern District of New York for violations of the International Emergency Economic Powers Act, the Kingpin Act, and other sanctions imposed by U.S. Treasury Department's Office of Foreign Asset Control (OFAC).
The indictment alleges that Ramirez Camacho worked with others to violate and evade narcotics-related OFAC sanctions, among other related regulations. In connection with this unlawful scheme, Ramirez Camacho allegedly coordinated travel for OFAC-sanctioned individuals and officials of the Government of Venezuela, most notably during the 2018 "re-election" campaign of Venezuelan President Nicolas Maduro Moros. Additionally, it is alleged that Ramirez Camacho conspired with others to launder payments for the above unlawful acts via bulk cash smuggling from Caracas, Venezuela to New York, NY.
Ramirez Camacho has been designated as a target of the U.S. Department of State's (DOS) Transnational Organized Crime Rewards Program in an effort to end corruption and criminality tied to the Maduro regime in Venezuela. Through the rewards program, up to $5 million is being offered for information leading to his arrest and/or conviction.
Ramirez Camacho was last seen in Caracas, Venezuela.
If you have any information, contact the nearest U.S. Embassy, email tareck.tips@ice.dhs.gov or call 1-866-347-2423.
Warning:
Do not attempt to apprehend any subject. If you have information about the whereabouts of these fugitives, immediately contact your local U.S. Immigration and Customs Enforcement (ICE) office or call the national hotline at 1-866-DHS-2-ICE as soon as possible!
All ICE Most Wanted