14 arrested in child pornography sweep 'Operation Predator Alert II'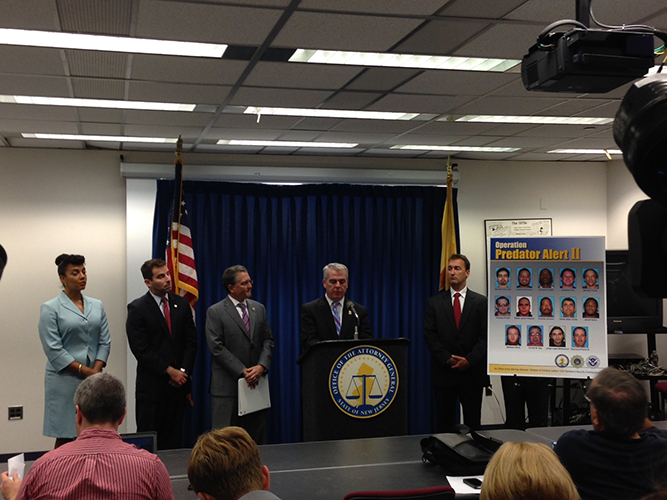 TRENTON, N.J. — Fourteen men have been charged in a second round of arrests in "Operation Predator Alert," which targeted offenders in New Jersey who used a file-sharing network to download and distribute child pornography, including child rape videos, on the Internet. A total of 28 defendants have been charged in two separate sweeps under Operation Predator Alert, including 14 prior arrests announced Oct. 28, 2013. The arrests follow an investigation by U.S. Immigration and Customs Enforcement's (ICE) Homeland Security Investigations (HSI) and the New Jersey Division of Criminal Justice.
The 14 new arrests, made from Feb. 10 through July 22, include two school bus drivers who drove children in the community of Mays Landing and a Salem County man, Michael Van Culin, who allegedly hacked into the email account of a 16-year-old Canadian girl and used personal information he obtained to blackmail her into stripping naked on a webcam while he recorded her.
"Child predators come from all walks of life and citizens everywhere must be vigilant as these threats aren't always easily seen," said Andrew M. McLees, special agent in charge of HSI Newark. "This case illustrates the important working relationship between HSI and the New Jersey Attorney General's Division of Criminal Justice to locate and identify the perpetrators of these terrible crimes no matter what steps these criminals take to keep themselves hidden in the shadows."
"We allege that Van Culin is a new breed of child predator: one who lurks in the shadows of the Internet and can strike from hundreds of miles away, sexually exploiting a child with devastating consequences," said Acting Attorney General John J. Hoffman. "It's a parent's worst nightmare that a hacker could invade the private world of a young girl and use her innocent desires and fears to enslave her. We're utilizing these child pornography sweeps to arrest these monsters before they can harm more victims or pursue their victims offline."
"When we target those who share child pornography online, we routinely uncover offenders who are sexually abusing children or stalking them," said Director Elie Honig of the Division of Criminal Justice. "That is why these operations are so critical. Viewing these vile images is a serious crime in itself, because it motivates those who sexually exploit children to create child pornography and it re-victimizes the children involved. (And) it also can be a strong indicator that we are dealing with a child predator."
According to court documents, during Operation Predator Alert, HSI special agents monitored an online file-sharing network that is popular with offenders who download and trade child pornography. Using advanced technology, the agents searched for telltale digital "fingerprints" of known child pornography, as well as search terms used by those who download and share child pornography. Through these and other methods, they identified New Jersey residents who were downloading child pornography and making child pornography available to others in shared folders on their computers. The files included videos showing pre-pubescent boys and girls being raped or being coerced into performing sexual acts on themselves or others.
The file-sharing networks used by offenders to distribute child pornography operate in the same manner as websites used for privately sharing music or movies. Those in possession of the illegal images can make them available on computers that they control for others to download. Because many of these videos and photos of child pornography keep recirculating, they result in the perpetual re-victimization of the children who were sexually assaulted or abused to produce them.
The 14 defendants have each been charged with possession of child pornography, and most of the defendants also are charged with distribution of child pornography for allegedly using Internet file-sharing software to make files containing child pornography readily available for others to download from a shared folder on their computers. Investigators allegedly downloaded one or more files of child pornography from the computers of those defendants during the investigation. A few of the defendants are charged with possession of child pornography, but are not charged with distribution of child pornography at this time. However, the investigations regarding their conduct are ongoing.
All 14 men arrested in this round are charged under New Jersey's new child pornography statute. It enhances the penalties for those who possess, distribute or manufacture child pornography. If convicted of distributing 25 or more computer files of child pornography under the new law, defendants would face a mandatory state prison sentence of five years without possibility of parole. Any defendant found to have possessed 100 or more files of child pornography on his computer, will face a presumptive sentence of three to five years in prison.
The New Jersey State Police and numerous local police departments, county prosecutors' offices and county sheriff's offices provided assistance to the joint HSI and New Jersey Division of Criminal Justice investigation.
This investigation was conducted under HSI's Operation Predator, an international initiative to protect children from sexual predators. Since the launch of Operation Predator in 2003, HSI has arrested more than 10,000 individuals for crimes against children, including the production and distribution of online child pornography, traveling overseas for sex with minors, and sex trafficking of children. In fiscal year 2013, more than 2,000 individuals were arrested by HSI special agents under this initiative.
HSI encourages the public to report suspected child predators and any suspicious activity through its toll-free Tip line at 1-866-DHS-2-ICE or by completing its online tip form. Both are staffed around the clock by investigators. Suspected child sexual exploitation or missing children may be reported to the National Center for Missing & Exploited Children, an Operation Predator partner, via its toll-free 24-hour hotline, 1-800-THE-LOST.
For additional information about wanted suspected child predators, download HSI's Operation Predator smartphone app or visit the online suspect alerts page.