2 Michigan companies partner with ICE IMAGE program, 60 attend informational forum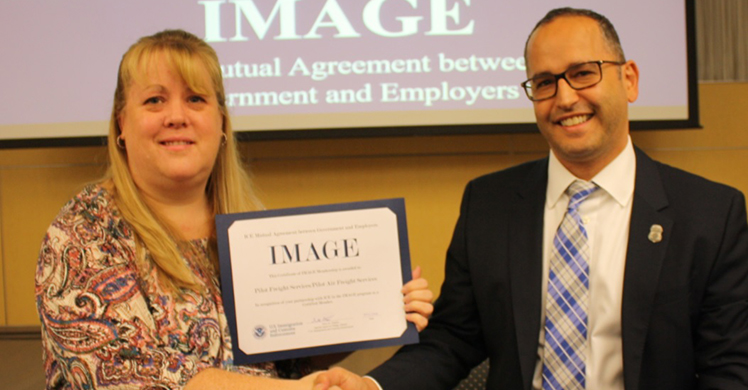 DETROIT — Two Michigan companies were recently recognized by the U.S. Immigration and Customs Enforcement's (ICE) employment compliance program called IMAGE. More than 60 companies attended a related daylong informational open house Tuesday discussing the agency program.
IMAGE stands for ICE Mutual Agreement between Government and Employers. As part of this agreement, SERVPRO and Pilot Freight Services, have pledged to maintain a secure and stable workforce and curtail the employment of unauthorized workers through outreach and education.
"Homeland Security Investigations (HSI) is proud to form a partnership with Pilot Freight Services and SERVPRO through the IMAGE program as we continue to work together to ensure good business practices," said Steve Francis, special agent in charge for HSI Detroit. "When employers strive to maintain a lawful workforce, their business and the community both benefit."
To qualify for IMAGE certification, partners agree to conduct a self-assessment of their hiring practices to uncover vulnerabilities that could be exploited by unauthorized workers; enroll in E-verify, an employment eligibility verification program; train staff on IMAGE Best Employment Practices and the use of new screening tools; and undergo a Form I-9 audit by ICE.
In addition to the recognition of SERVEPRO and Pilot Freight Services, more than 60 Detroit-area employers attended an open house where they heard expert presentations about Form I-9 training, USCIS E-Verify updates, Office of Special Counsel training and fraudulent document detection training.
Undocumented workers create vulnerabilities in today's marketplace by presenting false documents to gain employment, completing applications for fraudulent benefits, and stealing identities of legal United States workers. To combat this, ICE initiated the IMAGE program in 2006.
All IMAGE members must participate in the Department of Homeland Security (DHS) E-Verify employment eligibility verification program. Through this program, employers can verify that newly hired employees are eligible to work in the United States. This Internet-based system is available throughout the nation and is free to employers. It provides an automated link to the Social Security Administration database and DHS immigration records.
SERVEPRO is a Saginaw-based company that handles recovery and restoration services. SERVPRO provides cleanup following a fire, water, and mold damage. The company has grown to over 1,700 individually owned and operated franchises. SERVEPRO operates licenses in Saginaw, Bay City, Romulus, Taylor, and Westland.
Pilot Freight Services is a full-service global transportation and logistics company with over 75 locations throughout North America and western Europe. Established in 1970, Pilot Freight is the largest privately held U.S. freight forwarder. The company is headquartered in Lima, Pennsylvania.