2 North Texas men indicted for child sex trafficking following ICE investigation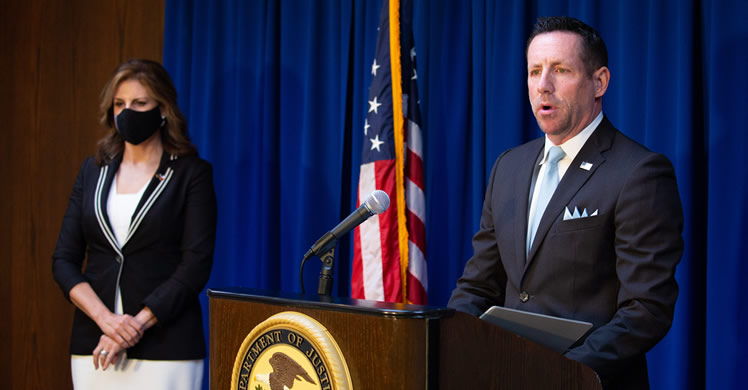 DALLAS – Two area men who allegedly purchased sex from a 13-year-old trafficking victim have been arrested and charged with child sex trafficking, following an investigation by special agents with U.S. Immigration and Customs Enforcement's (ICE) Homeland Security Investigations (HSI).
The Fort Worth, Texas, Police Department assisted with the case.
On Sept. 2, a federal grand jury indicted Kention Obryan Johnson, 35, and Sergio Trinidad Carvajal, 30, for conspiracy to commit sex trafficking and sex trafficking of children. HSI special agents arrested the defendants in Dallas on Sept. 9; their court documents were unsealed Sept. 16.
"The sex trafficking of minors is a despicable crime that HSI Dallas and our dedicated partners will continue to prioritize and relentlessly investigate. Whether you're involved in the actual trafficking or perpetuate it as a consumer, HSI will use every resource available to ensure you face justice," said Ryan L. Spradlin, special agent in charge of HSI Dallas. "We will continue to pursue individuals involved in this type of modern-day slavery, and work vigorously to rescue the young, helpless victims whose dignity and well-being are blatantly disregarded."
According to a criminal complaint filed late last year, Johnson and Carvajal's co-conspirator, 34-year-old Curtis Vance Mathis, allegedly advertised the Jane Doe on CityXGuide.com, an illegal sexual services website that has since been shut down by the U.S. Attorney's Office for the Northern District of Texas. Agents recovered the child – dressed only in an oversized hoodie – in a West Irving, Texas, hotel room rented in Mathis' name on Nov. 5, 2019.
According to search warrant affidavits unsealed Sept. 16, during the investigation, agents reviewed hotel surveillance footage and observed several men – later identified as Mathis, Johnson and Carvajal – enter and exit the room. Special agents then searched Jane Doe's phone records and uncovered text chats with Johnson and Carvajal discussing the price for a "qv," or "quick visit," commercial sex parlance for a brief sexual encounter. A forensic investigation later confirmed that DNA recovered from discarded condoms found in the hotel room matched Johnson and Carvajal.
ICE's Homeland Security Investigations (HSI) is committed to combating the sexual exploitation of children. Investigations of child sexual exploitation are among HSI's primary investigative priorities. The sexual abuse of children impacts the most vulnerable segment of our society.
ICE HSI knows the importance of education and community awareness regarding the dangers of online activity.
Providing children, teens, parents and teachers with information regarding the potential dangers of online environments and how to stay safe online can help prevent many instances of child exploitation. That is why HSI has partnered with the National Center for Missing & Exploited Children's NetSmartz and the Internet Crimes Against Children (ICAC) Task Forces to develop Project iGuardian.
Project iGuardian aims to counter a disturbing fact: many online child predators can find victims online because children are not always aware of how dangerous online environments can be.
Project iGuardian is focused on keeping children and teens safe from online predators through education and awareness. The project is an outreach effort to share information about the dangers of online environments, how to stay safe online, and how to report abuse and suspicious activity. In addition, the iGuardians™ team is here to help kids stay safe online by providing safety tips, a number to call, and a website with links to more information and resources. Project iGuardian helps kids, teens and parents be smarter about online safety and stay safe from online sexual predators.
To request an iGuardian presentation at your school or organization, email iguardian@ice.dhs.gov
To report a crime, call 866-347-2423 (TTY for hearing impaired: 802-872-6196) or visit the HSI Tip Line.
Suspected child sexual exploitation or missing children may be reported to the National Center for Missing & Exploited Children, an Operation Predator partner, via its toll-free 24-hour hotline, 1-800-843-5678.
An indictment is merely an allegation of criminal conduct, not evidence. Defendants are presumed innocent unless and until proven guilty in a court of law.
If convicted, Johnson and Carvajal each face up to life in federal prison, as does Mathis.
Assistant U.S. Attorneys Myria Boehm and Becky Ricketts are prosecuting the case.