$5M reward offered for information leading to arrest, conviction of Venezuelan official investigated by ICE HSI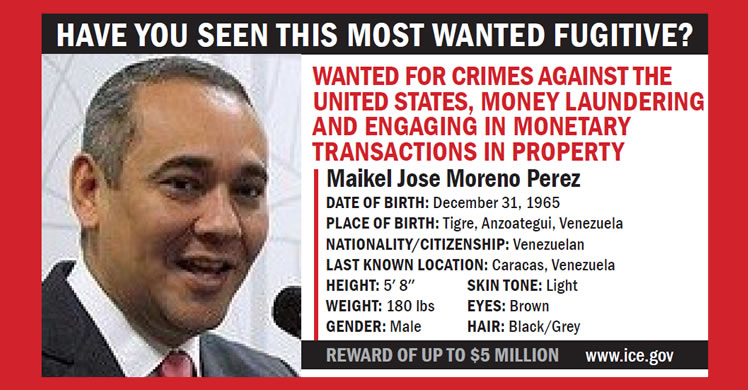 WASHINGTON – The Department of State's Transnational Organized Crime Rewards Program (TOCRP) announced a $5 million reward Tuesday for information leading to the arrest and/or conviction of Venezuelan national Maikel Jose Moreno Perez, following multiple investigations by U.S. Immigration and Customs Enforcement's (ICE) Homeland Security Investigations (HSI) and other U.S. agencies. As part of the announcement, Moreno Perez and his wife are indefinitely ineligible for reentry into the United States. These actions reaffirm the U.S. commitment to combating corruption and transnational organized crime in Venezuela.
Maikel Jose Moreno Perez, 54, current Chief Justice of the Venezuelan Supreme Court, was charged via a criminal complaint in the Southern District of Florida with conspiracy to commit money laundering and money laundering in connection with the alleged corrupt receipt or intended receipt of tens of millions of dollars and bribes to illegally fix dozens of civil and criminal cases in Venezuela.
"HSI remains committed to investigating corrupt officials like Moreno Perez, who exploited the Venezuelan court system for his personal benefit and laundered ill-gained proceeds in the United States," said HSI Acting Executive Associate Director Alysa D. Erichs. "HSI welcomes the announcement by the Department of State's Transnational Organized Crime Rewards Program and sees this as an important step to ensuring that Moreno Perez faces justice for the crimes he allegedly committed."
The complaint alleges, for example, that the defendant authorized a seizure and sale of a General Motors auto plant with an estimated value of $100 million in exchange for a personal percentage of the proceeds. Similarly, the complaint alleges that the defendant received bribes to authorize the dismissal of charges or release against Venezuelans, including one charged in a multibillion-dollar fraud scheme against the Venezuelan state-owned oil company.
According to the criminal complaint, in or around October 2014, Moreno Perez told U.S. authorities in a visa application that he earned the equivalent of about $12,000 per year from his work in Venezuela. From 2012 to 2016, the defendant's U.S. bank records show approximately $3 million in inflows to the defendant's accounts, primarily from large round-dollar transfers from shell corporations with foreign bank accounts linked to Co-Conspirator 1, who is a former criminal defense attorney in Venezuela who currently controls a Venezuelan media company.
The defendant's bank records allegedly show that from 2012 to 2016, the defendant spent approximately $3 million, primarily in the geographical area of South Florida. For example, bank records allegedly show that Moreno Perez spent about $1 million for a private aircraft and private pilot, more than $600,000 in credit or debit card purchases at stores primarily in South Florida (including tens of thousands of dollars at luxury stores in Bal Harbor, such as Prada and Salvatore Ferragamo), about $50,000 in payments to a luxury watch repair store in Aventura, and approximately $40,000 in payments to a Venezuelan beauty pageant director.
HSI's Miami field office conducted the investigation. Assistant U.S. Attorney Michael N. Berger of the Southern District of Florida is overseeing the prosecution.
About ICE Homeland Security Investigations
HSI is the principal investigative arm of the Department of Homeland Security and a vital U.S. asset in combating criminal organizations illegally exploiting America's travel, trade, financial and immigration systems. Across the country and around the world, HSI uses its unique and expansive authorities to investigate all types of cross-border crime, including money laundering, financial fraud and scams, narcotics trafficking, child exploitation, transnational gangs, identity & benefit fraud, intellectual property theft & trade fraud, human smuggling and trafficking, illicit technology transfer, weapons trafficking, terrorism and national security threats, human rights violations & war crimes, and cybercrime.
With more than 8,500 special agents and intelligence analysts assigned to more than 200 cities throughout the U.S. and more than 80 offices in 53 countries around the globe, HSI is a key partner of local, state, federal and foreign law enforcement organizations worldwide.