Bay Area woman arrested for allegedly selling counterfeit cosmetics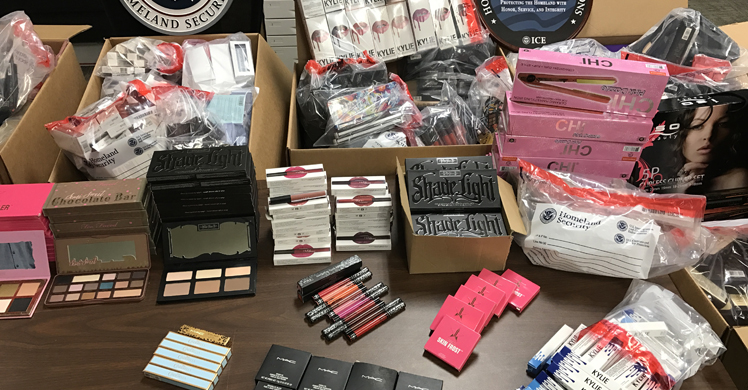 SAN FRANCISCO – A Bay Area woman was arrested earlier this week by special agents with U.S. Immigration and Customs Enforcement's (ICE) Homeland Security Investigations (HSI) on state charges for allegedly attempting to sell more than $50,000 worth of counterfeit cosmetic products imported from Asia.
The San Jose resident was taken into custody Monday following a probe by HSI. She faces a possible charge of intentionally selling counterfeit goods, a violation which carries a fine of up to $500,000 and a maximum prison term of three years.
During a search of the woman's residence, HSI special agents recovered counterfeit lipsticks, hair styling products, eyelash adhesive, powder compacts, eye shadow, eye liner, as well as electronic curlers and straighteners. HSI began its investigation after becoming aware of multiple shipments from a known counterfeit exporter in Asia.
Counterfeit cosmetics and beauty products, unlike legitimate brands, are not subject to strict quality controls and may contain substances that could lead to long-term health problems. In the past, seized cosmetics have been found to contain hazardous substances including cyanide, arsenic, mercury, lead, urine, and rat droppings.
"Counterfeit cosmetics can pose a serious risk to consumers' health as they often contain unregulated ingredients," said Ryan L. Spradlin, special agent in charge of HSI San Francisco. "Those who conduct the illegal import and sale of these items are doing so with complete disregard for public safety and will be held accountable for their criminal actions."
An indictment contains allegations that a defendant has committed a crime. Every defendant is presumed to be innocent until and unless proven guilty in court.
The HSI-led National Intellectual Property Rights Coordination Center (IPR Center), made up of 19 different federal agencies and four international agencies, oversees enforcement activities targeting the trafficking of counterfeit goods. Last fiscal year, HSI and its sister agency, U.S. Customs and Border Protection, made more than 28,000 seizures involving counterfeit goods with an estimated value of almost $1.4 billion. The International Anti-counterfeiting Counterfeiting Coalition estimates intellectual property crime costs U.S. businesses several hundred billion dollars a year in lost revenues.
Anyone with information about the sale counterfeit cosmetics can visit the IPR Center website at IPRCenter.gov to submit a tip. Reports can also be made to the HSI tip line at 1-866-DHS-2-ICE.