'BEST' transfers suspected drug smuggler to Mexican authorities
ICE transfers 244-lb. marijuana case to PGR as part of bi-national prosecution plan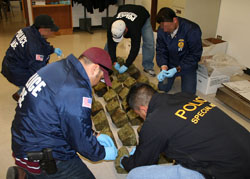 EL PASO, Texas - Special agents from U.S. Immigration and Customs Enforcement's (ICE) Homeland Security Investigations (HSI) on Monday turned over to the Office of the Attorney General of the Republic of Mexico (PGR) a Mexican national who allegedly attempted to smuggle 244 pounds of marijuana into the United States.
Juan Manuel Rodriguez-Ramirez, 42, was transferred to Mexican authorities as part of the Illegal Drug Program (IDP), which allows the PGR to prosecute certain Mexican drug smugglers under Mexican law.
Rodriguez-Ramirez was driving a 2000 International tractor towing an empty flatbed trailer, which entered the Ysleta commercial cargo facility about 10 a.m. on Jan. 24. During an X-ray scan, U.S. Customs and Border Protection (CBP) officers noticed an anomaly in the trailer's rear tires. When the tires were removed and disassembled, the CBP officers discovered fabricated compartments bolted onto the rims of four of the tires. Ultimately, they removed 48 bricks of compressed marijuana from the metal compartments. The drugs weighed 244 pounds.
ICE HSI special agents, assigned to the Border Enforcement Security Task Force (BEST) turned over Rodriguez-Ramirez to PGR representatives about 9 p.m. Jan. 24 at the Ysleta Port of Entry.
"This additional cooperation between the United States and Mexico goes a long way in our efforts to reduce the smuggling and trafficking of narcotics by ensuring violators are prosecuted," said Manuel Oyola-Torres, special agent in charge of ICE HSI in El Paso. "This partnership is especially significant in light of the escalating violence in Ciudad Juarez fueled by the illicit drug trade."
IDP was established in El Paso on April 15, 2010. Under the agreement, ICE transfers to PGR any Mexican nationals caught trying to smuggle drugs into the El Paso ports of entry. However, the U.S. Attorney's Office first reviews these cases for its prosecution discretion. Before this agreement, many of these drug smuggling cases were transferred to local law enforcement agencies for prosecution. Only suspected drug smugglers who are Mexican nationals, excluding U.S. permanent residents, will be transferred to the PGR. PGR will prosecute the accused drug smugglers; those convicted and sentenced will serve their time in Mexican prisons.
ICE works daily with Mexican law enforcement to share information that supports investigation into weapons smuggling, gang violence, human smuggling and trafficking, and drug trafficking. IDP is the most recent example of the coordination and cooperation between the United States and Mexico to seek innovative ways to combat old problems.