Buyers Beware! ICE HSI and CBP in Boston warn consumers about counterfeit goods during holiday shopping season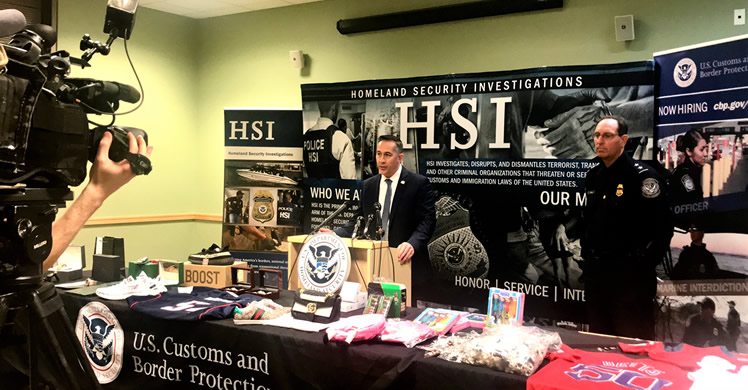 BOSTON — U.S. Immigration and Customs Enforcement's (ICE) Homeland Security Investigations (HSI) and U.S. Customs and Border Protection (CBP) in Boston hosted a joint press event Wednesday to warn consumers of the dangers of purchasing a wide range of counterfeit items and goods with fake trademarks. This event provided tips on ways consumers can protect themselves as they head into the final shopping days of the holiday season.
HSI Boston Acting Special Agent in Charge Jason Molina and CBP Director of Field Operations for Boston Michael Denning provided an overview of the work that HSI and CBP do to combat counterfeit items and products that violate intellectual property rights.
"It's a common misconception to think of counterfeit goods as a harmless 'short-cut' that really doesn't harm anyone, but the truth is that counterfeiting is not a victimless crime," said acting SAC Molina. "Consumers who knowingly purchase 'knock-off' or imitation items may be surprised to know that buying these items actually adds up to millions of dollars added to a black market economy run by criminal networks that also enable and fund illegal narcotics and trafficking crimes."
"Counterfeit goods not only threaten our national security by endangering the health and safety of consumers, they also can wreak havoc on our economy and fund criminal elements involved in a range of other illegal activities," said CBP DFO Denning at the event.
Both leaders pointed out that trafficking counterfeit goods across the U.S. border has also been linked to global, multi-billion dollar organized criminal groups and counterfeit items pose a serious health hazard to consumers who unwittingly purchase them. Among the items highlighted seized by CBP and displayed at the event were counterfeit Rolex watches, over-the-counter medications, high-end luxury items sportswear and sneakers.
Although handbags, watches and clothing are the items most identified as frequently-counterfeited items, the event emphasized that intellectual property thieves will counterfeit any product that can be sold or marketed. This means items like counterfeit drugs, medical equipment, aircraft and automobile parts, computer hardware, military components, and electrical safety devices.
Also highlighted was the fact that criminal organizations have become very adept at setting up online stores to lure the public into thinking they are purchasing legitimate goods on legitimate websites. In the last several years, HSI has teamed with industry and international law enforcement to help shut down tens of thousands of internet domain names that were illegally selling counterfeit merchandise online to unsuspecting consumers.
Every year, the interagency collaboration through the HSI-led National Intellectual Property Rights Coordination Center (IPR Center) has resulted in hundreds of arrests, with the majority of cases which end in serious criminal indictments and convictions.
Each year, more than 11 million maritime containers arrive at our seaports. At our land borders, another 10 million arrive by truck, and 3 million arrive by rail. An additional quarter billion more cargo, postal, and express consignment packages arrive through air travel. Together HSI and CBP stand ready to fight these risks to the American economy and the American people.