Detroit airport concessions company joins IMAGE program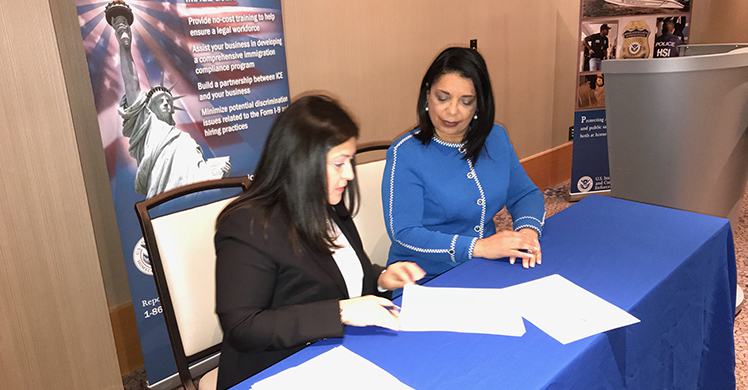 DETROIT – A Detroit metro airport concessions company has become the latest Michigan employer to join a U.S. Immigration and Customs Enforcement (ICE) program designed to strengthen hiring practices and reduce unauthorized employment.
Atlanta-based Hojeij Branded Foods (HBF) and its local Detroit joint venture partner, AP United LLC (APU), recently signed an agreement to participate in IMAGE (ICE Mutual Agreement between Government and Employers), a voluntary program in which ICE partners with businesses to reduce unauthorized employment and the use of fraudulent identity documents. HBF APU received its certificate Wednesday formally marking the firm's entry into the program.
As the state's newest IMAGE member, HBF APU has agreed to partner with ICE and perform the actions required to obtain IMAGE certification. These actions include conducting a self-assessment of hiring practices to uncover vulnerabilities that could be exploited by unauthorized workers; enrolling in E-verify, an employment eligibility verification program; training staff on IMAGE Best Employment Practices and the use of new screening tools; and undergoing a Form I-9 audit by ICE.
"We are proud to complete this certification for many reasons, but primarily because it embodies what we stand for as a company," says HBF CEO Regynald Washington. "Our goal is always to enhance the passenger's dining experience. In today's world, enhancing security – especially within the walls of our airports – is critical both to the safety and well-being of our employees as well as our guests."
Hojeij Branded Foods, LLC has 120 locations in 37 airports in the country with a portfolio of 40+ high-quality national, regional, and local brands, and over 2,700 employees. HBF is driven by their mission statement of "enhancing the passenger's dining experience, one airport at a time."
"Homeland Security Investigations is proud to form a partnership with HBF through the IMAGE program as we continue to work together to ensure good business practices," said Steve Francis, special agent in charge for HSI Detroit. "When employers strive to maintain a lawful workforce, their business and the community both benefit."
All IMAGE members must participate in the Department of Homeland Security's (DHS) E-Verify employment eligibility verification program. The program enables businesses to verify that newly hired employees are eligible to work in the United States. The internet-based system, which provides an automated link to the Social Security Administration's database and DHS immigration records, is available nationwide at no cost to employers.
Undocumented workers create vulnerabilities in today's marketplace by presenting false documents to gain employment, completing applications for fraudulent benefits, and stealing identities of legal United States workers. To combat this, ICE initiated the IMAGE program in 2006.