Follow Us
Related Information
ERO Denver removes Peruvian national wanted for aggravated robbery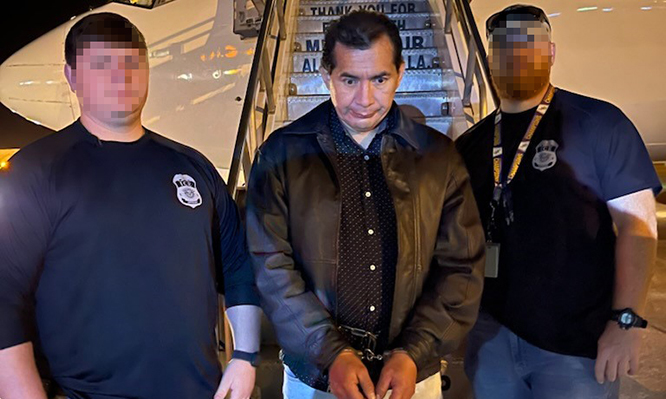 DENVER - Officers with Enforcement and Removal Operations (ERO) Denver removed an unlawfully present foreign fugitive on Nov. 9, wanted for aggravated robbery by law enforcement authorities in his home country of Peru.
Luis Cristano Rosales-Estacio, 47, was flown via ICE Air from Denver International Airport to Jorge Chavez International Airport in Callao, Peru, where he was turned over to the proper authorities.
Rosales-Estacio was admitted into the United States on March 30, 2014, at the Los Angeles International Airport. He subsequently violated the terms of his admission. In the subsequent years, Rosales-Estacio has been convicted of driving under the influence multiple times. ERO officers arrested him on Feb. 21, 2023, in Leesburg, Virginia, and transferred him to the Denver Contract Detention Facility in Aurora, Colorado. An immigration judge ordered Rosales-Estacio removed on Aug. 21.
Noncitizens placed into removal proceedings receive their legal due process from federal immigration judges in the immigration courts, which are administered by the Executive Office for Immigration Review (EOIR). EOIR is an agency within the U.S. Department of Justice and is separate from the Department of Homeland Security and ICE. Immigration judges in these courts make decisions based on the merits of each individual case. ICE officers carry out the removal decisions made by the federal immigration judges.
As one of ICE's three operational directorates, ERO is the principal federal law enforcement authority in charge of domestic immigration enforcement. ERO's mission is to protect the homeland through the arrest and removal of those who undermine the safety of U.S. communities and the integrity of U.S. immigration laws, and its primary areas of focus are interior enforcement operations, management of the agency's detained and non-detained populations, and repatriation of noncitizens who have received final orders of removal. ERO's workforce consists of more than 7,700 law enforcement and non-law enforcement support personnel across 25 domestic field offices and 208 locations nationwide, 30 overseas postings, and multiple temporary duty travel assignments along the border.
Members of the public can report crimes and suspicious activity by dialing 866-347-2423 or completing the online tip form. Learn more about ICE's mission to increase public safety in your community on X, formerly known as Twitter, @ERODenver.