Related Information
Find Us On Twitter
ERO Houston removes previously deported Mexican fugitive wanted for homicide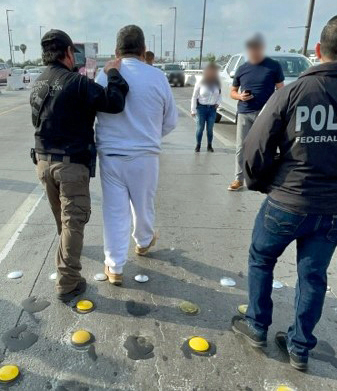 HOUSTON — Enforcement and Removal Operations (ERO) Houston, with assistance from ERO Mexico and the Security Alliance for Fugitive Enforcement (SAFE) Task Force in Mexico, removed Gregorio Gutierrez-Galvan, a 64-year-old previously removed Mexican national, from the United States on March 10. Gutierrez is wanted in Mexico for homicide.
Deportation officers from U.S. Immigration and Customs Enforcement's (ICE) ERO Houston transported Gutierrez from the Montgomery Processing Center in Conroe to the Juarez-Lincoln Bridge in Laredo. Upon arrival, they transferred custody to Mexican law enforcement authorities.
Gutierrez first illegally entered the U.S. on an unknown date and at unknown location. On July 14, 2017, ERO San Antonio apprehended him after receiving a tip from a local police department. On Feb. 15, 2018, an immigration judge with the Justice Department's Executive Office for Immigration Review ordered Gutierrez removed from the United States. ICE officers removed him to Mexico on Feb. 28, 2018.
On an unknown date, Gutierrez illegally reentered the U.S. at an unknown location. On Aug. 21, 2022, ICE received a tip indicating that he had an outstanding homicide warrant in Mexico for homicide and that he was residing in Killeen. Based on that tip, ERO Houston apprehended Gutierrez at a residence in Killeen on Sept. 13, 2022, and his prior order of removal was reinstated.
On Feb. 22, 2023, a judge in the U.S. District Court for the Western District of Texas convicted Gutierrez of illegal reentry. The U.S. Marshals Service transferred him into ERO Houston custody on Feb. 23 and he was removed from the U.S. on March 10.
"This individual illegally entered the United States twice in an attempt to evade prosecution in Mexico for homicide," said ERO Houston acting Field Office Director Gabriel Martinez. "Thanks to the members of the public who reported his presence to law enforcement and the swift actions by ERO Houston immigration officers to safely take him into custody, he has been repatriated to Mexico where he will face justice for his alleged crimes."
Members of the public who have information about foreign fugitives are urged to contact ICE by calling the ICE Tip Line at 866-347-2423 or internationally at 001-1802-872-6199. They can also file a tip online by completing ICE's online tip form.
For more news and information on how the ICE ERO Houston field office carries out its immigration enforcement mission in Southeast Texas follow us on Twitter @EROHouston.
The SAFE Program is a fugitive enforcement and information sharing partnership that was created in 2012 to better use subject information derived from local in-country investigative resources and leads to locate, apprehend, detain and remove individuals residing in the U.S. illegally who were subject to foreign arrest warrants. The SAFE Program operates under the respective host nation's AAR, which constructs a SAFE task force composed of relevant foreign law enforcement agencies, immigration authorities, attorneys general, and national identification repositories — as well as other regional, national, state and local government agencies. The managing AAR ensures that each task force member complies with SAFE policies and standards consistent with the program's standard operating procedures. Once established, the AAR-led SAFE task force generates new leads and vets existing SAFE fugitive referrals for ERO action.
ERO, a directorate of ICE, upholds U.S. immigration law at, within, and beyond our borders. ERO operations target public safety threats, such as convicted criminal noncitizens and gang members, who have violated our nation's immigration laws, including those who illegally re-enter the country after being removed and immigration fugitives ordered removed by federal immigration judges. ERO deportation officers assigned to Interpol also assist in targeting foreign fugitives for crimes committed abroad at-large in the U.S. ERO manages all aspects of the immigration enforcement process, including identification and arrest, detention, bond management, supervised release, transportation, and removal. Additionally, ERO repatriates noncitizens ordered removed from the U.S. to more than 150 countries worldwide.