ERO Miami officers rescue Florida man from burning truck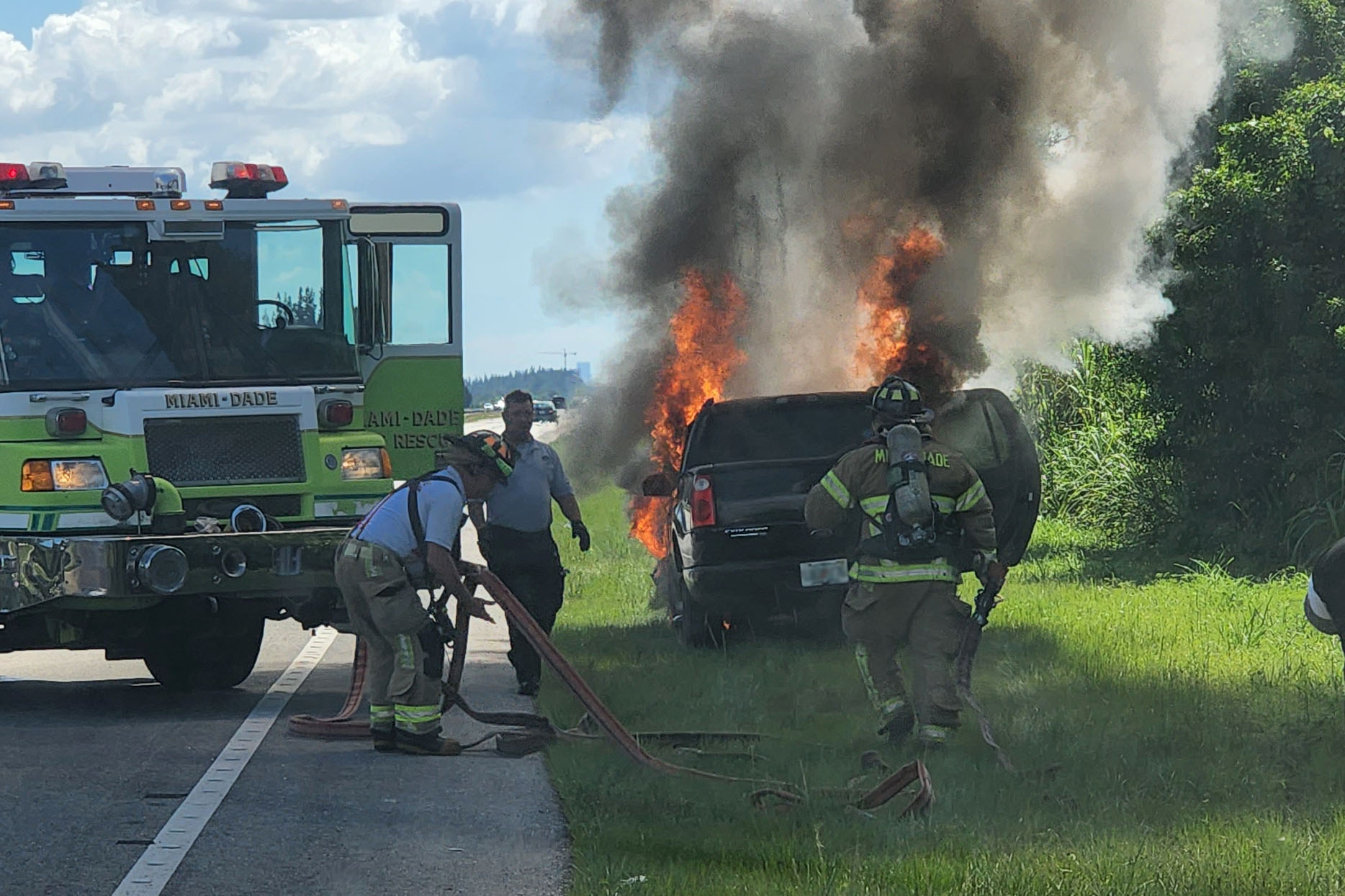 MIAMI - Two U.S. Immigration and Customs Enforcement (ICE) Enforcement and Removal Operations (ERO) Miami Special Response Team (SRT) operators jumped into action to save a man's life on the side of a road, Sept. 7.
Martin Mendez and Alfredo Alvarez encountered a truck engulfed in flames on a highway near the ICE Krome Service Processing Center.
"Their fast response, skillset, and training are credited for mitigating a rapidly evolving accident scene that could have easily resulted in additional injuries, accidents, and property damage if not for their selfless actions and continued commitment to protect the safety of our communities," said Garrett Ripa, acting field office director of ERO Miami.
Mendez, a trained tactical emergency medical service provider, assisted the male occupant of the vehicle, performing a rapid medical assessment for his airway, breathing, circulation, and other potential injuries.
"I immediately tended to the driver to make sure he was not suffering from smoke inhalation and worried the flames were getting more intense and could cause a potentially life-threatening explosion given everyone's proximity to the vehicle," Mendez said. "My plan of action was to get the occupant and Alfredo safely away from the imminent danger of the situation."
While Alvarez contacted local emergency services and worked to put out the growing flames on the vehicle with a fire extinguisher.
"I noticed the fire was mostly contained under the hood within the engine compartment, but also starting to spread underneath the vehicle," Alvarez said. "I attempted to extinguish the fire to keep it away from the gas tank and worked my way upward to reduce flames within the engine compartment. The fire extinguisher was effective in slowing the fire down enough to secure the male driver and move him to safety."
Miami Dade Fire Rescue quickly arrived on scene and finished extinguishing the burning vehicle. Before departing, the man thanked Mendez and Alvarez, expressing gratitude for their help.