ERO San Diego assists in arrest of FBI most wanted fugitive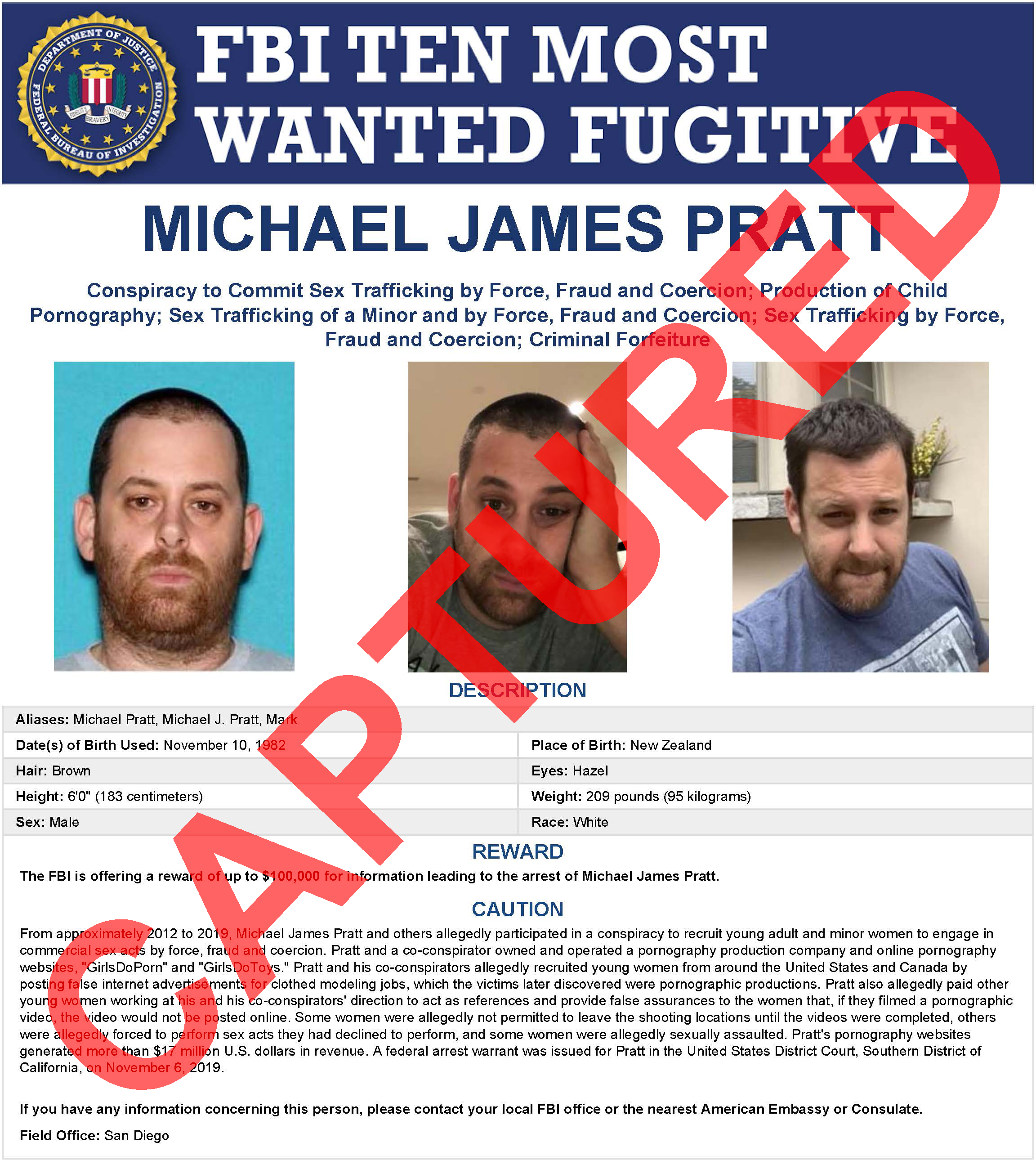 SAN DIEGO — An Enforcement and Removal Operations (ERO) deportation officer assigned to the U.S. Marshals Service's San Diego Regional Fugitive Task Force assisted in the arrest of a man wanted for various sex and financial crimes.
While investigating a U.S. Immigration and Customs Enforcement (ICE) tip line lead, the ERO San Diego deportation officer worked with U.S. marshals to locate Michael James Pratt, 40, a foreign national on the FBI's 10 Most Wanted Fugitives list. Spanish authorities arrested Pratt in Madrid, Dec. 21, 2022; he is being held in Spain pending extradition to the United States.
Pratt is charged in a 19-count indictment with sex trafficking, production of child pornography, sex trafficking of a minor, and conspiracy to launder monetary instruments in connection with the operation of adult pornography website. Pratt has been a fugitive since 2019 and was added to the FBI's 10 Most Wanted Fugitives list in 2022.
"This case is a great example of how federal and international law enforcement agencies work collectively to bring to justice criminals like Pratt, who exploit the vulnerabilities of young women," said ERO San Diego Field Office Director Jamison Matuszewski. "ERO deportation officers remain vigilant in their sworn duty to defend the constitution and arrest those who undermine the safety of U.S. communities and the integrity of U.S. immigration laws."
"The capture of Michael Pratt is an example of how the FBI will pursue justice beyond U.S. borders — you can run, but you can't hide," said Special Agent in Charge of the FBI San Diego field office Stacey Moy. "Thank you to our determined FBI San Diego Human Trafficking Task Force and to our federal and international partners for their commitment to making sure that Michael Pratt is brought to justice."
Pratt was the 529th person to be placed on the FBI's 10 Most Wanted Fugitives list, which was established in 1950. Additional information concerning Pratt and the FBI's most wanted fugitives can be found online.
The public is reminded that a complaint is not evidence of guilt and all defendants in a criminal case are presumed innocent until proven guilty in a court of law.
ERO, a directorate of ICE, upholds U.S. immigration law at, within, and beyond our borders. ERO operations target public safety threats, such as convicted criminal noncitizens and gang members, who have violated our nation's immigration laws, including those who illegally re-enter the country after being removed and immigration fugitives ordered removed by federal immigration judges. ERO deportation officers assigned to Interpol also assist in targeting foreign fugitives for crimes committed abroad at-large in the U.S. ERO manages all aspects of the immigration enforcement process, including identification and arrest, detention, bond management, supervised release, transportation, and removal. Additionally, ERO repatriates noncitizens ordered removed from the U.S. to more than 170 countries worldwide.
Members of the public can report crimes and suspicious activity by dialing 866-347-2423 or completing ICE's online tip form.