Federal grant funds Hampton Roads Human Trafficking Task Force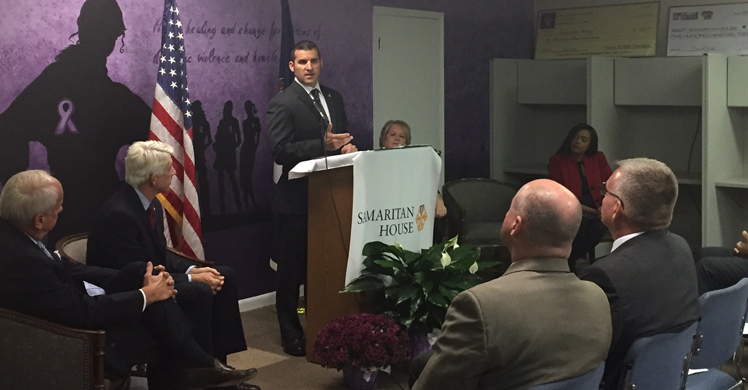 VIRGINIA BEACH, Va. – Law enforcement and nonprofit representatives gathered in Virginia Beach Wednesday to announce they have secured a $1.4 million federal grant to establish and operate the Hampton Roads Human Trafficking Task Force.
The task force will fight human trafficking in Hampton Roads by identifying, rescuing, and restoring victims; building awareness about the realities of human trafficking in the region and across Virginia; and investigating and prosecuting trafficking crimes. The Virginia Attorney General's Office and U.S. Immigration and Customs Enforcement's (ICE) Homeland Security Investigations (HSI) Norfolk will work with police departments and commonwealth's attorneys of Virginia Beach, Chesapeake, Norfolk, Hampton, and Newport News, as well as the U.S. Attorney's Office for the Eastern District of Virginia to investigate and prosecute trafficking cases. Samaritan House, a Virginia Beach-based nonprofit organization, will serve as the lead in providing services to victims. The task force will embrace a victim-centered approach to human trafficking investigations, strengthening the ties between victim services providers, law enforcement and the community.
"Human trafficking is a dehumanizing crime that calls for a comprehensive response in order to restore victims to safety and well-being and hold traffickers accountable," said Virginia Attorney General Mark Herring. "This coordinated, victim-centered approach is going to make a huge difference in the lives of victims that are identified in Hampton Roads, and it's going to send an unmistakable signal that Virginia will not tolerate human trafficking. I'm proud that we've been able to bring some new tools to the fight, but we're not going to let up because we know there are still people out there looking for a lifeline to help them break free."
"Human trafficking is one of the most heinous crimes HSI investigates. People are treated as commodities, making this crime akin to modern day slavery" said Michael Lamonea, assistant special agent in charge of HSI Norfolk. "We look forward to working with our law enforcement and community partners to eradicate human trafficking in Hampton Roads."
"Samaritan House is thrilled to be working with the Attorney General's office in combating human trafficking," said Robin Gauthier, executive director of Samaritan House. "The average age a teen enters sex trafficking in the United States is 12-14, so this could be one of your family members or mine."
The task force is funded through a federal grant from the U.S. Department of Justice which supports:
Hiring a Hampton Roads Anti-Human Trafficking Coordinator in the Office of the Attorney General.
A new victim services coordinator, case manager, and three on-site counselors at Samaritan House.
Expanded bed space for Samaritan House to provide victims of human trafficking a safe and supportive place for them and their children to get back on their feet.
The costs incurred by law enforcement agencies while investigating a potential human trafficking case.
Experts believe Virginia's central location along major interstate corridors and its international points of connection make it vulnerable to human trafficking activity. Through June 30, 2016, Virginia had the 13th most cases reported to the National Human Trafficking Resource Center hotline. This year, the hotline received 339 calls, reporting 73 cases of human trafficking in Virginia. The majority of those called referenced women forced into sex work against their will. In 2015, the hotline received 624 calls, referencing 145 cases of human trafficking in Virginia.