Foreign fugitive wanted in Mexico for homicide removed by ERO San Antonio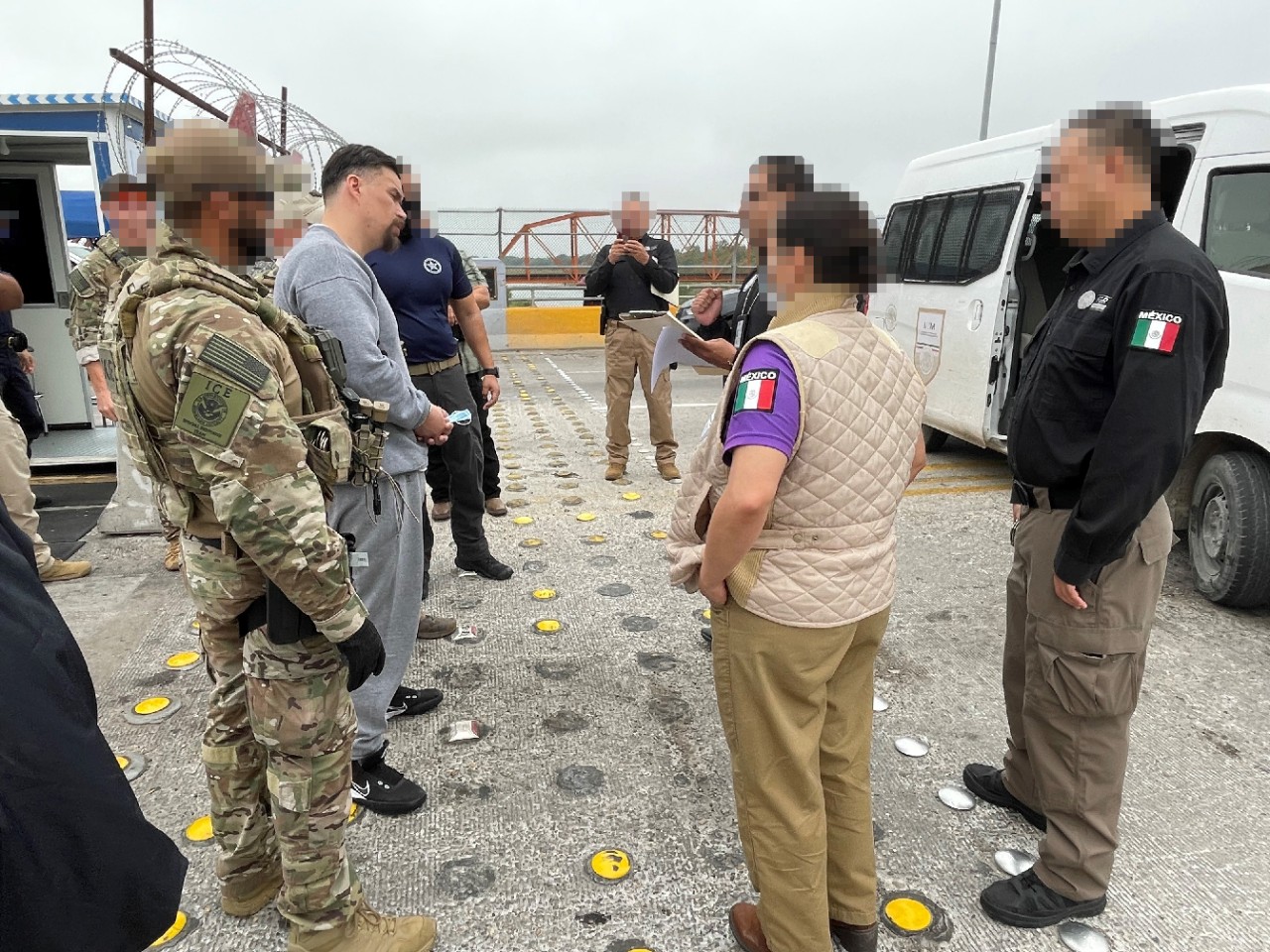 PEARSALL, Texas — U.S. Immigration and Customs Enforcement's Enforcement and Removal Operations San Antonio Field Office removed an unlawfully present foreign fugitive who is wanted for homicide in his home country of Mexico.
Jose Sanchez Macias, a 36-year-old unlawfully present Mexican national, was transported by ICE officers Nov. 10 from the South Texas ICE Processing Center in Pearsall to the Eagle Pass International Bridge II in Eagle Pass, Texas. Sanchez was walked to the international line and turned over to Mexican law enforcement officials without incident.
On May 10, 2017, Sanchez illegally entered the U.S. in Eagle Pass without inspection or parole and was apprehended by U.S. Border Patrol. On that same date, Sanchez was charged with violation 8 USC § 1324, Bringing in and harboring certain aliens. On Feb. 1, 2018, the U.S. District Court, Western District of Texas, Del Rio Division, convicted Sanchez of conspiracy to transport illegal aliens and sentenced him to nine months' confinement. On February 12 that year, ERO San Antonio took custody of Sanchez and served him with a final administrative removal order. The next day, ERO San Antonio removed Sanchez from the U.S. to Mexico.
On Aug. 6, 2018, Homeland Security Investigations arrested Sanchez in Eagle Pass after determining he was illegally present in the United States. HSI transferred custody of Sanchez to USBP for processing. USBP served Sanchez with a Notice of Intent/Decision to Reinstate Prior Order. USBP also charged SANCHEZ with violation of 8 USC § 1324(a)(1)(A)(v)(I), conspiracy to enter, transport or harbor aliens. On Oct. 24, 2019, the U.S. District Court, Western District of Texas, Del Rio Division, convicted Sanchez of conspiracy to harbor illegal aliens and sentenced him to 48 months' confinement.
On Oct. 13, 2022, ERO San Antonio received notification from USMS that Sanchez was wanted by Mexican law enforcement authorities for homicide. On Nov. 4, ERO San Antonio received custody of Sanchez and transferred him to the South Texas ICE Processing Center to await his removal.
"This was a great example of the collaboration we maintain with our local, federal and international partners which allow ERO to highlight the extensive work involved when securing significant arrests and handing over wanted fugitives to foreign law enforcement officials," said Denice Seemiller, acting field office director, San Antonio Field Office.
Members of the public who have information about foreign fugitives are urged to contact ICE by calling the ICE Tip Line at 866-347-2423 or internationally at 001-1802-872-6199. They can also file a tip online by completing ICE's online tip form.
For more news and information on how the ERO San Antonio Field Office carries out its immigration enforcement mission in Central Texas, follow us on Twitter @EROSanAntonio.