Fugitive sought in scheme to manufacture and sell counterfeit rifle sights online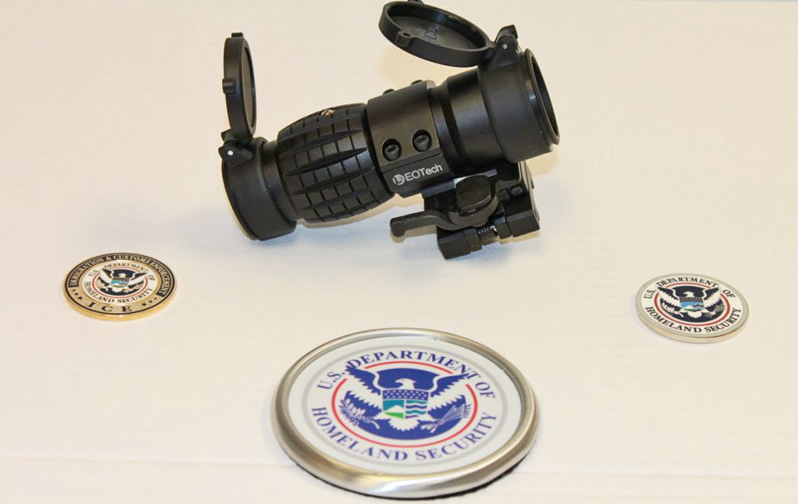 ANAHEIM, Calif. - Law enforcement is currently seeking the co-owner of an Anaheim, Calif., online gun equipment business who is charged, along with his business partner and an office manager, in a scheme to sell counterfeit high-tech rifle sights over the Internet.
Yongming "Steven" Sui, 53, chief executive officer of Field Sport, Inc., is accused of two felony counts - manufacturing and selling a counterfeit mark and possession of an assault weapon. An arrest warrant was issued March 25 for the Corona resident, who is believed to be in China. If convicted of both counts, Sui faces a maximum sentence of three years and eight months in state prison.
The criminal charges are the result of an ongoing probe that began in early March after U.S. Customs and Border Protection (CBP) officers conducting a routine mail inspection discovered 700 counterfeit rifle sights and 200 magnifier systems in a shipment sent from China to Field Sport's headquarters. The case was jointly investigated by U. S. Immigration and Customs Enforcement's (ICE) Homeland Security Investigations (HSI) and the Anaheim Police Department (APD). The Orange County District Attorney's Office (OCDA) is prosecuting this case.
"Anytime you purchase a knock off or pirated product, it's a virtual certainty the quality and reliability will be inferior to the genuine article. When you're talking about counterfeit gun sights, the implications are frightening," said Claude Arnold, special agent in charge for ICE HSI in Los Angeles. "This case serves as a powerful reminder about the public safety risks associated with product counterfeiting and demonstrates yet again why intellectual property enforcement is and will continue to be a top priority for ICE HSI."
"This is just one example of the outstanding work being performed by CBP officers at international express consignment hubs on a daily basis," stated CBP Director of San Francisco Field Operations Richard Vigna. "Despite the high volume of cargo arriving into the airport, the officers' diligence and expertise in targeting illegal shipments has resulted in another seizure of counterfeit merchandise that must not enter the commerce of the U.S."
Last Wednesday, ICE HSI agents and Anaheim Police Department detectives arrested two of Sui's colleagues at Field Sport's Anaheim headquarters. Like Sui, Isaac Cheuk Hang Tse, 65, of Rowland Heights, Calif., and Pao Sheng Yang, 34, of Corona, Calif., are both charged with manufacturing and selling a counterfeit mark and possession of an assault weapon. Tse, Field Sport's co-owner, is being held on a $20,000 bail, while Yang, the company's office manager, was released after posting $20,000 bond. Both men are scheduled for a continued arraignment April 22 at 8:30 a.m. in Department N-12 of the North Justice Center in Fullerton, Calif.
The three defendants are each accused of manufacturing and advertising approximately 700 counterfeit EOTech gun sights and 200 magnifier systems for sale online, which have a retail value of approximately $475,000. The magnifiers and gun sights, which were shipped by way of China, help weapon users aim and fire at targets with greater accuracy and speed. EOTech is a United States-based corporation that has the copyright on the manufacture and sale of these weapon components.
At the time of Tse and Yang's arrest, HSI agents and Anaheim Police Department detectives executed a state search warrant at Field Sport's headquarters at 3325 Mira Loma, suite 122, and recovered two fully operational assault rifles along with an additional 778 counterfeit EOTech holographic gun sights. Investigators calculate the approximate retail value of that seizure at more than $400,000.
"This is another example of the importance for local law enforcement to work with our federal partners to ensure the safety of the public" stated Chief John Welter of the Anaheim Police Department.
As the largest investigative arm of the Department of Homeland Security, ICE's HSI plays a leading role in targeting individuals and criminal organizations responsible for producing, smuggling, and distributing counterfeit products. In fiscal year 2010, ICE and CBP intellectual property rights enforcement efforts led to nearly 20,000 seizures, a 34 percent increase compared to the previous year. The total value of those goods, based upon the manufacturer's suggested retail price had the goods been genuine, $1.4 billion. Perhaps even more troubling, increasingly the commodities seized in intellectual property rights cases, such as this one, are products that pose potential risks to public safety and security, including critical technology components and counterfeit pharmaceuticals.