Georgia man sentenced for transporting drugs disguised as children's candy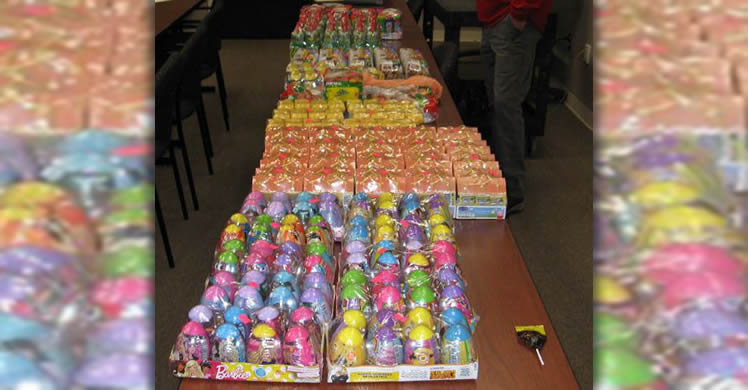 JACKSON, Miss. – A Georgia man was sentenced to 151 months in federal prison Tuesday, followed by five years of supervised release, for illegally transporting 41.97 kilograms of 100% pure methamphetamine and 4.5 kilograms of heroin that had been smuggled into the United States from Mexico. The sentencing was announced by U.S. Immigration and Customs Enforcement's (ICE) Homeland Security Investigations (HSI) New Orleans Special Agent in Charge (SAC) Jere T. Miles and U.S. Attorney Mike Hurst.
"By concealing dangerous narcotics as children's candy, the defendant targeted our most vulnerable population, our youth," said HSI New Orleans SAC Jere T. Miles. "Thanks to HSI special agents, and our partners at the Mississippi Bureau of Narcotics and the Rankin County Sheriff's Office, our communities will be safer with this criminal behind bars."
"This criminal endangered not just our citizens but our children, stooping so low as to disguise this poison as candy just so he could make a quick buck, caring not that it would cause damage, destruction and death in our communities. Because of the great work of our federal, state and local law enforcement, as well as our prosecutors, this criminal will not be peddling these toxins to our kids or anyone else anymore," said U.S. Attorney Hurst.
On April 16, 2018, Cleveland James McKinney, 30, of Atlanta, traveled to Brandon, Mississippi from Atlanta, to retrieve a drug shipment that originated in Mexico and entered the United States through Brownsville, Texas. The drugs were concealed in what appeared to be shrink-wrapped, bulk packaged children's candy. McKinney was to transport the drugs to Atlanta and deliver them to his co-conspirator, Evelyn Michelle Hernandez.
Unbeknownst to McKinney, HSI already had intercepted the narcotics shipment and had replaced the drugs with a false substance in packaging almost identical to the children's candy packaging that had concealed the illegal methamphetamine and heroin. McKinney drove to the designated location and retrieved the packages that he believed contained the illegal drugs. He then began his return trip to Atlanta. He was arrested shortly thereafter. McKinney was charged in a federal criminal indictment and pled guilty Nov. 21, 2019. At the Tuesday sentencing by Senior U.S. District Judge David Bramlette III, McKinney was also ordered to pay a $1,500 fine.
Hernandez was also indicted and sentenced Nov, 19, 2019 to 168 months in federal prison.
This case was investigated by HSI, the Mississippi Bureau of Narcotics, and the Rankin County Sheriff's Office Interdiction Task Force. It was prosecuted by Assistant United States Attorney Carla J. Clark.