Related Information
Web Feature
Homeland Security Investigations graduates new class of military veterans trained to combat child exploitation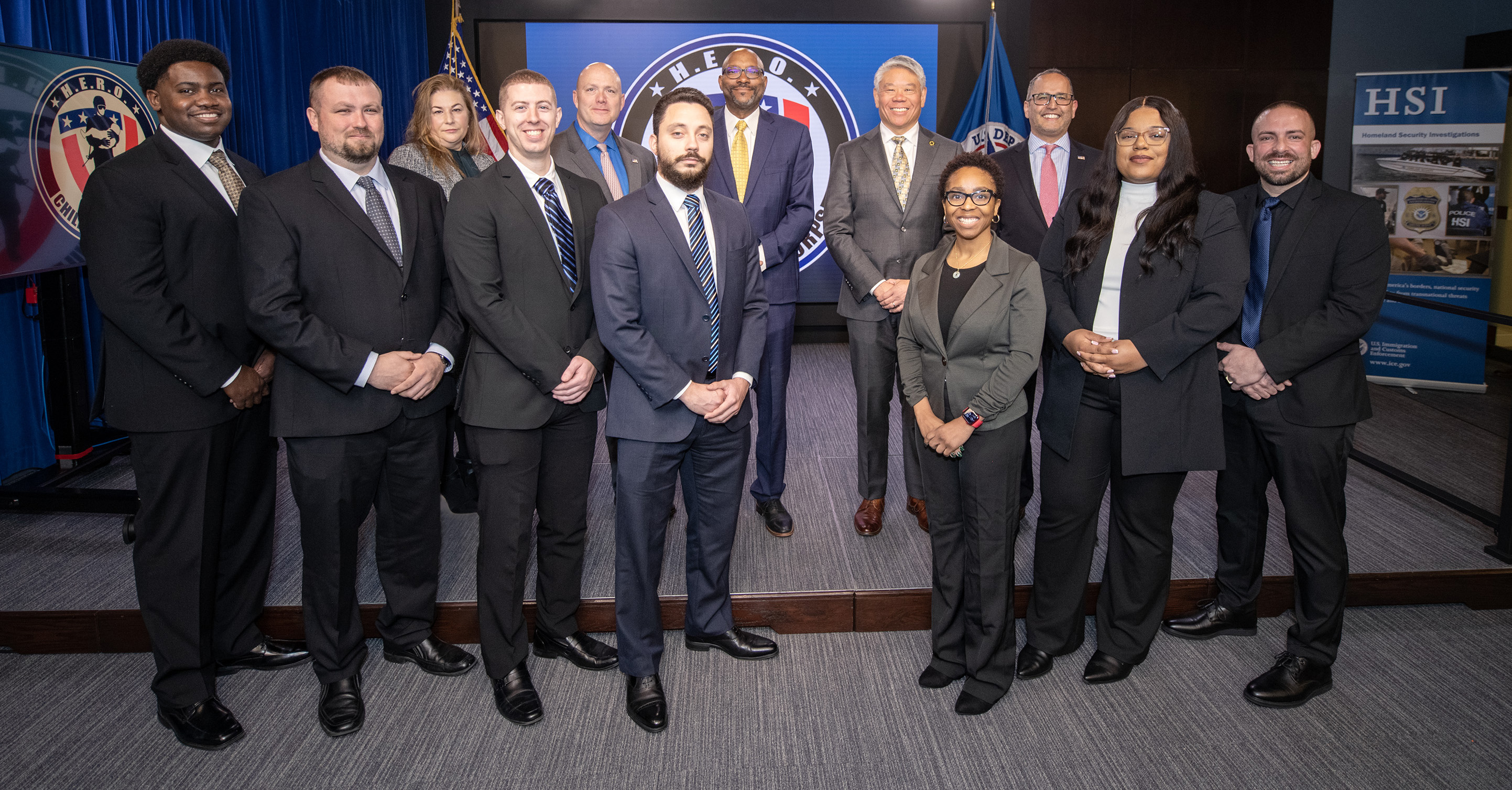 WASHINGTON — Homeland Security Investigations (HSI) welcomed seven new forensic analysts into its ranks during the Human Exploitation Rescue Operation Child-Rescue Corps (HERO Corps) graduation ceremony Dec. 8. The graduates, all military veterans, join HSI as members the 12th HERO Corps class. HERO Corps recruits, trains and hires wounded, ill or injured transitioning service members and veterans to support HSI in the areas of child exploitation investigation, child victim identification, traveling child sex offenders and digital forensics.
Deputy Secretary of the Department of Homeland Security (DHS) John K. Tien, U.S. Immigration and Customs Enforcement (ICE) Acting Director Tae Johnson, ICE Acting Deputy Director P. J. Lechleitner, HSI Acting Executive Associate Director Steve Francis, HSI Assistant Director of Cyber and Operational Technology Tracy Cormier, Deputy Assistant Director of HSI's Cyber Crimes Center (C3) H. Ray Shuler, and other agency officials attended the ceremony with the graduates' families and friends.
"HERO Corps is an excellent example of what can be gained through fostering innovative partnerships between government agencies, Department of Defense partners, and nongovernmental organizations to support our wounded warriors' transition to civilian life," said HSI Acting Executive Associate Director Steve Francis. "The name of this program could not be more apt — the veterans who do this work are indeed heroes."
Initially established as a pilot initiative in 2013, President Barack Obama signed the HERO Act into law May 29, 2015, which formalized and endorsed HERO Corps administered by HSI's C3. Congress strengthened the HERO Corps program through the passage of the Abolish Human Trafficking Act of 2017, making it a DHS-wide program, opening it to all military service branches and providing pay for interns. Since its launch, the program has trained nearly 170 veterans in forensics to support HSI's child exploitation investigations.
"As veterans, leaving military service can often leave a void that duty, mission and purpose once held; it is a longing to be a part of something greater than oneself and the opportunity to effect real change," said Zinasia Woolfolk, a member of the graduating class. "Thirteen weeks ago, my fellow HEROs and I regained a new sense of duty, mission and purpose; our most important mission yet."
The 12th HERO Corps class graduated after 13 weeks of HSI agency introduction and computer forensics training. Each graduate will continue their one-year internship with nine months of hands-on training as they're mentored by HSI computer forensic agents at field offices in Cincinnati, Ohio; Dallas, Texas; Omaha, Nebraska; Spokane, Washington; Tampa, Florida; and Washington, D.C.
"The intense training received at C3 laid the foundation for us to move forward in our careers with certainty, confidence, and understanding," Woolfolk said. "It is an honor to work alongside the selfless professionals who have dedicated themselves and their work to making the world a safer a place for children. It is a privilege to fight this fight, and we are grateful for this opportunity."
C3 manages the HERO Corps with support from numerous partners, including the Department of Defense Transition Assistance Program, Veterans Affairs programs, and federal and state veteran employment agencies.
HSI's special agents work tirelessly around the world with a victim-centered approach to protect children from exploitation. In fiscal year 2021, HSI arrested 3,776 individuals for perpetrating crimes against children and rescued or identified 1,177 child victims of sexual exploitation and abuse. Learn more about their work in combating traditional and financial sextortion of teens and children.
HSI is the principal investigative arm of DHS, responsible for investigating transnational crime and threats, specifically those criminal organizations that exploit the global infrastructure through which international trade, travel and finance move. HSI's workforce of over 10,400 employees consists of more than 6,800 special agents assigned to 225 cities throughout the United States, and 93 overseas locations in 56 countries. HSI's international presence represents DHS' largest investigative law enforcement presence abroad and one of the largest international footprints in U.S. law enforcement.