Honolulu Police Department receives $1.3 million in forfeited funds seized in multiagency internet gambling probe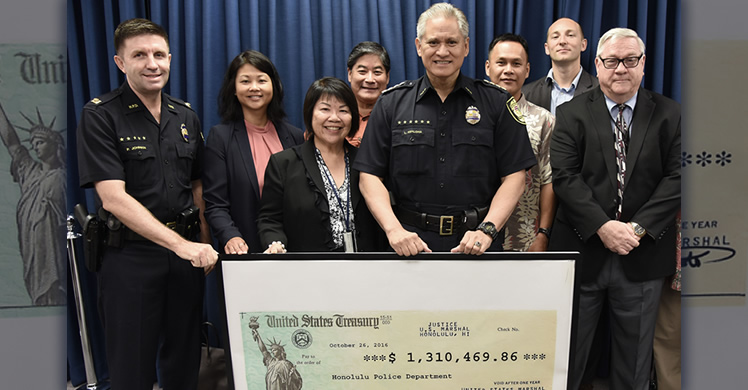 HONOLULU – A check for $1.3 million in forfeited funds recovered as part of a large-scale internet gambling probe was handed over to the Honolulu Police Department (HPD) Oct. 26 by representatives from the multiple law enforcement agencies involved in the case, including the U.S. Immigration and Customs Enforcement's (ICE) Homeland Security Investigations (HSI).
The payment was a portion of the more than $2.8 million that was forfeited as part of the investigation and resulting prosecution of an online gambling operation accused of money laundering and tax violations. The case, which began in 2009, was jointly investigated by HSI, the FBI, the Internal Revenue Service, the U.S. Marshals Service, the HPD and the U.S. Attorney's Office for the District of Hawaii.
"It's always rewarding when an investigation results in a successful prosecution and the perpetrators are held accountable for their crimes," said Joanna Ip, special agent in charge for HSI Honolulu. "But those efforts are even more gratifying when we're able to take money originally generated by illicit activities and harness it to combat crime. The Honolulu Police Department is a vital partner for HSI, and all of the federal law enforcement agencies in this community, and we're delighted to be able assist the Department with its public safety mission."
According to information produced in court, the investigation revealed that between 2005 and 2012, an illegal gambling operation, established by Allen Yamada and led by Felix Tom, placed gross wagers of approximately $670 million through internet websites based in Costa Rica.
In recent years, dozens of internet bookmakers have come into existence, many of whom are located in foreign countries where such activities are not illegal. These bookmakers direct their activities toward bettors in the United States who are interested in gambling on American sporting events, such as baseball, football, and basketball.
During the probe, investigators identified more than 20 locally-based agents, located primarily on Oahu, many of whom also recruited sub-agents (lower-level bookies or runners) with their own client base. A total of 26 defendants, including Yamada and Tom, pleaded guilty to gambling, tax, and money laundering offenses.