HSI adds Venezuelan official to Most Wanted list, $5M reward offered for information leading to his arrest, conviction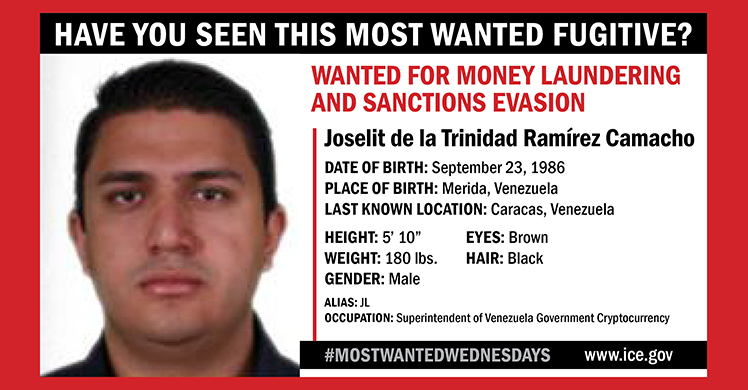 NEW YORK – U.S. Immigration and Customs Enforcement's (ICE) Homeland Security Investigations (HSI) New York announced Monday that a Venezuelan official has been added to the agency's Most Wanted List and as a target of the U.S. Department of State's (DOS) Transnational Organized Crime Rewards Program in an effort to end corruption and criminality tied to the Maduro regime in Venezuela. This investigation was conducted by HSI New York's El Dorado Financial Crimes Task Force.
Through the rewards program, up to $5 million is being offered for information leading to the arrest or conviction of Joselit de la Trinidad Ramirez Camacho, a Venezuelan government official accused of having deep political, social and economic ties to multiple alleged narcotics kingpins, including Tareck EI Aissami. Ramirez Camacho currently serves as Venezuela's superintendent of cryptocurrency and has been indicted in the Southern District of New York for violations of the International Emergency Economic Powers Act, the Kingpin Act, and other sanctions imposed by U.S. Treasury Department's Office of Foreign Asset Control (OFAC).
The Transnational Organized Crime Rewards Program was established by Congress in 2013 as a tool to assist the U.S. government to identify and bring to justice members of significant transnational criminal organizations. The program offers rewards for information that leads to the arrest and/or conviction of alleged members of transnational criminal organizations involved in criminal activity that threaten national security, such as human trafficking, money laundering, weapons trafficking, and other types of contraband.
El Dorado is the premier financial enforcement and investigative task force in the world, responsible for detecting, disrupting and dismantling transnational criminal financial networks by preventing their access to U.S. financial systems and stemming the flow of their illicit funds through indictments, arrests, and seizures. Within El Dorado, the Foreign Corruption and Sanctions Group consists of special agents, task force officers and intelligence analysts that aggressively target and investigate organizations and individuals that threaten the national security, economy, and policies of the U.S. These investigations, executed in conjunction with other U.S. government agencies such as OFAC, FinCEN, the U.S. Departments of State and Defense, along with foreign law enforcement partners, are founded on a comprehensive analysis of all available holdings, sanction identification's and special designations that provides HSI investigators with a pathway to attack the illicit financial flows that support and sustain criminal individuals and organizations around the world. HSI then employs a multifaceted investigative approach that includes international undercover operations, judicially authorized wiretaps, and other sensitive investigative techniques to target these state/non-state actors that seek to exploit the national economic security of the U.S.
HSI is a critical investigative arm of the Department of Homeland Security and a vital U.S. asset in combating criminal organizations illegally exploiting America's travel, trade, financial and immigration systems. It investigates more than 400 violations of federal law, including all types of cross-border criminal activities involving child exploitation, commercial trade, fraud, financial crimes, human rights violations and human smuggling, national security and public safety threats, terrorism, narcotics and weapons smuggling, and other types of contraband.
With more than 8,500 special agents and intelligence analysts assigned to more than 200 cities throughout the U.S. and more than 80 offices in 53 countries around the globe, HSI works many of its cases alongside investigators from the FBI, Europol, Interpol, along with other local, state, federal and foreign law enforcement agencies.