HSI Arizona, Mexican officials take down firearms trafficker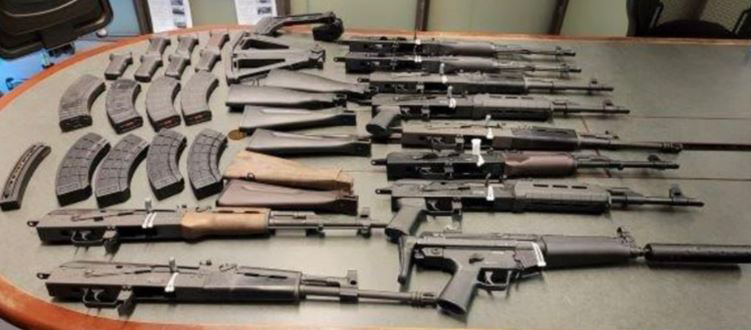 TUCSON, Ariz. — Mexico's Attorney General's Office, Fiscalía General de la República (FGR), arrested the leader of a prolific transnational firearms trafficking organization operating in Nogales, Sonora, Mexico, along the U.S.-Mexico border. Homeland Security Investigations (HSI) Nogales led the investigation in the United States with help from other law enforcement agencies.
"Weapons trafficking poses significant danger to communities on both sides of the border," said HSI Arizona Special Agent in Charge Scott Brown. "By working together with our partners in Mexico, we were able to dismantle a criminal enterprise who's only goal was to fuel criminal activity. I want to personally thank everyone who worked on this case for their commitment to public safety."
The FGR apprehended Michel Bacasegua-Barriga after extensive bilateral cooperation between the United States and Mexico. In addition to Bacasegua-Barriga's arrest, the operation resulted in the seizure of firearms and ammunition.
Four U.S.-based coordinators and operators with alleged ties to the same firearms trafficking organization have been indicted. Jose Bacasegua-Barriga, Mike Anthony Gomez-Lozada, Marco Olguin-Torres and Pedro Perez-Trujillo were indicted by a federal grand jury on firearms trafficking charges on Dec. 8, 2022.
"I would like to commend our law enforcement partners, both here in the United States and in the Republic of Mexico, for their hard work on this investigation," said U.S. Attorney Gary Restaino. "Stopping the flow of American firearms to Mexican drug-trafficking organizations will help break the cycle of violence, death and destabilization. This joint investigation between our two countries demonstrates how much we can achieve together for our mutual benefit."
This prosecution is part of an Organized Crime Drug Enforcement Task Forces (OCDETF) investigation. OCDETF identifies, disrupts and dismantles the highest-level drug traffickers, money launderers, gangs and transnational criminal organizations that threaten the United States by using a prosecutor-led, intelligence-driven, multi-agency approach that leverages the strengths of federal, state and local law enforcement agencies against criminal networks.
HSI Tucson; HSI Casa Grande; the Bureau of Alcohol, Tobacco, Firearms, and Explosives in Phoenix; the Drug Enforcement Administration in Nogales; U.S. Customs and Border Protection; and the Arizona Department of Public Safety were integral to the investigation. Support from HSI Mexico City and HSI's Transnational Criminal Investigative Unit (TCIU) Mexico was critical in coordinating between U.S. and Mexican law enforcement agencies.
The United States Attorney's Office for the District of Arizona in Tucson is prosecuting the four people involved.
HSI is the principal investigative arm of the U.S. Department of Homeland Security (DHS), responsible for investigating transnational crime and threats, specifically those criminal organizations that exploit the global infrastructure through which international trade, travel and finance move. HSI's workforce of more than 8,700 employees consists of more than 6,000 special agents assigned to 237 cities throughout the United States, and 93 overseas locations in 56 countries. HSI's international presence represents DHS's largest investigative law enforcement presence abroad and one of the largest international footprints in U.S. law enforcement.