HSI El Paso special agents discover 23 illegal aliens, 250 pounds of marijuana in tractor-trailer; driver and passenger arrested on criminal charges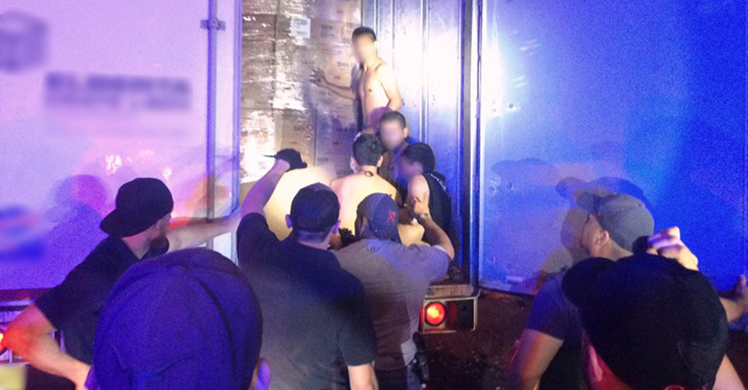 EL PASO, Texas — The driver of a tractor-trailer carrying 23 illegal aliens, and a passenger, were arrested on criminal charges Wednesday on eastbound Interstate Highway 10 near the city limits by special agents with U.S. Immigration and Customs Enforcement's (ICE) Homeland Security Investigations (HSI).
The HSI special agents are assigned to the El Paso Border Enforcement Security Task Force (BEST), which includes U.S. Border Patrol agents.
BEST agents found 18 adult males and two unaccompanied juvenile males in the trailer, and two adult women and an adult male in the sleeper cabin. Three of the illegal aliens were from Guatemala, and 20 were from Mexico. The illegal aliens are in federal custody pending disposition of their immigration cases.
Agents also found 116 kilograms (about 256 pounds) of marijuana in the sleeper cabin.
The driver, Comothial Harper, 44, a U.S. citizen from Bainbridge, Georgia, was arrested and charged with transporting illegal aliens for financial gain. Gerardo Aguilar-Roque, 35, one of the passengers, was arrested and charged with possession with the intent to distribute marijuana.
According to court documents, BEST agents found the men and juveniles hiding behind commercial boxes inside the back of the trailer. Everyone appeared to be in good health, even though there was no ventilation inside the trailer.
"The people inside the trailer had a long trip ahead of them, and nothing assures us they would have arrived at their destination alive," said Waldemar Rodriguez, special agent in charge of HSI El Paso. "HSI and its law enforcement partners will continue to work tirelessly to dismantle human smuggling networks operating on the border."
This is an HSI-led investigation with assistance from the U.S. Border Patrol and El Paso County Sheriff's Office. A federal criminal complaint is merely a charge and should not be considered evidence of guilt. The defendants are considered innocent until proven guilty in a court of law.