HSI New York hosts 1st annual Cyber Crime Symposium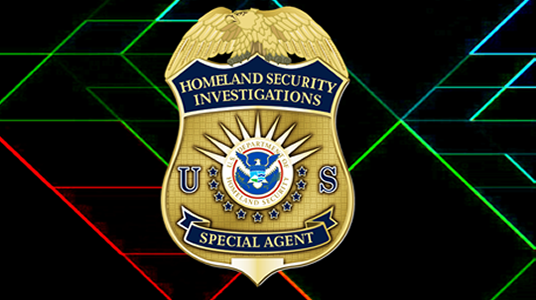 NEW YORK — More than 200 law enforcement personnel from local, state and federal partners attended ICE's Homeland Security Investigations (HSI) New York's first Cyber Crime Symposium Thursday, highlighting HSI capabilities in the cyber world, emphasizing the need for partnerships with prosecutor's offices and law enforcement in combating cybercrimes.
Symposium speakers include the Special Agent in Charge for HSI New York, Angel Melendez and the U.S. Attorney for the Southern District of New York, Geoffrey S. Berman. Topics covered during the event include: typologies of cyber criminals technology vs. human based attacks; technological capabilities for case support and unique challenges in the digital world; child exploitation sex tourism investigations: strategies, techniques and undercover capabilities digital and traditional victim identification techniques; and interagency cooperation and international partnerships. The event took place at the Grace Farms Foundation ("GFF"), a foundation with publicly available space supporting initiatives in the areas of nature, arts, justice, community, and faith, in New Canaan, CT.
Cyber threats and high-technology crimes find root in traditional criminal activity such as financial fraud, identity theft, narcotics trafficking, money laundering and child exploitation which has simply migrated to cyber space for a convenient and anonymous operating environment. However, other criminal activity such as electronic scams, internet fraud, social engineering, cyber intrusions; compromised databases and phishing are crimes inherent to the internet. Law enforcement's ability to rescue more victims and arrest more perpetrators is directly proportionate to our ability to identify online criminal activity, locate and track bad actors, and accurately attribute criminal acts to real people.
"Transnational criminal organizations prosper in the borderless world of cyberspace. Internet activity carried out by predators and cyber criminals have real life consequences. The exploitation of children and adults; the flooding of opioids into our neighborhoods and the threats to infrastructure and businesses compels law enforcement professionals to evolve with technology. Strengthening partnerships, while building capacity in the cyber realm is a recipe for success in our efforts of driving out these criminals from the darkest places of the internet," said Angel M. Melendez, special agent in charge for HSI New York. "The fact is, when it comes to disrupting cybercrimes, collaboration across the law enforcement spectrum is instrumental, as well as partnering with private sector entities. This event allows HSI to do both."
"A strong and trustworthy private-public partnership is the key to successfully combatting national and transnational organized crime involved in trafficking – especially human trafficking – and child exploitation," said Rod Khattabi, Grace Farms Foundation's Director of Law Enforcement and Risk Officer. "It is a privilege to collaborate with the Homeland Security Investigations New York office, in providing a specialized training that will enhance the capacity of our law enforcement officers. We are looking forward to expanding this great partnership."
HSI, the investigative arm of the Department of Homeland Security (DHS), is charged with protecting national security by enforcing the nation's immigration and customs laws. One of ICE's leading priorities in this mission is com­bating criminal activity conducted on or facilitated by the Internet. HSI conducts proactive investigations that focus on the two key payment systems which support illicit procurement of opioids and other narcotics: money service businesses (MSBs) and cryptocurrencies. Additionally, HSI use undercover techniques to infiltrate and exploit peer-to-peer cryptocurrency exchangers who typically launder proceeds for criminal networks engaged in or supporting dark net marketplaces. One example, Operation Dark Gold, was an HSI undercover operation that infiltrated the dark web, resulting in more than three dozen arrests nationwide and the seizure of millions in cash and cryptocurrency, multiple firearms, pill presses, narcotics and hundreds of thousands of pills, including fentanyl and Xanax, and other narcotics like weed, heroin, and cocaine.
Further, the HSI Cyber Crimes Center in Washington, DC delivers computer-based technical services to support domestic and international investigations into cross-border crime. This state-of-the-art center offers cyber-crime support and training to federal, state, local and international law enforcement agencies. It also operates a fully equipped computer forensics laboratory, which specializes in digital evidence recovery, and offers training in computer investigative and forensic skills.
Additional programs under HSI:
The Human Exploitation Rescue Operative (HERO) Child-Rescue Corps is a program is designed for wounded, injured and ill Special Operations Forces to receive training in high-tech computer forensics and law enforcement skills, to assist federal agents in the fight against online child sexual exploitation. Upon successful completion of the program HERO interns will have the knowledge, skills and experience to apply for careers with federal, state and local police agencies, and other organizations, in the field of computer forensics.
Project iGuardian is focused on keeping children and teens safe from online predators through education and awareness. The project is an outreach effort to share information about the dangers of online environments, how to stay safe online, and how to report abuse and suspicious activity. In addition, the iGuardian team is dedicating to helping kids stay safe online by providing safety tips, a number to call, and a website with links to more information and resources. Project iGuardian helps kids, teens and parents be smarter about online safety and stay safe from online sexual predators.