HSI seeks help identifying potential victims of ex-preschool teacher convicted of child exploitation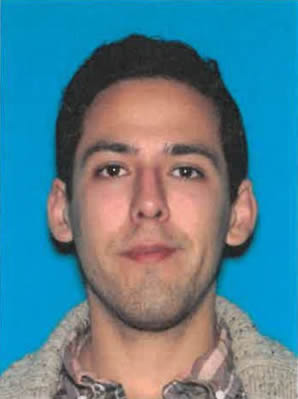 SAN DIEGO — Special agents with Homeland Security Investigations (HSI) are seeking the public's assistance to identify potential victims of a former preschool teacher convicted of child exploitation.
Paul Torres Jimenez De La Cuesta, 29, of Imperial Beach, California, pleaded guilty April 5 to distribution of images of minors engaged in sexually explicit conduct.
In June 2020, HSI Oceanside agents discovered Torres was trading child sex abuse materials (CSAM) via online chat groups. On June 11, 2020, special agents arrested Torres at his place of employment in Poway, California, after a federally executed search warrant of his electronic devices revealed the presence of CSAM.
At the time of his arrest, Torres was employed as a preschool teacher at the My Room to Grow Preschool in Poway. An HSI investigation revealed that Torres had been previously employed either full-time or as a substitute teacher at the following San Diego schools:
St. David's Episcopal Church & Preschool, 5050 Milton Street
Seaside Preschool's Beachside Campus, 1201 Turquoise Street
Little Sprouts Preschool – Mission Valley Campus, 403 Camino del Rio South
NHA University of Early Learning Bethel Campus – Day Care Center, 3085 K Street (Neighborhood House Association)
NHA Johnson Early Learning Academy – Day Care Center, 5760 Luber Street (Neighborhood House Association)
NHA Karen D Love Head Start – Day Care Center, 2060 Drescher Street - 6749 TAIT (Neighborhood House Association)
NHA Stem Institute for Early Learning – Day Care Center, 808 W Cedar Street (Neighborhood House Association)
YMCA of San Diego County, 3708 Ruffin Road
San Diego Cooperative Preschool, 4190 Front Street
Torres was also employed at these schools:
Soroptimist International of the Americas - Tijuana, Baja California, Mexico
Concordia Church & School - 1695 Discovery Falls Drive, Chula Vista, California
My Room to Grow Preschool and Kindergarten, 13613 Cynthia Lane, Poway, California
Torres is scheduled for sentencing on June 28.
Anyone who may have had previous contact with Torres or thinks they may have information that may be relevant to the child exploitation investigation, is asked to call its toll-free Tip Line at 1-866-DHS-2-ICE, or by completing its online tip form. Both are staffed around the clock by investigators. From outside the United States and Canada, callers should dial (802) 872-6199. Hearing impaired users may call TTY (802) 872-6196.
This investigation was conducted under HSI's Operation Predator, an international initiative to protect children from sexual predators. Since the launch of Operation Predator in 2003, HSI has arrested more than 25,000 individuals for crimes against children, including the production and distribution of online child exploitation material, traveling overseas for sex with minors, and sex trafficking of children.
HSI takes a victim-centered approach to child exploitation investigations by working to identify, rescue and stabilize victims. HSI works in partnership with the National Center for Missing and Exploited Children (NCMEC), ICAC partners, and other federal, state, and local agencies to help solve cases and rescue sexually exploited children. Suspected child sexual exploitation or missing children may be reported to NCMEC's toll-free 24-hour hotline, 1-800-843-5678 or report.cybertip.org. HSI is a founding member of the Virtual Global Taskforce, an international alliance of law enforcement agencies and private industry sector partners working together to prevent and deter online child sexual abuse.
HSI is the principal investigative arm of DHS and a vital U.S. asset in combatting transnational crime and threats. One of HSI's top priorities is to protect the public from crimes of victimization, and HSI's child exploitation investigations program is a central component of this mission set. HSI is recognized as a global leader in this investigative discipline, and is committed to utilizing its vast authorities, international footprint and strong government and non-government partnerships to identify and rescue child victims, identify and apprehend offenders, prevent transnational child sexual abuse, and help make the internet a safer place for children.