HSI Special Agent featured in human trafficking documentary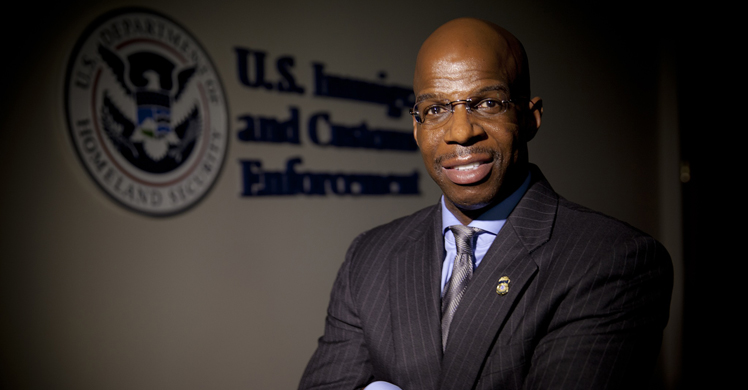 U.S. Immigration and Customs Enforcement's (ICE) Homeland Security Investigations (HSI) Dallas Special Agent Keith Owens doesn't know how Oscar Gregg got his name, number or email address, but somehow, he did.
The researcher for Blast! Films, based in the United Kingdom, reached out to Owens in May 2015 about a human trafficking case he had worked on in 2012. The company was interested in featuring Owens and the case for its television series, "Web of Lies," which airs on the ID Channel.
"I'd never heard of the show before, but I came to find out a lot of people watch it," Owens said. "I was nervous because I'd never done that type of thing. I just tried to tell the story as best as I could."
The investigation that the television series sought to feature focused on Owens' work in putting an end to a juvenile sex trafficking ring in Denton, Texas. As part of the HSI-led North Texas Trafficking Task Force, Owens led the efforts to arrest and prosecute two adults who had prostituted 14-year-old "Hope" to more than 30 men across five states over a three-week period. As a result of Owens' efforts, William Jacobs was sentenced to 20 years in prison, while his accomplice, Shayla Williams, received five years.
Owens received clearance from the proper authorities to move forward with his involvement in the documentary, and a Blast! Films camera crew came to Dallas and interviewed all the major players in the case, including Owens, Hope, her mother, federal prosecutors and local law enforcement. Owens is featured throughout the documentary while actors and narrators reenacted the details of the case.
The episode featuring Owens, titled "Stolen Youth," originally aired on March 2.
"When I saw the finished product, I thought it was really, really good," said Owens. "The feedback I've received has been overwhelming. Anytime we can bring about any type of education [to human trafficking], I'm all about it. These types of docudramas are slowly increasing public awareness and [as a result] we get many of our leads from the public."
According to Owens, being involved in this documentary is in line with his commitment to combating human trafficking. He says he gives these cases 100 percent dedication because HSI and other law enforcement agencies are expected to do the job to protect and serve the community.
"This film will definitely wake the public up in regards to human trafficking that should be named modern-day slavery," Owens said. "These predators take possession of [their victims], and force and coerce people to do things they don't want to do. People seem to think that victims can just get over it and go on, but that type of trauma is cemented in you for the rest of your life."
Human trafficking is one of the most heinous crimes investigated by ICE. In its worst manifestation, human trafficking is akin to modern-day slavery. Victims pay to be illegally transported into the United States only to find themselves in the thrall of traffickers. They are forced into prostitution, involuntary labor and other forms of servitude to repay debts – often incurred during entry into the United States.