HSI, US Border Patrol agents arrest Nicaraguan gang member convicted of murdering his wife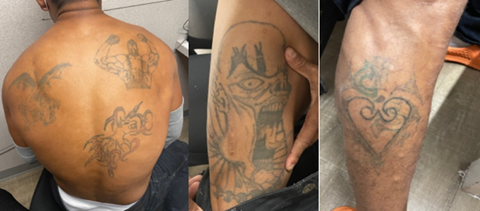 EL PASO, Texas — Homeland Security Investigations (HSI) and U.S. Border Patrol agents arrested an unlawfully present citizen of Nicaragua on Aug. 29 after he illegally entered the country near an El Paso port of entry.
HSI special agents assigned to the Anti-Gang Task Force encountered Carlos Alberto Sequeira-Thomas, 37, at an area migrant detention center where they were working with Border Patrol agents as part of Operation Expanded Impact.
Sequeira-Thomas, a self-admitted member of a Nicaraguan prison gang, told agents he was convicted and served time in his home country for the 2011 murder of his wife.
He is charged with illegal entry and remains in federal custody at the El Paso County Detention Facility.
Operation Expanded Impact is an HSI-led initiative aimed to enhance investigative efforts targeting transnational criminal organizations involved in human smuggling and human trafficking. HSI El Paso's Anti-Gang Task Force, in partnership with the U.S. Border Patrol's El Paso Sector, has implemented an effort in furtherance of Operation Expanded Impact to investigate and gather intelligence on known or suspected gang members and violent criminals who attempt to enter the United States commingled with other migrants as part of the surge along the Southwest border.
"Operation Expanded Impact is an enforcement action intended to keep the criminal element off our streets and behind bars," said HSI El Paso Special Agent in Charge Francisco B. Burrola. "HSI's partnership with the Border Patrol is an efficient and effective way to prevent any increase in criminal activity in our neighborhoods and in our county."
"Partnerships with other law enforcement agencies have been a vital part of safeguarding the El Paso community and ensuring that it stays as one of the safest in the nation. Operation Expanded Impact allows us to work together in identifying criminal undocumented noncitizens and ensuring they are sent to jail," said El Paso Sector Chief Patrol Agent Anthony S. Good.
HSI is the principal investigative arm of the U.S. Department of Homeland Security (DHS), responsible for investigating transnational crime and threats, specifically those criminal organizations that exploit the global infrastructure through which international trade, travel, and finance move. HSI's workforce of more than 8,700 employees consists of more than 6,000 special agents assigned to 237 cities throughout the United States, and 93 overseas locations in 56 countries. HSI's international presence represents DHS' largest investigative law enforcement presence abroad and one of the largest international footprints in U.S. law enforcement.
For more news and information on HSI's efforts to aggressively investigate transnational criminal organizations in West Texas and the state of New Mexico, follow us on X, formerly known as Twitter, @HSIElPaso.