February is "Black History Month," a time to commemorate African-Americans who have changed the world. In 1976, the Bicentennial of the U.S.A., the week-long observance was extended to the entire month of February in order to have enough time for celebratory programs and activities.
2016
HSI Detroit SAC Marlon Miller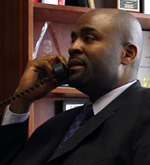 There was a time when the basketball court was a sanctuary for Marlon Miller. It started in his hometown of New York City where he was a standout at both Power Memorial Academy and Monsignor McClancy Memorial High School and continued in Philadelphia where he was a four-year letterman at St. Joseph's University.
Nearly 30 years later and a tad slower, Miller says he can still score a few points and grab a few rebounds. However, what has stayed with him is the leadership and teamwork he learned as an athlete, which he now puts into practice every day as Special Agent in Charge (SAC) for U.S. Immigration and Customs Enforcement's (ICE) Homeland Security Investigations (HSI) Detroit field office.
"It's all about leading by example as well as understanding the role of your teammates," Miller said. "Working together and being part of a team makes the progression of investigations and office administration seamless because there's no competition internally. It's HSI versus the criminal organizations that pose a threat to national security and public safety. Everyone is moving as one to make this SAC office, one of the best SAC offices in the agency."
According to Miller, teamwork and creating a family environment gives a feeling that everyone has ownership in HSI Detroit's enterprise. The ability to be a great leader and have people feel like they're equally a part of something is in line with how one of Miller's role models growing up – Dr. Martin Luther King, Jr. – tried to live his life.
"I was just floored by his speeches and how he was able to grab the attention of the crowd," Miller said.  "He motivated people to follow the dream he had of us all being equal."
From Dr. King to his own parents, Miller had numerous role models he looked up to. As he reflects on African American History Month, Miller believes it is a time to remember the good things that were done in the past that have not only helped African Americans, but all minorities, advance in their careers and lives and made things better for the community as a whole.
Miller grew up in the melting pot of the Lower East Side of Manhattan. Despite the diversity that existed, Miller still experienced racial tension at times, particularly when he went from public school to Catholic school and came across some classmates who were not happy with having a black kid in their class.
"Even in my neighborhood, at times, there seemed to be a separation between blacks and whites," Miller recalled. "But when people outside the neighborhood came and started trouble or tried to monopolize our [basketball] courts, all the ethnic groups in my neighborhood would come together as one to resolve the issue. That was an interesting dynamic."
When he wasn't starring on the court, Miller excelled in the classroom as a National Honors Society member.  He had dreams of one day being a lawyer. It wasn't until he was introduced to the criminal justice program at St. Joe's that the thought of one day being a federal agent even entered his mind.
Miller earned an internship with U.S. Customs Service which opened the door for a job with the agency right after college. That began a career that has spanned more than 24 years and has included stops in Philadelphia, Pennsylvania, Chicago, Illinois, ICE headquarters in Washington, D.C., and Dallas, Texas, where Miller served as the DSAC before being appointed as SAC in Detroit in 2013. 
It's a demanding role that Miller has been fortunate to thrive in. When he experiences some of the lows that come with the job, he stays focused and falls back on the advice he's received over the years from his parents and other mentors within the Agency. In doing so, he makes sure he passes on that same advice to the next generation of men and women in law enforcement.
"I want to set a good example for not only African American employees but all employees, just like my predecessors demonstrated to me that it was possible to become a SAC," Miller said. "Working hard and make moves around the agency to become well-rounded are things I picked up from my mentors that I'd like to pass on to those employees that are the future of this Agency."
ERO Chicago FOD Ricardo A. Wong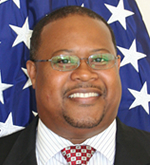 When Ricardo Wong was growing up in Kingston, Jamaica, all he wanted to do when he got older was to join the military.  His life-long dream was to become a soldier in order to serve his country.
He's not exactly sure where the genesis of that desire came from, but he's always "had a thing for law enforcement."
"Jamaica is a tough place to grow up, but I was fortunate to live in a more affluent neighborhood," Wong said. "The highest calling for me was to be a soldier in the Jamaica Defense Force. I didn't want to be a police officer, but I knew I wanted to be a soldier."
That dream came to fruition at the age of 20, when Wong migrated to the United States and joined the U.S. Army. A military career that includes service in Operation Desert Storm opened the door for a career in law enforcement that has spanned nearly 25 years. Wong joined legacy Immigration and Naturalization (INS) in 1998 as an immigration inspector and later joined the U.S. Immigration and Customs Enforcement (ICE) in 2002 as a deportation officer. He has risen in the ranks to his recent appointment for Senior Executive Service as Field Office Director (FOD) for ICE's Enforcement and Removal Operations (ERO) Chicago.
"If you have dreams and aspirations, you can make it. I'm very pleased and feel blessed to be where I am today," Wong said. "I'm always looking back and trying to pull people up with me. I want to make sure I'm giving back in order to create our future leaders."
The theme of giving back immediately comes to mind when Wong reflects on African American History Month. Raised in a Chinese, Cuban and Jamaican mixed-raced household, Wong was born diverse. Because of that, along with Jamaica being a predominately-black country, Wong didn't face many racial challenges growing up. However, through reading and learning about the experiences of others once he arrived in the United States, his appreciation for the struggle many who looked like him went through, continued to grow.
"[African American History Month] is a reflection on what African Americans have been through and how far we've come today," Wong said. "We are able to appreciate the strides that have been taken by our predecessors to ensure that our rights are addressed and taken seriously as well as ensuring that we continue to play a pivotal role in the growth and well-being of this great country."
Wong is doing his part to make sure that those coming behind him have the same opportunities he did.
"I want to show African Americans as well as everyone else that I'm here and will help pave the way," Wong said. "I feel that sense of responsibility to nurture them and give them the tools that are needed to get to where I am."
Nearly 30 years after first migrating to the United States to fulfill a dream, Wong has exceeded his own expectations, saying he often has "wow" moments when he realizes how far he's come. There's a lot more work for him to do and there is always a new chapter to write. Wong plans on making certain that there will be many more opportunities that can be explored to make this world a better place that treats everyone fairly and equitably.
"I've failed as much as I've succeeded, but you have to create options for yourself so that if one door isn't open, others are," Wong said. "You must lead by example in hopes of leaving your mark so people can come behind you and continue the legacy you've left behind."
2015
Acting Principal Legal Advisor Riah Ramlogan
When U.S. Immigration and Customs Enforcement's (ICE) Acting Principal Legal Advisor Riah Ramlogan first arrived in the United States in the 1980s, she didn't know what Black History Month was, nor why it was celebrated.
Speaking in her distinct Trinidadian accent, Ramlogan remembers growing up on an island where the majority of the population was black, and the racial issues that many people of color experienced in the United States were nonexistent.
"It took me a little while to understand the difference in how people were treated here versus my little island where I was the majority," Ramlogan said. "What [Black History Month] means to me now is that it's important for people to understand that there has been a struggle for equality and that the struggle is not over."
As an immigrant herself, Ramlogan came to the United States at 25 years old, entering law school at Nova Southeastern University in Fort Lauderdale, Florida. While the main objective was to further her education and become a lawyer, along the way she learned a valuable, eye-opening lesson from her contemporaries about the realities of life in the United States as a minority.
"When I talked with the other black students who were in law school with me, they told about their experiences with racism and segregation," Ramlogan recalled. "Although I knew the history intellectually, I didn't understand it personally."
The daughter of a trial lawyer, Ramlogan heads the department that provides a full range of legal counsel and services to all ICE offices and programs. In this role her duties include reviewing legislative and regulatory proposals, and providing legal training and ethics guidance to all ICE personnel. Her climb to her current position did not come without hardships, not only as a person of color, but as a woman.
Those challenges of being passed over for potential jobs or not being taken seriously early on certainly caused hurt at times, but the lessons learned helped Ramlogan grow personally and professionally, paving the way for the future.
"Don't let it get you down. Let it be an opportunity for you to do better, to keep on pushing and let people see the quality of your work," Ramlogan implored. "If you continue being you and doing things by your talents and the rules you set for yourself, you will succeed."
Her life has brought her from Trinidad all the way to ICE, where she has been for the past 24 years. Aside from her day-to-day tasks, Ramlogan hopes to set a good example for others by constantly striving for excellence, sharing her experiences and carrying herself with dignity. In doing so, other people and people of color will look her, be proud and say 'she does a good job every day.'
Said Ramlogan: "My advice to others would be to set your own standards and live by them. Don't let others define who you are."
ERO Operations Support AD William C. Randolph
There's a quote on William Randolph's Facebook page that reads as follows: "For those of us that have made it to the top, we have an obligation to send the elevator back down."
As assistant director of operations support for U.S. Immigration and Customs Enforcement's (ICE) Enforcement and Removal Operations (ERO), Randolph, who has been with ICE for five years, keeps that statement with him every day. In doing so, it serves as a constant remember that his role also gives him a platform to help others.
He also knows he can't effectively use that platform without appreciating the journey that got him there.
"I think there is a responsibility to know from whence you came," Randolph said reflecting on Black History Month. "That makes the tough days that you have today easier when you understand the sacrifices that were made and the challenges that were faced by your ancestors."
Randolph grew up on a 100-acre tobacco farm in rural Madisonville, Virginia. It was there that he was introduced to his first set of role models – his father, grandfather and uncles on both sides of his family. As he matured into a young man, former secretary of state General Colin Powell and BET founder Bob Johnson, among others, became role models as well, representing the goals and aspirations at that point in his life.
However, the foundation he received in the home remained the constant that he carries with him to this day.
"I had strong male role models and as a result I grew up attempting to emulate them," Randolph said. "I can't underestimate the power - as a young individual – of having strong male role models literally in my house, down the street and in church."
"Fortunate" is how Randolph describes his experiences with race. He grew up in an environment where his family sheltered him from the trials that he could have experienced as a young child. He had a community of people who put their arms around him, assured him that he could be whatever he wanted to be and that skin color doesn't limit those opportunities.
Randolph joined the United States Navy just four days after his high school graduation. After five years of service, he enrolled in Shepherd College in Shepherdstown, West Virginia. It was in his college years that he first experienced some racial injustices. That didn't slow him down.
"There were places that you could go, but the culture of the town suggested that you didn't," Randolph recalls. "I never believed that I was hamstrung by culture, so I went where I wanted."
After college, his career path has included stops at the Naval Sea Systems Command and Marine Corps Systems Command.
At ICE, Randolph is responsible for a dynamic human capital program that includes aggressive recruitment, hiring, and retention of a diverse professional, managerial and officer workforce and provides sound and cost-effective budget and financial management policies, procedures and guidance. He oversees the team that provides a safe and effective fleet, and provides planning and oversight of ERO facilities and construction.
Randolph feels blessed that he's had opportunities, worked hard and had mentors and coaches that were there to show him another path when he strayed off course. Because of that, when he "sends the elevator back down," he always wants to be available to help others if demonstrate they want it.
"I don't feel I have a personal responsibility to try to force my opinion of success onto others," Randolph said. "But…if someone sees the path I've traveled and chooses that's the path for them too, come along."
OSLTC AD Harold Hurtt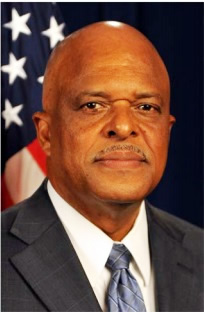 Growing up on a farm can instill a work ethic at an early age, one that will stay with a person their entire life. Harold Hurtt, U.S. Immigration and Custom Enforcement's (ICE) Assistant Director, Office of State, Local and Tribal Coordination, knows that life very well, having been raised in rural Brookneal, Virginia.
"Everyone had chores, responsibilities and things that had to get done before we went to school," said Hurtt, reflecting on his childhood. "There wasn't 'I want to watch this program before I go out' or 'I have this activity to do after school' you had to take care of things that helped the family because that was your role."
The importance of a good work ethic has been a constant for Hurtt throughout his career of service that began in the U.S. Air Force and has spanned more than 40 years. Looking back, it's no surprise to Hurtt that his career has ultimately led him to a leadership role at ICE as he says he's been "one of those guys who always believed." Growing up in the civil rights era, he had no choice but to believe knowing that the alternative wasn't going to provide him with a promising future.
"I told myself that every opportunity I get I needed to take advantage of it," he said. "Black History Month gives us all an opportunity to reflect on who we are, who influenced us to get us to where we are and to appreciate the struggle of those who came before us."
Hurtt, who has been with ICE for five years, often reflects on how the times in which he grew up in shaped who he is today. He was raised by parents that only completed eighth grade because there were no other grades for African-Americans to complete at that time. He also recalls growing up in segregation, often going with his father "to town" and not being able to enter a café to get food. The feeling he had in those moments was a constant reminder of the injustices that were the norm during that era.
"Those types of things, I didn't ever want my children to be exposed to," Hurtt said. "I told myself that every opportunity I get I need to take advantage of it. I was determined that I was not going to drop out of the educational system and I was going to obtain a college education. No one will ever call me a quitter."
The former police chief of Houston and Phoenix, the nation's fourth and fifth largest police departments respectfully, had only been to Washington, DC once as a teenager. Now, he oversees outreach and communication between ICE, local and state law enforcement agencies, tribal leaders, non-governmental organizations and elected and appointed officials.
His long road from country boy to law enforcement leader would not have happened without the constant support of his family and the confidence he has possessed since childhood.
Those same work ethics he learned early on, he feels responsible to pass on those employees at ICE who look up to him and anyone who views him as a role model.
"I tell people all the time that it's crucial to know how things work on every level. It is essential to learn how business function, and know the functions of government from the local level all the way to the top," Hurtt said. "As you grow older, obtain more education and experience; you realize how much effort and commitment is needed to take advantage of every opportunity that you get."
Fortunately for Hurtt, applying that work ethic has been a successful formula for his career.
ODCR AD Scott Lanum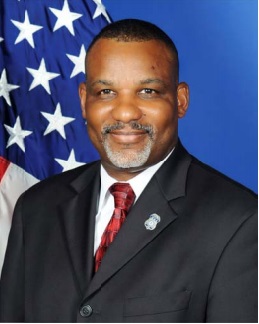 Scott Lanum grew up with a lot of questions.
As a high school dropout from the south side of Chicago, the only role models that Lanum, U.S. Immigration and Customs Enforcement's (ICE) Assistant Director for Diversity and Civil Rights (ODCR), knew were the ones who roamed the streets up to no good.
The idea of African-American figures being in positions of authority was a foreign concept in his world.
"I didn't have many male teachers at all and I don't recall ever having a black teacher growing up. It's not a specific memory," Lanum said. "I grew up with a lot of questions about what could black people do."
As Lanum reflects on Black History Month, he remembers what it was like for him having to be convinced and encouraged to not limit his expectations on what he could or could not do as a black man simply based on his own experiences growing up.
The perspective Lanum had on life to that point changed in 1979 when, after joining the U.S. Coast Guard, he first met his company commander in boot camp. It was then that his eyes were opened to the possibilities of what he could accomplish in this field as a minority.
"The way he was treating us was shocking, but what was even more shocking was the idea of a black man standing up in a room of 100 young men and commanding authority," Lanum said. "That was the first time in my mind that I said 'wow, they're listening to him.'"
Over 35 years later, Lanum now finds himself in a leadership role with ICE, responsible for oversight of a global diversity management and civil rights program that includes making sure that effective equal opportunity diversity training is delivered to 20,000 men and women. It's a position that, years ago, he could not fathom. As an African-American leader within the agency, he understands and accepts the responsibility he has to continue to keep opening doors, breaking barriers and paving the way for other employees to come behind him and do even more.
"One of the reasons I'm so passionate about promoting diversity and civil rights is that I want to promote and encourage certainly all people, but definitely African-Americans to see the potential and not limit the potential in themselves because of their own experiences," Lanum said.
Like many who share similar stories, Lanum's climb up the ranks hasn't been without hardships and challenges. He recalls various experiences that range from being asked "I thought you needed to know how to swim to be in the Coast Guard" to not "looking" the part as a leader within this agency.
"I don't think that those [situations] are malicious," Lanum said. "I think those are moments that reflect our current state, our expectations and perceptions about what authority means, what power means and what responsibility means. I think in our country, we are still in the process of broadening that definition."
For Lanum, Black History Month is not only historic, but a personal reflection of people that he's touched, people he's talked to and people he knows who have done some amazing things. Many of those people who do amazing things work with him every day at ICE often seek is counsel on their careers and life's challenges.
It is serving as a perfect transition to what Lanum believes will be his calling once his days at ICE are over. A calling that will make the kid from Chicago's story come full circle.
"For years I have been very much aware of the need to have more African-Americans in the classroom," Lanum said. "I'm resolved to the fact that once this is over, I need to get in the classroom and teach.
"That's my future and that's what I think I owe."