ICE arrests 19 fugitives across US during "Operation No Safe Haven"
First-of-its-kind action targeted fugitive aliens suspected of human rights violations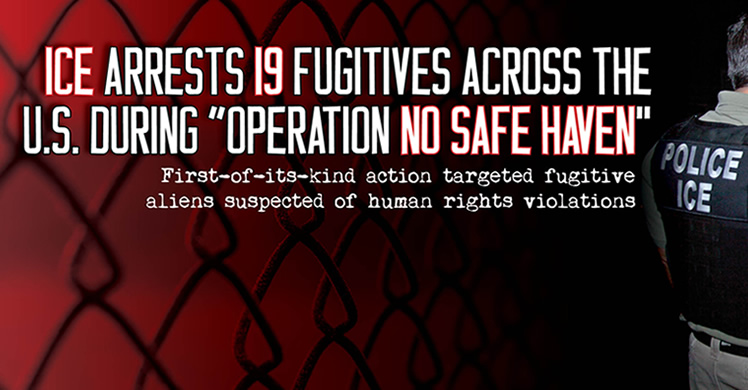 WASHINGTON, D.C. — U.S. Immigration and Customs Enforcement (ICE) arrested 19 fugitives sought for their roles in known or suspected human rights violations during a first-of-its-kind nationwide operation last week targeting these individuals in multiple cities across the United States.
During the operation that concluded September 18, ICE's National Fugitive Operations Program (NFOP), in coordination with the ICE Human Rights Violators and War Crimes Center (HRVWCC), arrested these fugitives via the ICE field offices of Atlanta, Baltimore, Boston, Chicago, Detroit, Los Angeles, Miami, New Orleans, New York City and San Francisco.
The foreign nationals arrested during this operation all have outstanding removal orders and are subject to repatriation to their countries of origin. Of the 19 known or suspected human rights violators arrested during Operation No Safe Haven, eight individuals are also convicted criminal aliens.
Those arrested across the country included:
a citizen of West Africa implicated in human rights atrocities to include membership in a revolutionary group that engaged in the murder of women and children. The individual was ordered removed by an immigration judge more than a decade ago, but he actively evaded ICE until his capture. He is detained in ICE custody pending removal.
a citizen from Central America who served in a military unit implicated in human rights atrocities during civil war in the region during the 1980s. He also has prior arrests for Assault with a Deadly Weapon, Domestic Assault, Criminal Recklessness and Pointing a Firearm. Upon his arrest, the individual consented to a search of his residence. During the search, ICE agents discovered and seized a large cache of handguns, rifles, shotguns and hundreds of rounds of ammunition. He faces removal from the country following potential criminal charges for alien in possession of a firearm.
a citizen from Central America who served in military and national police units that engaged in human rights violations to include interrogating unarmed civilians suspected of being guerillas. He was previously convicted of Making Terroristic Threats and Exhibiting a Firearm. The individual has an outstanding removal order issued by an immigration judge. He is detained in ICE custody pending removal.
The ICE Fugitive Operations Support Center (FOSC) in Williston, Vermont provided investigative support for this operation, completing criminal and intelligence analysis from a variety of sources to prepare targeting packages for the location and arrest of these fugitives. The FOSC customarily provides comprehensive analytical support to aid the at-large enforcement efforts of NFOP and other ICE components. The personnel and capabilities of the FOSC contributed significantly to the success of this operation.
ICE is committed to rooting out alleged human rights violators who seek a safe haven in the United States. ICE's Human Rights Violators and War Crimes Center (HRVWCC) investigates human rights violators who try to evade justice by seeking shelter in the United States, including those who have participated in persecution, war crimes, genocide, torture, extrajudicial killings, and the use or recruitment of child soldiers. These individuals may use fraudulent identities to enter the country and attempt to blend into communities in the United States.
Members of the public who have information about foreign nationals suspected of engaging in human rights abuses or war crimes are urged to call the toll-free HSI tip line at 1-866-DHS-2-ICE or to complete its online tip form. Both are staffed around the clock by investigators. To learn more about the assistance available to victims in these cases, the public should contact ICE's confidential victim-witness toll-free number at 1-866-872-4973. Tips may be provided anonymously.
Since fiscal year 2004, ICE has arrested more than 270 individuals for human rights-related violations under various criminal and/or immigration statutes. During that same period, ICE obtained deportation orders and physically removed more than 650 known or suspected human rights violators from the United States. Currently, HSI has more than 165 active investigations, and ICE is pursuing more than 1,800 leads and removal cases involving suspected human rights violators from 97 different countries.
Over the last four years, ICE's Human Rights Violators and War Crime Center has issued more than 66,000 lookouts for people from more than 111 countries and stopped 140 human rights violators or war-crime suspects from entering the United States.