ICE arrests 39 suspected human rights violators across the US during Operation No Safe Haven V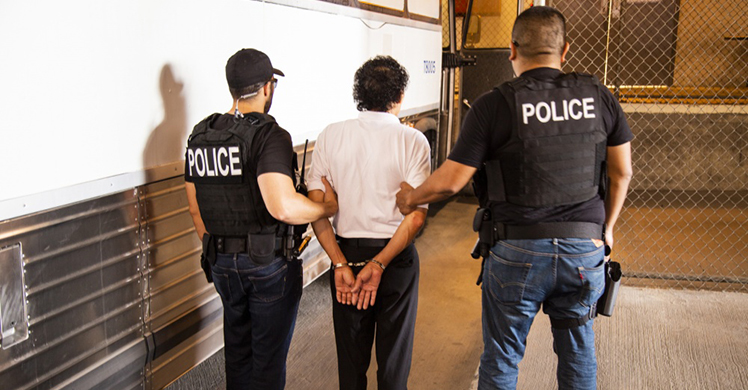 WASHINGTON — U.S. Immigration and Customs Enforcement (ICE) arrested 39 fugitives – 30 males and nine females – sought for their roles in known or suspected human rights violations during a nationwide operation that took place from Aug. 27 to 29.
The ICE National Fugitive Operations Program in coordination with the ICE Human Rights Violators and War Crimes Center, and the ICE Office of the Principal Legal Advisor, worked with ICE's Enforcement and Removal (ERO) Atlanta, Baltimore, Chicago, Dallas, Houston, Los Angeles, Miami, New Orleans, New York City, Newark, Salt Lake City, and San Francisco field offices to arrest these fugitives.
The foreign nationals arrested during this operation all have outstanding removal orders and are subject to repatriation to their countries of origin. Of the 39 known or suspected human rights violators arrested during Operation No Safe Haven V, 16 individuals are also criminal aliens in the U.S. with convictions for crimes including, but not limited to, domestic violence, driving under the influence of liquor, drug distribution, firearm possession, grand theft, reckless endangerment, robbery, fraud and theft. Their countries of origin include: El Salvador, Guatemala, China, Liberia, Cambodia, Chad, Chile, Colombia, the Ivory Coast, Ghana, Haiti, Honduras, Jamaica, Nicaragua, Sierra Leone, and Sudan. This operation more than doubled the number of known or suspected human rights violators arrested during the first nationwide No Safe Haven operation, which took place in September 2014.
"ICE will not allow war criminals and human rights abusers to use the U.S. as a safe haven," said Acting Director Matthew Albence. "We will never stop looking for them and we will never cease seeking justice for the victims of their crimes."
Those arrested across the country included:
Fourteen individuals from Central America implicated in numerous human rights violations against civilians, to include the capture, arrest and/or transport of civilians who were subsequently mistreated, and in some cases, beaten, electrocuted, and killed;
Four known or suspected human rights violators from China, complicit in collaborating with the government to assist in forced abortions and sterilizations against victims;
Four individuals from West Africa connected to a range of atrocities, including civilian massacres, mutilations, recruitment of child soldiers, extrajudicial killings, and other human rights violations.
An individual from Europe implicated in human rights abuses against political opponents through work with a security agency.
ICE is committed to identifying, investigating, prosecuting and removing known or suspected human rights violators who seek a safe haven in the United States. ICE's Human Rights Violators and War Crimes Center (HRVWCC) investigates human rights violators who try to evade justice by seeking shelter in the United States, including those who are known or suspected to have participated in persecution, war crimes, genocide, torture, extrajudicial killings, severe violations of religious freedom, female genital mutilation/cutting and the use or recruitment of child soldiers. These individuals may use fraudulent identities or falsified documents to enter the country in an attempt to blend into communities in the United States.
Members of the public who have information about foreign nationals suspected of engaging in human rights abuses or war crimes are urged to contact ICE by calling the toll-free ICE tip line at 1-866-347-2423 or internationally at 001-1802-872-6199. They can also email HRV.ICE@ice.dhs.gov or complete ICE's online tip form.
The HRVWCC was established in 2009 to further ICE's efforts to identify, locate and prosecute human rights abusers in the United States. The HRVWCC leverages the expertise of a select group of agents, lawyers, intelligence and research specialists, historians and analysts who direct the agency's broader enforcement efforts against these offenders.
Since 2003, ICE has arrested more than 415 individuals for human rights-related violations of the law under various criminal and/or immigration statutes. During that same period, ICE obtained deportation orders against and physically removed more than 990 known or suspected human rights violators from the United States. Additionally, ICE has facilitated the departure of an additional 152 such individuals from the United States.
Currently, ICE has more than 170 active investigations into suspected human rights violators and is pursuing more than 1,600 leads and removals cases involving suspected human rights violators from 95 different countries. Since 2003, the HRVWCC has issued more than 75,000 lookouts for individuals from more than 110 countries and stopped over 300 human rights violators and war crimes suspects from entering the U.S.
ICE credits the success of this operation to the efforts of the U.S. National Central Bureau-Interpol Washington.
---
Note: The arrest statistics provided in this news release represent preliminary data that has been manually reported by ICE Field Offices, and may vary from official agency metrics contained in ICE's system of record. Because ICE's official metrics are reported by Area of Responsibility (AOR), they may differ in content and level of detail from data that has been manually reported by a Field Office.